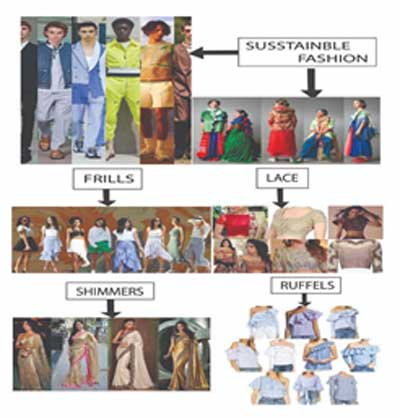 2023 fashion trends to watch out for
Frugality will be observed in 2023 as 40 per cent consumers say they are buying fewer things and consuming less from last year, informs Dr Devendran K.
Dressing style expresses one's personality. Creating authentic & beautiful style for oneself based on style essence. Creating a strong, confident, beautiful and perfect style based on one's core self. There are many elements that you can draw on to express your style, some of those include colour, line, silhouette & shape, fit pattern, texture, fabric, accessories etc., physical elements  to create your style expression are unrelated to your style essence. Here are few fashion trends that will be observed in the year 2023
Fashion trends in 2023
According to Fashion Forcasting Plaform 2023, will be full of frills, lace, tulle, ruffles & shimmer will be big part of fashion next year, the study says searches for shimmy dress went up by 365% while Lace top long sleeve went up by 225%.
Sustainable Fashion shopping will be an inevitable change. Concern for sustainability is strong among young generations and growing overall. Hence fashion brands need to embrace the sustainability conversion and make sustainable purchasing easier for all consumers. Sustainability and Digitization are two major categories that will determine change fashion trends in future. No brand or retailers will be able to avoid them. Sustainability & Digitization are anything but opposites. In fact many sustainable developments can only be implemented through digital process. According to research the Ten countries most interested in sustainable fashion are UK, Ireland, New-Zealand, Iceland, Australia, Netherlands, Laxemberg, Norway, Denmark & Canada. As per survey the Average growth rate of the ethical fashion market is 8.3%, this could grow to 9.7% a year by 2030,Furthermore product marketed as sustainable are expected to grow 5.6 times faster than those that were fast.
Colour schemes
Fashion colour predicted to be digital lavender, lusciousred, sundial, tranquil blue & verdigris.
Comback Fashion Trends predicted tobe Mom Jeans-90s, Round glased-20s, Corduroy-70s, Chunky sneakers-80s, White booots-70s, Chokes-90s, High Waisted Jeans-80s, Silk scarves-50s Ripped Denim, Cot-Off Jean Shorts, Wide leg pants, Sweat Pants (athleisure movement has made sweat pant cool again).
Prints on demand
Most fashionable prints fall in 2023 are chevron, plaid, florals, artsy, animate motives, check, gingham. Leopard print is one of the most trendy or at least as fashionable as marble and check board print.
Think high colour busy repeats and Mick-Match, Joyful expressive designs, Hyperreal prints, For floral opt for expressive colourful markings, the more artistic the better, Insta ready looks that pop will offer the perfect way to peacock on screen and in real life.
Seasonal themes
Winter 2023 trends to wear seem to be padded versus puffer-the sporty puffer jacket now has a stylish relative-the padded coat. Much Mohair, Be the scarf, long shirts all-day-long wear, cargo continues, novelty cardigans, big time faux fur.
Trends for summer 2023 predicts shows matching print sets, neon accessories, sheer dresses, bright multicolour knits, cargo pants, cut-out dressed, white allover.
Gravitating bottoms
Leggings 2023 are not only clothes for home or sports, Regardless of whether you consider yourself a sports fan or a lover of lying on the couch, this season leggings should definitely appear in wardrobe. Tie-Dyed bomber jackets and leggings can be seen lot of people wearing in 2023.
Trendy jeans in 2023 will be Straight jeans, Skinny jeans, Saurel jeans, Pantacourt jeans, Riding jeans, Jogger jeans, legging jeans, Flare jeans, Denim mini skirts. New styled Cargo Pants, Blazers, Bullet flats, Leathers, Basics.
Conclusion
Frugality is the trend for 2023 as 40 per cent of consumers say they are buying fewer things and consuming less that is 8.5 point increase from last year, meanwhile 44% of consumers will their unwanted ethical sustainable fashion is an approach towards sourcing, manufacturing and designing clothes which maximises benefits to the industry and society at large, at the same time minimises the impacts on the environment. Ethical means something that is moral and acceptable. Fashion sustainability draws most consumers attention for their economic life at the same time there will be comparatively good products in the market.
About the author: