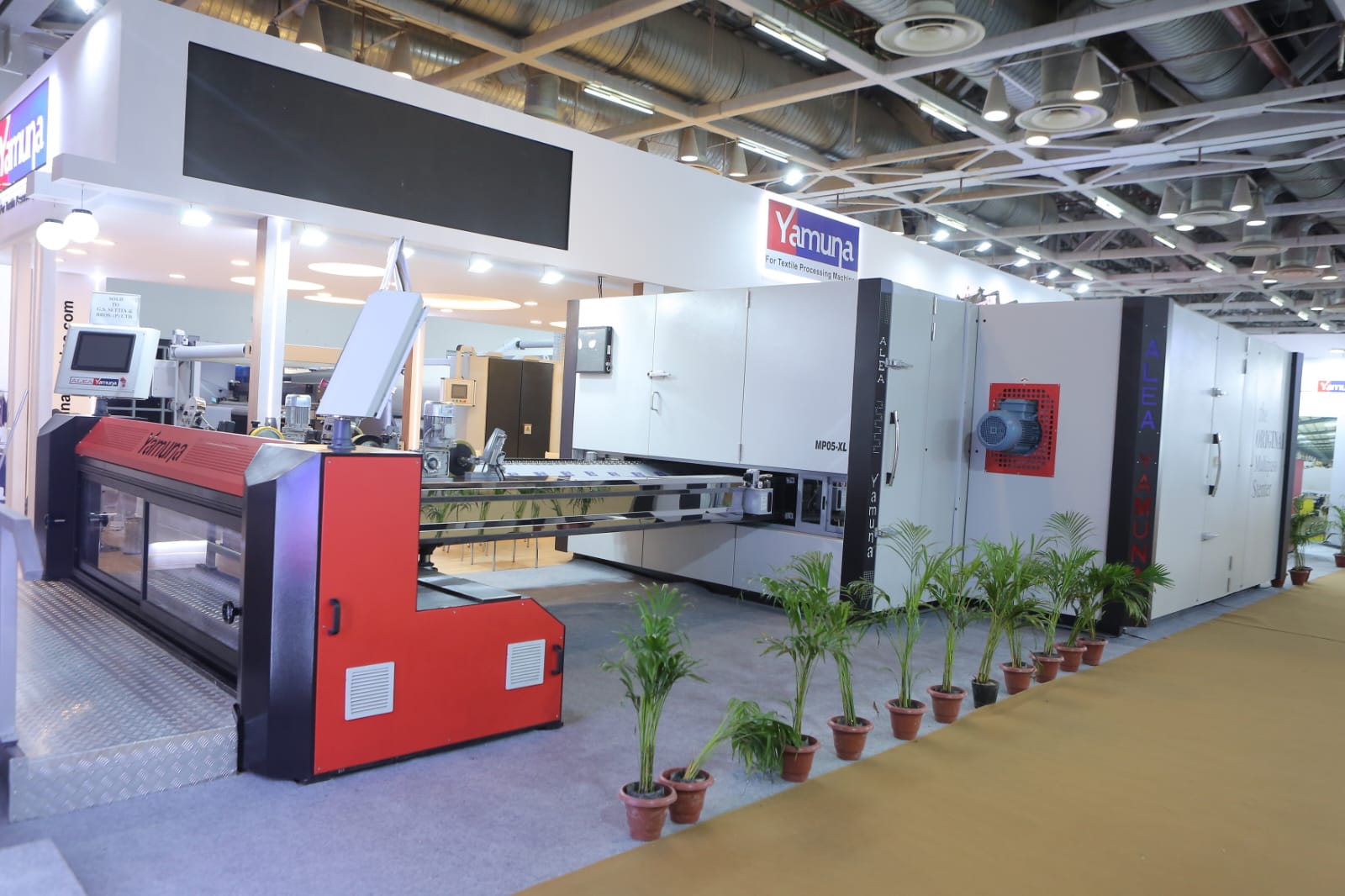 Yamuna machine Works leading innovations at India ITME 2022
Yamuna saw record number of visitors and remained the star attraction of visitors in processing division.
Yamuna Machine Works is an innovative engineering company with its focus on customers, their needs and empowers them with cutting edge solutions. It has offered the Indian textile processing industry with more than 30 years of experience and machinery in the field of woven, knitted, denims, carpets, nonwovens and technical textile fabrics. In fact, in denim machinery supply it enjoys major market share singlehandedly.
In continuation with its customer-oriented approach, it launched three key machine products during the recently concluded India ITME 2022 show at IEML – Greater Noida. The show was highly successful in terms of customers, visitors and prospective cliental.
Yamuna also saw record number of visitors and it in fact remained the star attraction of visitors in processing division and its machines were talk of the show. This was all due to the three very relevant and key machines displayed by Yamuna at the show. These machines displayed were very important and more so due to first time Make in India for the domestic as well as international markets for woven and especially for knit segment which did not have till date an authentic product for the customers.
The key three machines on display were
Alea Yamuna multi-layer stenter
The most exciting amongst them is the Multi-Layer Stenter in collaboration with ALEA, Italy. It was the 1st Indian made Multi-Layer Stenter which is presented after its successful commercial working at a leading textile company Bombay Rayons (BRFL).
The salient features of YAMUNA-ALEA Multi -Layer Stenter are:
One chamber has cloth content of 30 metres equivalent to cloth content of 10 chambers
The machine stands out in space requirement to that of a 3-chamber normal stenter
Power saving of approximately 30 per cent
The presence of telescope in the chamber helps fabric to guide and keep the fabric in tension during the smooth passage from one layer to another
High evaporation capacity and even temperature offers even fabric finish and treatment
The original Alea – Italy chain elements with ball bearings and its design offers less maintenance.
Open width knit singeing machine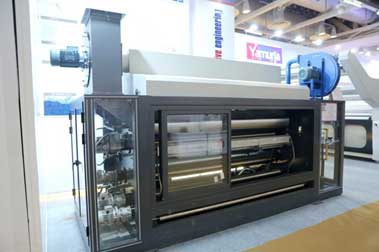 Open knit singeing machine has been a long-time requirement of the Indian Knit processing industry and finally Yamuna launched its knit singeing machine at the India ITME 2022
The machine in display was only the singe unit with PLC with suggested configuration also on display.
The unique features of the singeing unit are; –
Unique burners offering pure blue flame for perfect singeing
Fabric passage ensured with minimum tension control with driven scroll rolls
Proper inlet with fabric centering and outlet ensures smooth passage of fabric and feel
India knit processing units generally carry out bio polishing on fabric as replacement to singeing but more and more stringent quality requirements and desire of industry to enter into export market the need for proper knit singeing unit was felt and Yamuna saw this vision and brought its first launch of open width knit singeing unit.
Open width knit compactor machine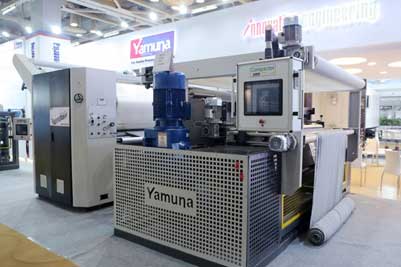 In majority of the knit processors in India, there is presence of European brand compacting machine. Yamuna with its foresightedness developed a completely new concept of compactor, a Make in India product, with future knit fabric quality. This consisted of rubber belt unit plus compactor unit which is the need felt by Indian processors to achieve shrinkage and feel results on the various knit fabric qualities like single jersey, double jersey, rib, pique etc.
The machine was designed with expert knit technocrats and this machine also created lot of inquiries from knit processors and Yamuna was really thankful to all the customers who couldn't skip notice of this machine and lauded the overall quality and finish of all the four machines displayed by Yamuna at the show.
Yamuna also displayed the fourth machine which is important for continuous or stand-alone lines the Roto drum washer.
Yamuna Eco Roto washing compartment for wet processing machines
The machine at the show was in running with water and customers were able to see the agitation and churning taking place within the compartment there by imparting mechanical agitation ensuring removal of unfixed colour or any auxiliaries used during printing.
The machine consisted of two self-driven rotating drums of bigger diameter one above the other to increase the wrap angle of fabric and hence have better cloth content than its competitors.
The lower drum moves in the direction of the fabric passage and inner shell with craters on outer surface moves against fabric passage there by creating agitation and helps surface unfixed colour and impurities there by improving washing and fastness properties.
This washing technology helps in proper fabric guidance so much so that all types of fabric qualities like woven, knit, lycra, viscose, linen etc can be processed with ease and without any difficulty.
Yamuna has a strong market position in India as well as in the global markets such as USA, Europe, Brazil, Portugal, Argentina and many other countries.
Over all the exhibition saw large number of customers attend our stall and show interest in our products. Customers by and large with whom we interacted were very appreciative of quality, finish and zeal to offer products Make in India by manufacturer like Yamuna Machine Works.
The company has a strong market position in the textile processing machinery and has been awarded special export award consecutively since last three years which speaks volumes of its quality, just intime delivery and prompt service.
Yamuna helps its customers to work more productively, effectively and sustainably.