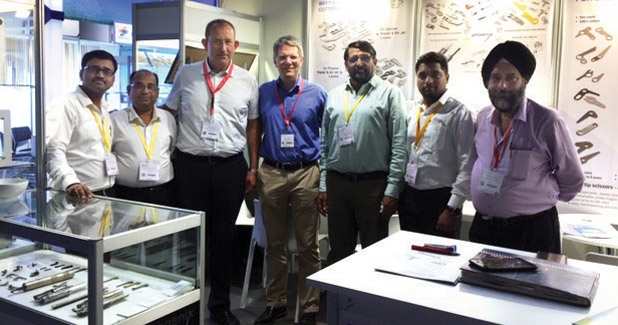 We plan to invest in technology upgradation
Phoenix Textile Engineering manufactures textile precision components such as yarn suction guns, yarn splicers, scissors and cutters.
Phoenix Textile Engineering manufactures textile precision components such as yarn suction guns, yarn splicers, scissors and cutters.
Raghunath Khadilkar, Director, Phoenix Textile Engineering, Pune, speaks on the recent offerings from the company to the textile industry and its USPs.
Give us a brief profile of your company. What do you think are the achievements since its inception?
Phoenix Engineering was established in 1990 as a specialised unit for manufacturing textile machinery parts. Phoenix started business in a rented place and moved to own factory building in 2001. Adjacent factory building constructed in 2005. Today Phoenix manufacture and supply following products to about 500 clients throughout India and to 20 countries all over the world.
PAWAN yarn Suction Guns
PAWAN BANDH pneumatic yarn splicer
FALCON winding machine scissors
FALCON loom cutters and cutter assemblies
OEM supply to clients like Uster Technologies, Switzerland; Otto Stuber, Germany
Phoenix has successfully exported more than 2.5 million components so far.
Recently, you participated at ITMA exhibition. What were your recent offerings to the textile industry and what are their USPs?
Phoenix has participated in ITMA 2015 and ITMA 2019 and have displayed recent developments.
Cutter assemblies and blades for new high speed looms
Special blades for looms weaving technical textiles and special yarns
Pneumatic yarn splicer for special application carpet yarns up to 15000 dtex, 5000 tex glass fibre.
How do you look at the potential of the Indian market for the segment your company is in?
Phoenix sees lot of potential for high quality and high reliability products. New high speeds machines demanding high quality products. Many Indian manufacturing are demanding high quality products and are believing the fact that Indian manufacturers can manufacture high-quality products with performance at par with European manufacturers at affordable prices.
Phoenix sees good demand for products used in manufacturing special yarns, special fabrics and technical textiles.
What are the roadblocks that hamper India from realiding its potential as a leading manufacturer of spares and parts?
We feel Indian companies are very well capable of being global leader in spares and parts and it is possible if we can overcome following drawbacks.
Not paying attention to product quality improvements when product is sell able
More attention on increasing product quality and demand better rates than reducing cost at the cost of quality to make more profit
More stress on production/process readability than quality control. Spending money on identifying and finding faulty jobs than spending money on increasing process readability.
Better payment terms for Indian suppliers by clients like easy or advance payment terms for Overseas suppliers.
R&D plays a very important role in the industry that you are in. What are you doing in this aspect?
Phoenix always believe on R&D and take the opportunity of customer complaints or demands by clients difficult to achieve. Phoenix is actively involved in R&D with changes and developments based on practical knowledge and expertise than on theoretical grounds. Big size companies should concentrate on theoretical (laboratory base) R&D.
At present, what is your current capacity? Any plans of capacity expansion?
Phoenix has already excess capacity against the present market share. For current and next year, Phoenix has plans to invest in technology upgradation and improving capacity utilisation.
How important is maintaining quality for the business you are in? What are you doing in this regards?
Phoenix has survived and progressed due to instance in maintaining decided quality level and believe in achieving the same by increasing process reliability and stability. We will work on these factors more to achieve desired quality level.
If in export, which are your major markets? What is the scope in these markets in the near future?
Phoenix is simultaneously focusing on machinery manufacturers from Europe for OEM supply and identifying sales agencies for South America and Turkey, Europe. We find potential in exclusive segment of textile manufacturing and technical/geo textile business.
How do you think Make in India has progressed in the segment that your company deals with? What are your suggestions to give a boost to this revolutionary concept of Make in India?
We do not have much idea about Make In India progress in our segment as we do not see any competitor. We feel it will be good boost to Make In India if tax benefits are offered to manufacturing units assuring 30 per cent of there needs sourcing from Indian manufacturers.
What are your company's plans for the future – expansion and diversification, if any?
Phoenix has plan to develop new splicer models for technical textiles and carpet yarn and developing more energy efficient suction guns. We plan to install multi axis machining centre and CAM software in the current year. We are also exploring possibilities in the field of medical equipment parts.