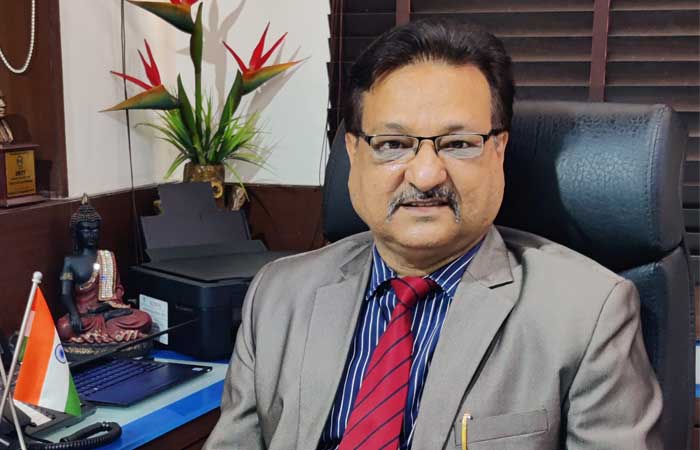 We plan foray into technical textiles
Kusters Calico Machinery Pvt Ltd is one of the leading manufacturers and suppliers of machines to the textile wet processing and converting industries. Established in 1997, Kusters Calico – a wholly owned subsidiary of Jagenberg AG, Germany – manufactures the wet textile processing ranges such as singeing, de-sizing, bleaching, mercerizing, dyeing, washing and others for both woven and knits. It also manufactures machineries for flexible packaging industry for processing of aluminum foil, plastic film and paper. In this interaction with Rakesh Rao during ITM 2022 trade fair in Istanbul (Turkey), Sushil Verma, Managing Director, Kusters Calico Machinery Pvt Ltd, elaborates more on the industry trends and the company's growth plans.
How has been the evolution of Kusters Calico Machinery over the years?
We have two divisions for textile and converting machines. Last year, we celebrated 25 years of existence in India. While it started off as joint venture, it is now 100% owned by Jagenberg Group. In the textile division, we are manufacturing all wet processing machines for washing, singeing, mercerizing, bleaching, etc. In the converting division, we offer machinery for coating lines & applications, lamination, etc. This year, we have added slitting lines for converting in technical tie up with Kampf, Germany; our another group company.
What trends are you observing in the industry?
Today, customers are demanding water saving benefits as the government has become stringent with respect to consumption of water. They expect shorter delivery time. Electricity saving is another focus area for customers. With customers becoming environment conscious, we are also focusing on making our machine more eco-friendly by adopting energy-efficient IE3 motors. Our washers are using 15% less water as compared with our competitors.
We are also getting enquiries for technical textiles. To handle these enquiries, we have decided to use the expertise of the two divisions to venture into technical textiles.
What are your growth plans?
The focus is to expand our overseas business apart from penetrating in India. We export more than 70% of our textile machinery. While Turkey is one of the leading export destinations for our machines, we have extended our business to Uzbekistan, Turkmenistan, Russia, and Bangladesh. In the coming years, we expect more business to come from these countries. So, the focus is more on overseas market by adding more countries.
This year, we are expanding with a new production unit by adding more mother machinery to manufacture textile and converting machines.
We are also gearing up to enter technical textiles as we are already into coating on polyester film. Now, we plan to do it for textiles, for which we are establishing a pilot plant at our facility (in Vadodara) for doing trial production.
Could you please elaborate more on your technical textiles plan?
We foresee a huge demand for technical textiles in the coming years. There is big scope to replace currently used materials with technical textiles, as they last longer (some have life span of more than 25 years). There are very few good technical textile manufacturers in India; hence, there is a need for more players in this segment. We want to encash on our group's expertise in dealing with technical textiles to foray into this segment.