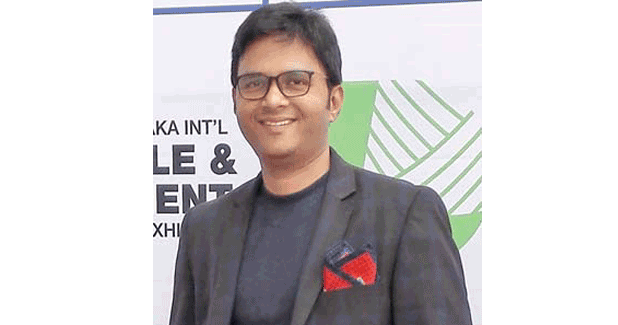 We follow textile industry & customers very closely
Unitop Projects & Services Pvt Ltd is into project engineering and turnkey execution of chemical and other projects. The company is an off-shoot of Elite Engineers, who have been operating in this field since 1974. The Group enjoys the facilities of a modern engineering office at Thane and two manufacturing units in the name of Elite Engineers, Thane and Special Process Equipment Engineering Co, Badlapur.
Unitop Projects & Services Pvt Ltd is into project engineering and turnkey execution of chemical and other projects. The company is an off-shoot of Elite Engineers, who have been operating in this field since 1974. The Group enjoys the facilities of a modern engineering office at Thane and two manufacturing units in the name of Elite Engineers, Thane and Special Process Equipment Engineering Co, Badlapur.
Sanjay Sawant, Head – Business Development Exports, Unitop Aquacare, speaks on the competition from Chinese counterparts, and its journey so far.
Unitop Aquacare has been renowned name in the field of textile processing. How has been the journey so far?
We are 40 year young company in field of caustic recovery and evaporators for waste water. This company is promoted by SM Mondkar, who is a chemical engineer from IIT Mumbai having vast experience over 50 years in process engineer, and AS Mondkar, who is a mechanical engineer with an experience of over 20 years.
We started to give solutions to textile plants focusing on energy conservation and developed heat recovery plant for coats, which got recognition and awards at different platforms.
And in continuation of our services towards green environment, we started to manufacture caustic recovery plant for textiles with totally indigenous technology, which was far more user-friendly, customised design, low on energy consumption compared to other competitor with right price. And there was no looking back from then on.
With the norms of Pollution Control Board tightening worldwide, how has this affected your business?
Caustic recovery plant has its own payback which is around six months depending upon the plant capacity. Due to increasing price of caustic, for most textile companies, CRP is not only for compliance for Pollution Control Board but also a necessity to be able to compete with the world market. In fact nowadays with requirement to comply with zero liquid discharge, mercerising fabric without caustic recovery is not imaginable. Moreover in absence of CRP client has to invest more in ETP, RO and a much larger MEE. Hence, he ends up spending more in managing the effluents than he would by buying a CRP.
How has demonetisation affected the business you are in?
Effect of demonetisation is particular to with our Indian market and there is sluggish movement and people are preferred to wait-n-watch but we believe that is very temporally phase and things will improve. But demonetisation have not affected to our overall business as we are also focusing on export markets. In fact we had record business in this financial year getting stronger.
With intense competition from Chinese and European machinery manufacturer, how you manage to compete?
We have made deep inroads in the European, Chinese, Turkish and Bangladesh markets. In fact, we have even replaced few existing plants in China purely because they evaluated that it was far cheaper (in utility costs) to replace the plant rather than keep running their existing Chinese plant. We have got business from clients who were traditionally European machinery buyers purely on the basis of our superior technological advancements.
We provide customised-designed CRP, which are more energy efficient as compared to any of our competitor and latest one-touch automation which are more user-friendly. We have set up our aftersales service centres, which are equipped with necessary spares for prompt service.
How was this ITME Mumbai for you?
We are quite satisfied with the outcome. We managed to close a couple of large export orders. Moreover, we had a few strong enquiries not only from direct customers but from people who were interested to represent our products in their country.
What have been the recent development in your product?
We have always strived to make our products more energy efficient and customised designed. Newly, we have introduced features such as one-touch start stop, full automation which have facility like remote access PLC. This feature helps do troubleshooting from our Indian office whenever necessary and can operate plan with minimum human intervention.
Your company is well known for the successful caustic recovery plants. Can you give us a couple of case studies with some details.
Unitop Aquacare is in the business of CRP from last four decades having more than 300 installation in 15 countries including India, Bangladesh, China, Turkey, Spain, and Hungary. We had supplied caustic recovery plant to coats crafts Hungary in October 2014, capacity of 60,000 LPD, which is a European MNC majorly in to producing yarn dye shirting.
Customer had appreciated us for plant performance in-terms of consistent plant capacity, lower steam consumption and ease-of-operation and shared with us following savings data due to our plant which I would like to mention it very specifically.
Since it is a yarn dyed plant wash liquor generated from Mercerizer had different kind colour impurities (lighter to dark shade). Due to our technology and our past experience with similar segments we made the recovered caustic reusable back to mercerizer and the figure of saving speak the same. It is always a challenge to get the reusable caustic for such applications and we are gear up with right technology.
What are the advantages and benefits of your caustic recovery plants over that of other competitors?
We follow textile industry and our customers very closely. We identified that most of the textile are facing challenges to supply a constant higher pressure steam to any machine for that matter CRP. We have optimised our design to operate our CRP at low pressure keeping in mind interest and benefit of customer. We are always focused to design CRP it operates at low steam consumption and I proudly say that we are around 15 to 20 per cent lower than European competitor.
We do it in an innovative way by flashing steam condensate to generate steam which is a heat source for preheating the feed.
Traditionally European CRP generates a lot of hot water, which around 2.5 times the feed capacity but since now-a-days most of the processing machines have in-built heat recovery systems, so consumption of all the hot water may be practically is not possible, we even found that customers are draining the hot water which eventually spoils the ETP parameter.
For such situation we offer customer CRP with Adiabatic System in that case CRP will not generate excessive hot water. We have gone one step ahead to make the plant fully automatic (one touch start and stop) with remote access of PLC, with this feature we can provide our client online support whenever it is needed giving value added service to our client.
Quick delivery and efficient after sales service to our clients, irrespective of location have been our core focus and for that we have put lot of effects to impart technical training to our local representatives/channel partners as time is essence. We have dedicated expertise available on call to attend to problem solving on phone itself.
We are in constant process to become an Indian Multinational doing the better things in simpler way.
Give us some details about CRP projects which have been done recently in countries other than India?
Recently we bagged business from Europe, China, Turkey, and Bangladesh and are more focused on exploring newer markets. Keeping this in mind we have started our new manufacturing unit in Special Economic Zone Surat which is a CE certified plant and also about to get SELO certification for China, having capacity to produce 6 plants per month. This manufacturing units is well equipped with next generation machines for production and quality inspection.
During recent ITME, owner of Thermax Group visited our manufacturing unit and awarded our CRP, which is of the largest capacity in Asia specific region. In fact it is first time that Thermax Group have placed order from an supplier as all other machines are European.
This was possible since they found that our existing customer are very satisfied with our quality and performance of system.
Also big Groups from India such Shahi, Himatsingka, Vardhman, etc., which are traditionally European and Japanese machine buyer have placed order on us which I think a big giant footprint for us and sense of acknowledgment for our quality and commitment.
Are there any other areas, Unitop is engaged in and offers solutions to the textile industry. Provide us details.
As an expert in evaporation technology, we are offering evaporation plant to handle RO rejects ultimately to achieve zero liquid discharge. This is much more wider field where our customer base is not only textiles but also pharmaceuticals, refineries, automobiles, paper, dyes and chemicals. We have recently even supplied plant to recover reusable Glauber's salts from dye bath at Shahi Exports, Shimoga.
How do you see the future of textile processing and effluent treatment with new concepts like waterless dyeing taking shape? Is complete ZED a reality in India?
Nowadays, there is more scientific approach and a lot of awareness todays water uses in textile industry for that matter in any industry, in such kind of scenario with short rainfall, pollution norms, deteriorating ground water quality and its availability we see a big boost in business who are providing quality solutions/products for reduce, recycle and reuse in time to come. And there will be always a demand for a technology which will have a balance of investment cost and operating cost.
What kind of policies and initiatives the Government and the industry should take to give a boost to adoption of this technology?
The Government does promote green technology products such as CRP. They not only offer incentives such as excise refund under EPCG, TUFS and even offers a 100 per cent depreciation over investment in the first year itself. All this is to ensure that industry stays interested in protecting the environment.