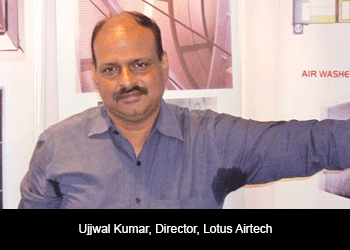 We can do humidification for all types of industries
Lotus Airtech, an ISO 9001:2008 certified company, was established in 2001 backed by a profound industry experience of 13 years. The company currently undertakes everything in humidification plants ´ right from designing to execution
Lotus Airtech, an ISO 9001:2008 certified company, was established in 2001 backed by a profound industry experience of 13 years. The company currently undertakes everything in humidification plants ´ right from designing to execution.
The company is one of the renowned manufacturers and suppliers of air-condition refrigeration systems. These are used in various refrigeration and air-conditioning industry. Its products are tested for correct function of refrigeration and air-conditioning installations, so that a flawless range is delivered to its clients.
Lotus Airtech was present during the ITMACH event in Gujarat this year. When ITJ Sr Sub Editor met Ujjwal Kumar, Director, Lotus Airtech, during his visit to the event, Kumar spoke on topics related to the evolution of the company and its latest product offerings.
Excerpts…
Karthik Muthuveeran (KM): Please give some background information about the company and how it has evolved over the years?
Ujjwal Kumar (UK): I have a rich experience in working with 2-3 humidification companies before starting with Lotus Airtech in 2001. Based in Ahmedabad, Lotus Airtech is an ISO 9001:2008 certified company, backed by a profound industry experience of 13 years. We are reckoned as a trustworthy manufacturer and supplier of air-condition & refrigeration systems. The range we deal in includes air washers, industrial blowers, industrial fans and filters, fan coils, low leakage dampers, heat exchangers, air handling units, waste collection systems and humidification plants. Additionally, eliminators, airfoil/multi vane fans, axial flow fans, belt drive centrifugal fans, high pressure fans and belt direct drive centrifugal fans. We also undertake installation & commissioning work for all its products. All its products are designed and made in compliance with international quality standards.
We currently undertake everything in humidification plants ´ right from designing to execution. We are capable of matching the current market demands. We are also dealing in different types of spares.
In India, there are more than 50 players in humidification plants. But Lotus Airtech supplies to each and every type of humidification plant. We do humidification for weaving and spinning units as well. If any processing units have heat problem, we take care of that as well. Lotus also does the ventilation part.
The company is also into air engineering. In air engineering, we provide support to a wide range of industries. We provide an array of services from ground level to production level. There are so many mills with old technologies, old humidification plant, old equipment, etc., but they are not getting the required conditions. We can convert those units into latest ones if customer is ready to invest.
KM: What are the wide range of products offered by the company? KM: What makes these product different from that of the competitors?
UK: Lotus Airtech is into designing energy saving systems. If you compare with other players, we can give the same product with less power. We provide maintained-friendly equipment. At the same time, we offer portable systems too. Earlier in civil engineering projects, our systems, once installed, cannot be disintegrated. Now, we have come up with an idea of pre-fabricated structures.
Secondly, we also provide energy-saving systems like fans, pumps, etc., which consumes less energy. It is an automatic system, wherein dust will be collected automatically.
As you manpower is a major issue in India. Our systems are automated, so we do not require much manpower to operate it.
KM: Are there any plans of expansion in other areas?
UK: We definitely have some plans for<