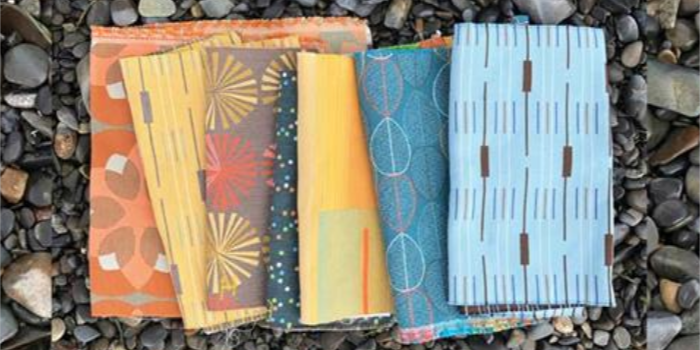 Warp knitted power jersey for innerwear
Typical products from other textile manufacturing technologies can be used and combined with the technological advantages of warp knitted textiles – as demonstrated by the outcome of KARL MAYER's latest textile product development.
Warp knitting technology is one of the most versatile technologies in textile production. A wide range of machine gauges, yarns, and possible patterns facilitates the production of countless different textiles with special properties.
Typical products from other textile manufacturing technologies can be used and combined with the technological advantages of warp knitted textiles – as demonstrated by the outcome of KARL MAYER's latest textile product development. Perfectly timed for Interfiliére in January 2020, the innovation department has developed a collection of warp knitted jersey fabrics titled JERSEY EVOLUTION. The production equipment used is the high-performance warp knitting machine HKS 2-S.
"With these innovative jersey warp knitted fabrics, we want to open new doors in the world of innerwear, or fabric worn close to the skin," said Textile Technician Melanie Bergmann. The particular benefits of these new fabrics include a soft, sleek feel that's fine and smooth to touch, with high elasticity but resistance to permanent loss of shape, as well as smooth, free-cut edges. These characteristics are backed by specially chosen machine configurations and lapping technology: the very good recovery capacity of the bi-elastic fabric is created by implementing a two-needle overlap. Thanks to a special meshing of the elastane threads, firm and straight edges are created which have a very low or zero tendency to curl.
The chosen lapping, together with a high machine gauge, ensure a smooth, fine surface and a flowing fall – or a look and feel customary to circular knit fabrics. But in comparison to circular knit, the manufacturing process of the highly elastic, warp knitted power jersey is substantially more productive. A HKS 2-S boasts the same output as around 2.5 circular knitting machines. This high-performance warp knitting machine also offers advantages with regards to spare parts. The needle leads in warp knitting machines can last up to six times longer than those in circular knitting machines. Thanks to this long usage cycle, costs for a set are halved, which results in running costs being lowered considerably.
JERSEY EVOLUTION garnered a lot of attention at Interfiliére with its impressive performance. "We had many conversations with representatives from international lingerie labels. There were also some knitwear manufacturers among them, who wanted to learn more about the technology and its possibilities," explained Gabriela Schellner, Senior Manager of Textile Technology at KARL MAYER.
Plaster grid warp knitted fabric for the billion-Euro market in China
KARL MAYER Technische Textilien has developed a new warp knitting machine with weft-insertion and thus further differentiated its range offer in this field. The new model, the WEFTTRONIC® II G, is specifically designed to produce light to medium-heavy grid structures.
The stable grid textiles are used as plaster grids and geogrids, as well as carriers for grinding discs – and are produced extremely efficiently on the WEFTTRONIC® II G. Geogrid fabrication is now 60 per cent more productive compared to the previous version. In addition, less expensive yarns can be processed into high-quality textiles: the textile glass fibre material can cost up to 30 per cent less than leno fabric production. The machine handles technical yarns extremely gently. Its performance is also impressive.
The first WEFTTRONIC® II G was ordered by the Polish manufacturer HALICO in early 2019, followed by orders from China in December. "During our most recent trip to China just before Christmas, we were able to win over two new customers for our company," said Jan Stahr, Sales Manager of KARL MAYER Technische Textilien. Both companies, Shandong Qiyad and Zibo Glasstex (Shandong Fiberglass), are major players in the industry. After purchasing one machine each, they hinted that they may invest in further WEFTTRONIC® II G models.
Shandong Qiyad is a company privately owned by the Ma family. Ma Xingwang Senior holds shares in two other companies, led by his son and nephew respectively. The companies use around 750 rapier looms in total for their production and thus offer efficiency potential: Depending on product quality, between 13 and 22 rapier looms can be replaced by just one WEFTTRONIC® II G.
KARL MAYER Technische Textilien offers intensive service support to ensure a seamless changeover to new technology and to a state-of-the-art machine. The strong partnership led to further recommendations. "During our meetings, the Ma family also introduced us to other potential customers," says Jan Stahr. The native region of Shandong Qiyad, Shanxian (Shandong Province), is well known for its plaster grid production. Around 5,000 rapier looms are in operation here. The companies are all part of an association. Jan Stahr is already in the process of scheduling a pilot system with some of these companies.
The state-run Zibo Glasstex is better known as Shandong Fiberglass. The company has made a name for itself internationally as a manufacturer of glass fibres, rovings and textiles. It is among the top 5 manufacturers of glass fibres in China. The company's customers in this sector include manufacturers in Eastern Europe who are already operating machines by KARL MAYER Technische Textilien. Following the successful introduction of the technology with the first WEFTTRONIC® II G, Zibo Glasstex plans to invest in further machines. According to the company's own information, it intends to work a market with an annual volume of 2 billion m² of textile glass fibre material and to achieve a significant market share. Zibo Glasstex therefore intends to invest in further machines in the mid-term.
In order to gain a better understanding of the possibilities relating to glass grid structure production, the new WEFTTRONIC® II G machine will be available for customer trials at KARL MAYER (CHINA) in Changzhou from June 2020. A wide range of equipment options and patterning possibilities will be available to suit a diverse manufacturing process. The different offers can be tested as part of these processing trials. While working on the machine, customers can get a feel for how the design of the fabric influences its properties and product output, and how this correlation can be used to achieve greater efficiency.
If, for example, the square cells of a textile grid are formed with a low warpthread stitch density, the weft threads have a significant freedom of movement within the structure. The fabric is relatively unstable, but is manufactured with a high output. Glass grid manufacturers looking for greater efficiency can use the WEFTTRONIC® II G at KARL MAYER (CHINA) to produce warp knitted fabrics with the same properties as their existing products and thus investigate whether there are any advantages.
The performance profiles of the textile products are verified by corresponding laboratory values. Companies with vertically integrated production particularly welcome the opportunity to test the machine out. In addition to textiles, they also produce textile glass fibre materials and can therefore test how their own yarns are processed. The trials are competently supervised by KARL MAYER's trained technical staff. The WEFTTRONIC® II G is based on a technology unfamiliar to many glass grid manufacturers. During these trials, they can also discover how user-friendly the new machine is.