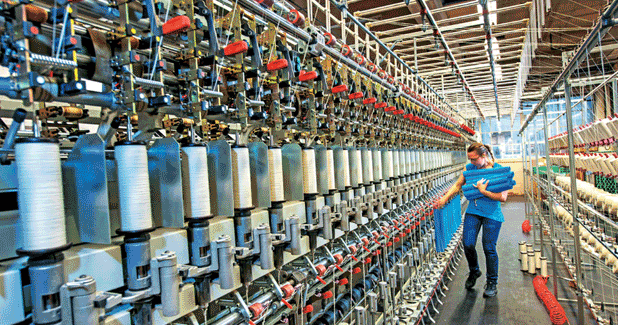 Textile investment ahead: A boom or bust or just so-so?
India is one of the fastest growing and promising economies today on the world map. With huge raw material availability and with stable Government, rapid industrial growth is forecasted in near future. Today, textile sector is one of the largest contributors to India´s exports with approximately 11 per cent of total exports.
Many investors have realised that forward integration can only fetch good profit margins by manufacturing value-added products, opines Avinash Mayekar.

India is one of the fastest growing and promising economies today on the world map. With huge raw material availability and with stable Government, rapid industrial growth is forecasted in near future. Today, textile sector is one of the largest contributors to India?s exports with approximately 11 per cent of total exports. The industry realised export earnings worth $41.4 billion in 2014-15, a growth of 5.4 per cent, as per The Cotton Textiles Export Promotion Council (Texprocil). The Indian textile industry contributes approximately 5 per cent to India?s GDP, and 14 per cent to overall Index of Industrial Production (IIP). The Indian textiles industry, currently estimated at around $108 billion, is expected to reach $223 billion by 2021. The industry is the second largest employer after agriculture, providing employment to over 45 million people directly and 60 million people indirectly.

China ? Advantage to India
China is the world leader in textile export, contributing more than 40 per cent of total export of world. But, the cost of production in China is rising continuously due to high labour rate and high cost of utilities. China is now shifting its focus from textile sector to other cash-rich products. This is certainly a big opportunity for other Asian countries. India will grab substantial share from China as Chinese Yuan is appreciating rapidly as compared to Indian Rupee, which will be a tremendous advantage for India. In the last 10 years, Yuan has appreciated from 8 Yuan to a dollar to 6.84 Yuan in 2016 at a CAGR of 5 per cent and it is expected to reach 6.34 Yuan to a dollar by 2020. Also, the labour cost in China is increasing at about 11 per cent per annum as compared to India?s 6 per cent from 2014 to 2015. It is likely to be faster than 11 per cent for China by 2020.
Though other countries like Bangladesh, Vietnam, Pakistan, Cambodia & Sri lanka, etc. are having comparable labour rates, they lack in complete value chain and supportive infrastructure. Though India is the second largest exporter after China to the world, the China?s total exports is almost seven times higher than India?s export. In year 2015, China?s total export stood around $274 billion compared to India?s total export value of $40 billion. So, it is estimated that if China?s share goes down by 5 per cent, India share will increase by 35 per cent. This may happen because China is shifting towards more profitable industries.

Growing demands from young population
The fastest growing middle class population with higher disposable income is one of the biggest key growth drivers in India for rise in textiles and apparel consumption. This combined with the growth of organised retail in the country is biggest contributor to the growth. The average age of Indian population is 25 years. Significantly over 50 per cent of the population is below 25 years ? the vibrant opportunity for any market. This young population is highly fashion and quality conscious. They are giving more preference to branded products. This is the reason, many international brands are eyeing on India. Some of the international brands like H &M, M&S and Zara, etc. are increasing their outlets in India. Favourable demographics makes India biggest destination for investment for international apparel brands.

Technical textiles
Indian technical textile industry has witnessed significant growth of 16 per cent from 2001-02 to 2009-10 and is expected to grow with 20 per cent CAGR to reach market size of $36 billion by 2016-17. The fastest growing middle-class population of 300 million with higher discretionary income is expected to increase to 520 million in five years. This rise will enable them to make more discretionary spending on technical textile products. The major growing technical textile segments are: hometech, indutech, mobitech, sportech, meditech, etc.
?
Hometech:

The demand of hometech products is increasing because of growing Indian population. Some of the key drivers are growth in export market, carpet industry, growing demands of home décor and increasing demand in hotel industry.

Indutech:

India?s industrial growth is tremendous in past few years and it will be growing even at higher pace in coming years. Some of the industries like cement, textiles, paper, glass and fertilizers will find huge applications for indutech products. So, this will certainly increase the demand for indutech such as filtration fabric, conveyer belts & V belts, etc.

?Mobitech:

Passenger vehicles, cars and commercial vehicles market is growing at 14 per cent CAGR. Automobile market will further grow exponentially because of statutory use of airbags and seat belts, rising income levels, economic growth and increasing urbanisation. As per Supreme Court?s notifications, all the four wheelers have to be equipped with front and rear seat belt. Installation of airbags for driver and pilot will be mandatory in next coming years. This will in turn increase the demand for mobitech in coming years.
?

Meditech:

The demand for disposable products like wipes, cotton pads, diapers and sanitary napkins are increasing. Some of the key factors responsible for growth of meditech are growing health awareness, large educated middle class population, working woman population, urbanisation and westernisation.

Sportech:

Growing popularity of various sports is boosting the demand of sportech in domestic market. Sports industry is getting a boost because of tournaments like IPL, IFL, ProKabbadi, Commonwealth Games, etc. Common man is becoming more health conscious. In fact there is increasing trend of usage of sports shoes as a casual wear. So, overall demand for sportech in increasing.
Thus, their wide range of applications, lack of competition and growing consumer and industrial demands make it a big opportunity area and an attractive option to invest in. In addition to this, the factors conducive for the growth of manufacturing and consumption of technical textiles are also available within the country.

Favourable government policies and initiatives
World is looking at India as most favored future investment destination due to stable Government lead by Prime Minister Narendra Modi. Modi is in continuous efforts to market India at international platform.
The Government has come up with a number of export promotion policies for the textiles sector. It has also allowed 100 per cent FDI in the Indian textiles manufacturing sector under the automatic route to promote foreign investment. The textiles sector has witnessed a spurt in investment during the last five years. The industry (including dyed and printed) attracted FDI worth $1.77 billion during April 2000 to September 2015.
The Government approved a Rs 6,000-crore special package for textiles and apparel sector to create one crore new jobs in three years, attracting investments of $11 billion and generating $30 billion in exports. The measures approved include additional incentives for duty drawback scheme for garments, flexibility in labour laws to increase productivity as well as tax and production incentives for job creation in garment manufacturing. The package breaks new ground in moving from input to outcome-based incentives by increasing subsidy under amended-TUFS from 15 per cent to 25 per cent for the garment sector as a boost to employment generation.
The Government also launched the National Skill Certification & Monetary Reward Scheme to encourage skill development for youth by providing monetary rewards for successful completion of approved training programmes. The scheme will benefit 10 lakh youth at an approximate total cost of Rs 1,000 crore with an average monetary reward of Rs 10,000 per trained person.
India?s first integrated textiles city, which will largely cater to the export market and build a brand for Indian textiles abroad, is likely to be set up in the state of Andhra Pradesh.
The Clothing Manufacturers? Association of India (CMAI) has signed an MOU with the China Chamber of Commerce for Import and Export of Textiles (CCCT) to explore potential areas of mutual co-operation for increasing apparel exports from India.
The Department of Handlooms and Textiles has tied up with nine e-commerce players and 70 retailers to increase the reach of handloom products in the Indian market, which will generate better prices and continuous business, besides facilitating direct access to markets and consumers for weavers.
The Union Ministry of Textiles, which has set a target of doubling textile exports in 10 years, plans to enter into bilateral agreements with Africa and Australia along with working on a new textile policy to promote value addition, apart from finalizing guidelines for the revised TUFS.
The Government has started promotion of its ?India Handloom? initiative on social media like Facebook, Twitter and Instagram with a view to connect with customers, especially youth, in order to promote high quality handloom product

Summary
Three-fold growth is expected for India in exports as well as domestic market. India?s exports of $99 billion in 2014 will become $163 billion by 2020. The growth factors like favourable demographics, political environment, government policies and initiatives and growing opportunities in technical textiles sector makes India a future destination for textile investment to entire world. To achieve India?s textile vision, government and investors will play crucial role. The Government is already implementing various schemes for manufacturers and investors in textile sector. They are in continuous efforts for creating supportive policy framework, suitable infrastructure, state-of-the-art technology, skilled workforce, financial and marketing platforms. Many investors have realised that forward integration can only fetch good profit margins by manufacturing value-added products. So, some of the big investments are expected in coming future. Consultants like us trained with international technology are always ready to bridge the gap between investors & untapped opportunities and spreading the wings of knowledge across the textile value chain.
So, I am sure and confident that textile investment ahead would be a big boom and would increase market share of India to much larger extent in global textile trade.

The article is authored by Avinash Mayekar, Managing Director and CEO, Suvin Advisors.