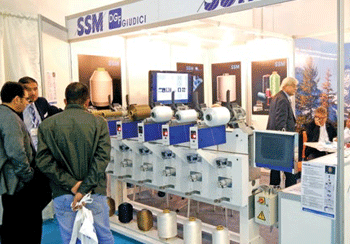 SSM participates at four exhibitions
SSM SchSrer Schweiter Mettler AG participated at the following exhibitions in autumn 2014
SSM SchSrer Schweiter Mettler AG participated at the following exhibitions in autumn 2014:
CAITME in Tashkent, Uzbekistan, between 10-12 September
CINTE in Shanghai, China, between 24-26 September
OTM in Gaziantep, Turkey,16-19 October
IGATEX in Lahore, Pakistan, between 21-24 October
SSM would like to thank their representatives for their efforts before and during the events, helping to have a successful show.
The exhibitions were visited as expected and SSM can look back to many good visits and discussions with their valuable customers. New solutions for cost effective winding and yarn processing were showed and attracted a large interest. Once again SSM got conclusive evidence that their product portfolio is in line with tomorrow´s requirements of the textile market.
Machines for the following applications had been on display at OTM in Turkey: Dyeing/Rewinding: PW3-W, and Assembly winding: DP5-D
In the fields of filament yarn dye package winding and rewinding the SSM PW3-W DIGICONE® fastflex? precision package winder guarantees unchallenged flexibility and economics. The SSM DP5-D DIGICONE® fastflex? precision assembly winder offers a freely programmable thread laying unit, energy saving electronically controlled back pressure and the innovative control functions for the yarn tension allow the winding parameters to be adapted as required. A made-to-measure cross wound package of highest density for long knot-free lengths is just another feature of the DP5-D. Further details about the showed machines, as well as more textile machine applications could be found on SSM´s webpage: www.ssm.ch
SSM would like to take this opportunity to thank everybody that visited their booth and looks forward to future partnerships and collaborations with them.
For further information:
SSM SchSrer Schweiter Mettler AG
Neugasse 10, CH-8810 Horgen / Switzerland
Tel: 44 718 33 11
Fax: 44 718 34 51
Email: info@ssm.ch
Web: www.ssm.ch