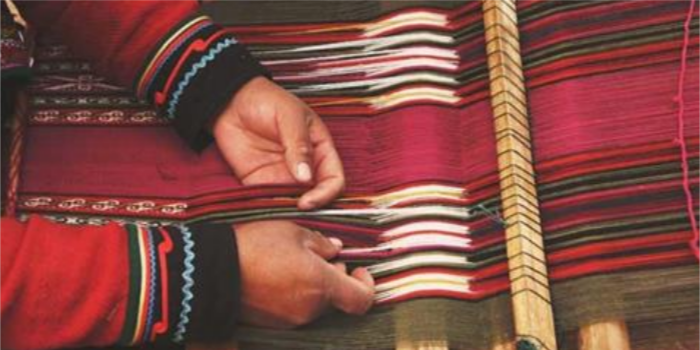 Skill sets for the textile sector
Skill set enhancement, product enhancements and new ideas are the way forward for the textile sector, says Prof Seshadri Ramkumar, Professor, Texas Tech University, USA
Lubbock (USA)
Skill set enhancement, product enhancements and new ideas are the way forward for the textile sector.
On August 7, 2021, as a way of celebrating National Handloom Day in India, stakeholders gathered via virtual platform in an event organised by Coimbatore-based Kumaraguru College of Technology (KCT) in collaboration with Textile Sector Skill Council (TSSC).
Enhancing manpower skills and developing new products were suggested as necessities for the textile sector. Supporting skilled handloom and other technical associates of the textile industry to grow the industry is important, as we come out of COVID-19 pandemic.
T Rajkumar, Chairman of India's TSSC, highlighting how the handloom sector is flexible in handling different fibers and designs, emphasized the need to develop new and sustainable textile products. He highlighted that continuous skill development will enhance the industry's sustainability as is evident with development of new textile products from exotic fibers such as kenaf, organic cotton, etc.
While it was 4.30 AM (US CST) for me, it was such a relish to attend the virtual event as I have just recently articulated the importance of professional, practical and soft skill enhancements in an article, "Surviving Skills in a Complex World," Pallikkutam Magazine, August 2021.
Professor J V Rao, CEO of TSSC, while briefing about skill councils, emphasised the importance of training modules developed and taught by professional and practitioners of the trade. Training needs to imparted not only on the technical aspects but also on marketing and trading added, Professor Rao. With over 5 decades of contribution to the textile sector, Professor Rao stated institutes can collaborate with industry and industry bodies like skill development councils to bridge skill gaps. Such continuous training is not only necessary for technical personnel but also for non-production floor personnel. Schemes such as Recognition of Prior Learning give credit to the skills acquired through nonformal routes, which will serve as motivation for youngsters to enter the industry such as the handloom sector as well as utilize opportunities to improve their career through formal routes.
It is my view that in addition to technical and professional skill development, soft skills like flexibility, adaptability, managing critical situations, cost controlling, etc, aspects need to be imparted on a regular basis.
Need to focus on heritage (specialty) and common products as a way of growing the industry was stressed by Dr P Thennarasu, Director of Indian Institute of Handloom Technology, Varanasi, India.
The need to utilise online tools such as e-commerce platform was urged by Professor G Ramakrishnan, Department of Fashion Technology, KCT. To effectively utilise e-commerce, the industry needs to focus on enhancing the product basket and practice collective approach by enlisting support from Government agencies, stated Dr Thennarasu.
As is a mandatory requirement in the medical profession, having continuous professional development programs, such as those provided by skill development councils and other educational institutions will be beneficial to those employed in textile and manufacturing sectors
While efforts are ongoing on imparting training in various fields within the textile industry, concerted effort is needed to disseminate both academic and practical knowledge in the technical textile sector. The need has heightened with the current pandemic situation where face masks and other personnel protective equipment are life savers.
About the Author:
Dr Seshadri Ramkumar is the Professor, Nonwovens & Advanced Materials Laboratory, at Texas Tech University, Texas, USA. He can be reached on email: s.ramkumar@ttu.edu