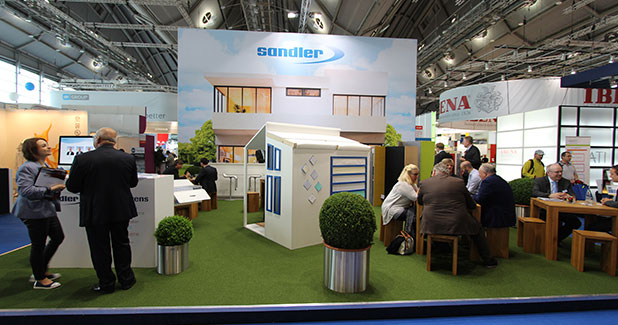 Sandler nonwovens dampen sound
A quiet working environment even with an open room layout can be made possible now by using acoustically efficient Sandler nonwovens.
A quiet working environment even with an open room layout? Yes, made possible by acoustically efficient Sandler
nonwovens. At this year's Techtextil exhibition Frankfurt/Main, these materials took centre stage. On occasion
of its 15th participation in this most important trade fair for technical textiles the family-run company
welcomed an international audience to the home of innovative nonwoven solutions. Sandler's 90-sqm "home garden"
showcased latest developments for room acoustics, transportation and filtration:
Acoustic partitions made of self-supporting nonwovens provided spatial as well as acoustic separation for a
conference corner at the booth, and—among the products on display—they were also the main magnet for visitors.
Available in different thicknesses, densities and degrees of solidification these textile sound absorbers help
render every room quiet and comfortable. Even amongst the everyday hustle and bustle of open plan offices or,
in this case, exhibition halls they reliably dampen sound, creating optimal conversational acoustics. Various
opportunities of surface finishing also make these all-rounders visual highlights: Printed with various motifs,
laminated with coloured fabrics, flocked to create a roughcast look, or enhanced with a coating made of natural
materials such as hay or cornflowers. The possibilities are manifold and drew the visitors' attention.
Only a few steps took the guests from room acoustics to building acoustics: A playhouse demonstrated the wide
range of applications for Sandler nonwovens in our homes—from impact sound insulation to insulation between the
rafters, from insulation for hot water tanks to pipe insulation in solar systems, and from sofa upholstery to
filters in air-conditioning systems. A regular child's play for the textiles to show the wealth of
possibilities. In addition, the recyclability of the materials showcased and therefore their contribution to
sustainable product solutions again was another point of interest for the professional audience.
With regard to synthetic filter media, materials for enhancing indoor air quality in heating, ventilation, and
air-conditioning were in high demand. The latest Sandler product line enAIRsave® combines excellent filtration
performance with good energy efficiency, attaining a favourable rating according to the requirements of new
testing standards.