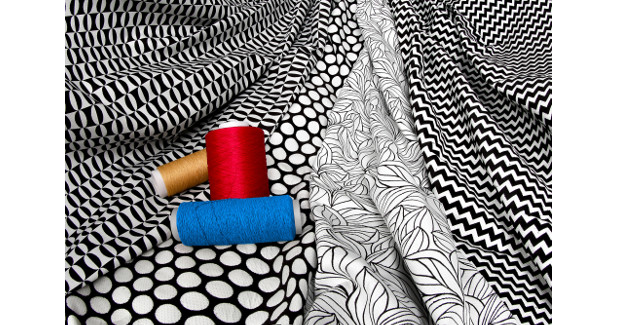 Recron FS empowers to celebrate fire
Recron FS is a preferred textile furnishing solution for enhanced fire safety in homes, offices and transport.
Recron FS is a preferred textile furnishing solution for enhanced fire safety in homes, offices and transport.
Recron FS, an enhanced solution to fire-safe textiles – at homes, public spaces and transportation – is moving forward from strength to strength. After receiving tremendous response at MoOD and Heimtextil last year, Recron FS is back with more powerful solutions at Heimtextil Frankfurt 2019 to present, in partnership with a few leading European mills, innovative fabric collections and to demonstrate varied application possibilities.
Recron FS is the brand of innovative, flame-retardant polyesters from Reliance Industries Ltd (RIL), the largest integrated polyester producer in the world, from India.
Fabrics that embody beauty and safety
It takes eons to fulfil a dream, but in a moment it can be reduced to ashes, literally. Fire can engulf and destroy everything you cherish in the blink of an eye. Such is its destructive power.
At the same time, fire is symbolically used in all kinds of celebrations globally and even religious festivities – be it lighting candles for birthdays or to provide a cozy and warm environment for an intimate dinner. Recron FS now empowers everyone to 'fear fire no more and actually Celebrate Fire'
One of the key causes of fire is negligence. Its spread is caused by the presence of flammable substances in the vicinity. In majority of the fire instances, textiles plays a major role in quick spread as it is flammable and present in most establishments – be it home, office, hospital, cinema hall, hotel and car, trains or air planes.
Textiles are used to make homes, offices, and entertainment, commercial and health establishments both appealing and comfortable. Textile applications like upholstery, seat covers, carpets and curtains are used in most establishments. Time and again studies into fire-related catastrophes have revealed that fabrics/textiles are to be blamed for the quick spread of the fire.
As a remedy to this, RIL introduced Recron FS, a fire-retardant polyester, which not only brings the highest standard of safety in the fabric by making it fire-retardant, but also enhances the aesthetical aspects. Recron FS is RIL's unique offering to the textile world – the most beautiful and the safest textile.
Growing global network
Over the last one year, Recron FS has left no stone unturned in ensuring the perfect eco-system is being set up to cater effectively to the European market. By partnering with the innovative and high quality mills across EU, the collection showcased at this Heimtextil expo is testament to the sheer variety of attractive, safe fabrics that are possible through using Recron FS products. Whether it be upholstery, curtains, furnishing in transportation industries, or theatre seat covers, Recron FS ensures that the right fire-retardant solution is available to the entire EU value chain.
In terms of fabric testing and certification and trademark service, Recron FS is rolling out digitised systems to ensure the trust on the fire safety aspect is visible across every level of the supply chain. In addition to these service and the always-present technical support, Recron FS is also setting up marketing and promotional support services across various offline and digital channels.
Recron FS: Technically and aesthetically superior
Technologies to develop fire retardant fabrics has been in existence since the seventies. However, they were limiting as far as permanency of fire-retardancy and toxicity of chemicals used were concerned. Most of these old technologies were restricted to flame retardant levels corresponding to phosphorous contents below 6,500 ppm, and only manufactured using virgin polyester.
But in coming up with Recron FS, RIL has developed a new technology that enables flame retardancy from the levels of 7,000 ppm and above depending on the end use.
The physical and chemical bonding of phosphorous with polyester matrix makes fire retardancy permanent. This helps in the creation of a textile raw material that doesn't allow fire to spread easily. And thus, fabrics made from Recron FS possess the unique ability to provide everlasting fire safety in any application and every instance.
Recron FS gives the desired fire protection for the entire fabric requirement across home textiles, transportation, public spaces, offices, hospitals, etc. Since it is Oekotex Standard 100 (a stringent worldwide consistent, independent testing and certification system for raw, semi-finished and finished textile products) certified, it can be used to make fabrics that require the most stringent human-ecological standards established for baby products.
The key features of fibres that weavers look for are all embedded in Recron FS. It aids in the creation of high quality, easy-to-care and durable end products and offers excellent dye-ability, easy care and abrasion resistance properties. It does not need any special chemical processing or extra care in washing or drying.
Testing and trademark service for peace of mind: In addition to strong technical support and promotional services, Recron FS will ensure that all fabrics undergo rigorous fire-retardant tests. RIL extends its support to the fabric makers to install a sustainable process to make permanently flame-retardant fabrics. In case any fabric does not pass the tests, the Recron FS team will work with the fabric maker to identify the problems and find solution for it.
Upon successful passing of the requisite tests, the fabric maker can manufacture and use the unique Recron FS trademark on the fabrics. This trademark is an assurance to the entire value chain and to the end customers about the quality, adherence of standards, and high performance of the fabrics. Recron FS helps in securing your profits and safeguarding your future.
Stringent tests add to Recron FS credentials
Recron FS has not only cleared RIL's in-house tests at its R&D facilities but has also passed stringent tests at independent globally renowned testing centres. Some of the stringent tests that Recron FS has passed are:
Limiting Oxygen Index: ASTM D2863:1987, IS-13501:1992
Flammability classified as B1 according to DIN 4102
Flammability Test (Vertical): IS 11871:1986, BS 3119
Flammability Test (45* Angle): ASTM 1230:1994
Flammability classified as M1: NF P 92 503, 504, 505, 507
Flame Propagation Test: NFPA 701:2004 (Class-I) Flame Spread – Vertical IS: 15758:2007, Part 4; ISO: 15025:2002 (Index 3)
Fire standards for maritime applications as well as for civil aviation
Reliance Polyester Business, a part of Petrochemicals Division of RIL, is the largest integrated polyester fibre and yarn producer in the world. Recron is the flagship brand for Reliance Polyester fibres and yarns.
'Innovation for Life' is the guiding philosophy at RIL's Polyester Business and Recron, an umbrella brand for polyesters, has many innovative products in its bouquet. Over the years, RIL has consolidated its leadership position in the polyester business on the strength of its integrated operations, economies of scale and diversified product range. RIL gives utmost importance and allocate vast resources on research and development activity pertaining to polyesters.
RIL is India's largest private sector company, with a consolidated turnover of Rs 4,30,731 crore, cash profit of Rs 56,034 crore, and net profit of Rs 36,075 crore for the year ended March 31, 2018. RIL's activities span across hydrocarbon exploration and production, petroleum refining and marketing, petrochemicals, retail and digital services. RIL is the first private sector company from India to feature in Fortune's Global 500 list of 'World's Largest Corporations' – currently ranking 148th in terms of revenues, and 99th in terms of profits. The company stands 83rd in the 'Forbes Global 2000' rankings for 2018 – the top-most among Indian companies. It ranks amongst LinkedIn's Top Companies Where India Wants to Work Now.