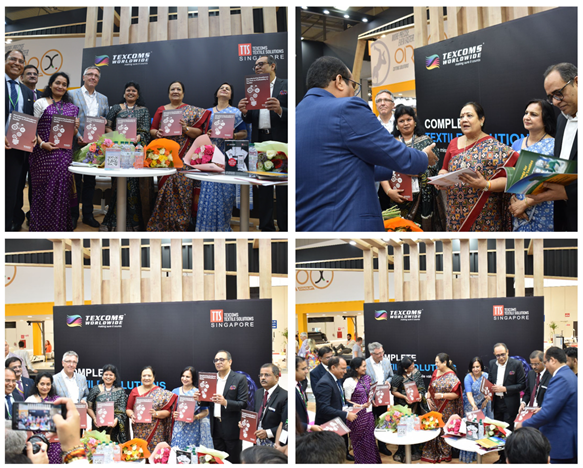 Recluse of White Paper by Wazir Advisors at ITMA 2023
The whitepaper focuses on the significance of manufacturing excellence in the textile industry.
Wazir Advisors, the Indian multinational textile sector consulting firm, is pleased to announce the release of its highly anticipated whitepaper titled "Manufacturing Excellence: The Path to Profitability in Textiles". The whitepaper, focusing on the significance of manufacturing excellence in the textile industry, was officially unveiled on 8th June 2023 at the prestigious ITMA exhibition in Milan.
The unveiling was done by Darshana Jardosh, the Minister of State for Textiles & Railways, GoI; Rohit Kansal, Additional Secretary of the Ministry of Textiles; Dr Neena Malhotra, the Ambassador of India to the Republic of Italy; Thomas Gries, Professor, RWTH Aachen University and Gurudas Aras, Strategic Advisor & Independent Director. Prashant Agarwal, Joint Managing Director; Sanjay Arora and Varun Vaid, Business Directors from Wazir Advisors were present at the event.
Sanjay Arora, explained to the Chief guest, "The whitepaper highlights the importance of manufacturing excellence and its direct correlation to enhancing profitability by reducing manufacturing costs in the textile industry. It also provides a comprehensive account of the factors influencing manufacturing costs and benchmarking norms across various segments of the textile industry."
In the context of evolving market dynamics, such as high inflation, increased input costs, geopolitical issues, supply chain constraints, and intense competition, manufacturing excellence becomes paramount in the textile industry. With complex and labor-intensive processes involved in textile manufacturing, controlling manufacturing costs becomes crucial. As developing countries like China, India, Bangladesh, Vietnam, and Turkey have become attractive manufacturing destinations, the whitepaper sheds light on the factors driving this shift and the importance of adopting manufacturing excellence practices to maintain a competitive edge.
To receive a copy of the whitepaper, visit Wazir Advisors in hall no. 9, stall no. C107 at ITMA, Milan.