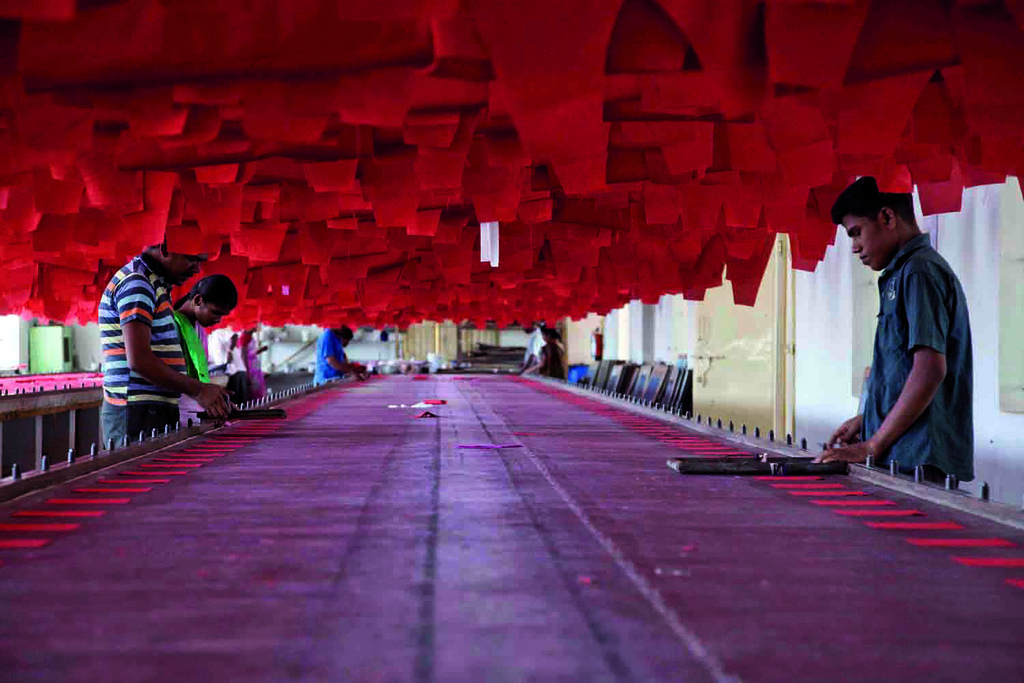 Prices to continue to soften across value chain on demand slowdown
The domestic cotton prices may continue to fall over the short term.
India Ratings and Research (Ind-Ra) has published the July 2022 edition of its credit news digest on India's textile sector. The report highlights the trends in the sub-segments of the textile sector, including cotton, man-made fibres (MMF), yarns, fabric, readymade garments and home textiles with a focus on commodity prices, imports/exports, production and recent rating actions.
Cotton prices likely to dip further: The domestic cotton prices may continue to fall over the short term, led by a demand slowdown from end-consumers and the extension of import duty exemption on cotton (from 10% to nil since April 2022) up to October 2022 from the earlier timeline of September 2022. In July 2022, average cotton prices dipped around 8% mom while remaining 42% yoy higher. Indian cotton stood more expensive than international cotton which witnessed a sharper correction of down 16%-25% mom in July 2022.
However, the prices shall be supported by strong fundamentals led by the US ban on Chinese Xinjiang cotton. Hence, Ind-Ra expects the global cotton prices to remain elevated over the medium term compared to pre-covid levels.
MMF prices to remain volatile: MMF fibre prices is expected to remain volatile over the medium term, owing to fluctuations in raw material prices driven by the US and European Union ban on Russian oil imports, although now eased partially, amid the aggravating geo-political tensions because the Russia-Ukraine war. The prices shall also be driven by a higher substitution demand amid elevated cotton prices over the medium term. In July 2022, MMF fibre prices dipped in line with crude oil price. As the lockdown restrictions are continuing to ease in China and demand is improving, the spread between China purified terephthalic acid (PTA) and domestic PTA is likely to turn positive and increase, that witnessed a dip and turned negative mom in June 2022. Domestic PTA prices continued to increase 9% mom and 50% yoy in June 2022, being crude oil derivatives. Accordingly, Indian polyester staple fibre (PSF) prices remained elevated in June 2022, being 4% mom and 34% yoy higher.
Cotton-PSF spreads to moderate but remain elevated: While both cotton and PSF prices have reduced, cotton-PSF spread also reduced by 5% mom but was around 160% yoy higher in July 2022, making cotton-based products much more expensive than synthetic fibre/MMF based products and thus supporting demand for MMF products. Ind-Ra expects continued demand substitution by MMF products due to the elevated cotton prices over the medium term.
Cotton yarn prices to continue to moderate: Ind-Ra expects domestic cotton yarn prices to continue to moderate over the medium term, led by a moderation in cotton prices, a demand push-back from downstream players and end-users, Indian weavers importing cotton yarn from Vietnam in June 2022 and July 2022 amid domestic prices being higher than international prices along with partial demand substitution by MMF yarns. Average cotton yarn prices were 8% mom lower but still stood 15% yoy higher in July 2022, fuelled by elevated input prices partly countered by the reduction in the production considering resistance from spinners. The spot spreads (cotton yarn – raw cotton) reduced 15% mom up to INR76 per kg in July 2022. "With the expected decline in cotton yarn prices, the spreads may decline for spinners unless raw cotton prices decline in the same proportion", says Shradha Saraogi Garg, Senior Analyst, Ind-Ra
Fabric prices to soften: The production of cotton-based fabrics to moderate on elevated input costs while that of polyester/viscose based fabrics to remain steady or improve over the medium term. The average prices of cotton-based fabrics stood stable mom and 13% yoy higher while that of synthetic fabrics rose 3% mom and 19% yoy in June 2022. Also, while the production of cotton-woven fabrics is in line with pre-covid levels in May 2022, the production of polyester/viscose blended fabrics were over 20% higher than pre-covid levels. With a likely moderation in the cotton and cotton yarn prices, the prices of cotton-based fabrics are also likely to soften.
Sustained apparel prices and improved export market share: Domestic apparel Wholesale Price Index (WPI) rose 0.1% mom and 3.9% yoy in June 2022, due to increased export shipments, supported by a high demand and restricted supply from China. With the increased number of covid infections in China, the country's market share in US apparel imports reduced to 17.75% in the first 2MFY23 (FY22: 24.0%) while that of India increased to 7.18% (5.33%). While the overall quantity of US apparel imports increased 3.5% mom in May 2022, the quantity of imports from India reduced 1.6% mom, indicating a higher impact on India's exports.
Reduction in export market share of home textile players: Relative export competitiveness for Indian cotton terry towels and cotton bedsheets weakened in 5M22 (January to May 2022) as elevated raw material prices rendered Indian products more expensive than that of other exporting nations. Thus, over 5M22, India's market share in US imports of cotton terry towels reduced to 39.20% (2021: 43.87%) and that in US imports of cotton bedsheets reduced to 53.19% (57.0%). Ind-Ra believes the situation may not restore/improve drastically at least till the new cotton season arrives.
Source: Centre for Monitoring Indian Economy, Emerging Textiles, Textile Ministry, Index Mundi, Central Statistics Office, Cotton Association of India, Bloomberg, Ace Equity, Cotton Corporation of India, OTEXA, USDAFAS