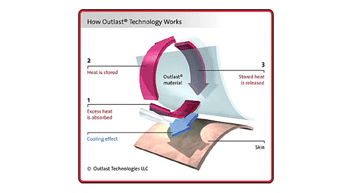 Outlast presents new filling material
Outlast Technologies, market leader for temperature regulating phase change materials (PCMs), enlarges its product range again and presents the new performance filling material ´Universe´
Outlast Technologies, market leader for temperature regulating phase change materials (PCMs), enlarges its product range again and presents the new performance filling material ´Universe´: Heat and moisture regulating PCM viscose fibres combine perfectly with cozy downs and offer a natural solution for climate comfort in bedding and apparel products.
The heat managing Outlast-« PCM viscose fibres form one part of the new filling material ´Universe´ (30% viscose Outlast-« , 70% down). They are 10 mm short cut fibres with 7 dtex. Such a thick fibre with a high diameter was deliberately selected. ´So we can guarantee a high loading of phase change materials (PCMs),´ says Martin Bentz, Managing Director of Outlast Europe GmbH, Heidenheim/Germany.
´The performance compared to a standard PCM viscose fibre here is four times higher´. In combination with the down, Outlast has developed a product offering optimum thermal comfort. The downs display their advantages like lightness, fluffy volume and naturalness, the Outlast-« PCM viscose fibres regulate and optimise the climate comfort. Overheating and sweating are reduced significantly.
What sounds easy was technically a very big challenge. ´In conjunction with our well-known partner Kelheim Fibres, we are happy to have successfully obtained this new process – a homogeneous blend where both wash and care requirements are ensured,´ continues Martin Bentz.
Thus, Outlast has further tested on ´filling material´ and found out that PCM filling materials are ideally suited to provide an optimum heat and moisture management. ´The air transports body heat quickly to the performance fibres,´ explains Volker Schuster, Director R&D at Outlast Europe.
´One important aspect is that all fibres inside a filling altogether build a huge surface. And all fibres are flowed around by air. Therefore every fibre can react very quickly to temperature changes. Since the airflow is increased, this allows the PCMs to be more active in loading and discharging´. As a result, temperature changes are minimised and sweating can be reduced significantly.
And Outlast strengthens: The new PCM filling material optimises the climate proactively – contrary to other technologies that are merely transporting sweat. Outlast-« technology is not a wicking technology, which manages moisture by reacting to sweat and pulling it away from the skin. Outlast-« technology proactively manages your skin temperature while controlling the production of moisture before it begins. That´s the Outlast-« difference. And One will feel this difference also in comfort and hygiene.