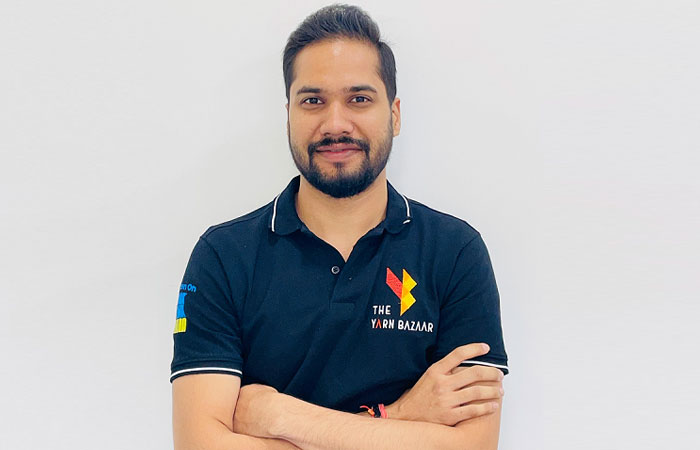 Our proprietary process benefits both yarn buyers and sellers
The Yarn Bazaar is revolutionising the Indian textile industry with its innovative online marketplace. Utilising cutting-edge technology, The Yarn Bazaar provides real-time data on yarn prices and market trends, ensuring transparent and efficient transactions for buyers and sellers. Pratik Gadia, Founder & CEO, The Yarn Bazaar, highlights the challenges faced by the buyers and sellers of yarn and how his company is addressing it.
Could you provide us with an overview of The Yarn Bazaar?
I founded The Yarn Bazaar with a clear mission, born out of my hands-on role in overseeing yarn sourcing and fabric production for my family's textile enterprise. It was during this period that I became acutely aware of the supply chain's inefficiencies, hampering our business's expansion.
Our vision is to revolutionise the textile industry by bridging the gap between yarn buyers and suppliers, making their transactions seamless and efficient. From procurement to payment, we simplify the entire process, ensuring higher profits for sellers, faster payments, top-notch quality, competitive pricing, and timely deliveries for buyers.
But we offer more than just a platform for yarn transactions. We provide a complete yarn solution, including discovery, quality control, transactions, financing, advisory services, and market insights. This eliminates the need for multiple intermediaries, be it for yarn procurement, sales, logistics, credit requirements, or market insights.
Our proprietary process benefits both yarn buyers and sellers. Buyers enjoy competitive prices, top-notch quality, and on-time delivery, along with flexible, unsecured financing options to support their working capital needs. For sellers, our platform offers similar unsecured financing solutions, ensuring quicker payments and improved cashflow management. This comprehensive approach enhances the experience for all participants in the yarn ecosystem.
We are more than just a yarn buying and selling platform. We are building a fully integrated solution catering to all requirements of buyers and suppliers. At The Yarn Bazaar, we're excited to lead this change and bring a breath of fresh air to the textile industry. Join us on this incredible journey!

In what ways does The Yarn Bazaar uphold transparency in its interactions between yarn sellers and buyers?
When buyers seek the perfect match of quality, cost, and delivery, they often find themselves in a tricky situation. Sometimes the right price and quality align, but the delivery schedule falls short. Other times, it's the perfect delivery schedule and cost, but the quality that doesn't quite fit the bill. At The Yarn Bazaar, we understand that quality, price, and delivery are subjective factors, varying from buyer to buyer and supplier to supplier. Our approach is to dive deep into the buyer's specific needs. We examine the quality required, the intended end-use, the machinery involved, and the construction specifications. With these exact requirements in mind, we connect buyers with supply partners who can precisely meet those expectations, ensuring a seamless match.
Our commitment doesn't end there. Transparency is at the heart of what we do. We keep all stakeholders informed at every step of the transaction journey. For instance, in the world of fulfillment and delivery, we eliminate the guessing game. Say goodbye to production hiccups due to delayed yarn deliveries. We provide real-time updates, so you'll always know where your yarn is and when it's expected to arrive. It's all about ensuring on-time and in-full (OTIF) deliveries. Quality matters just as much. We demystify the suitability of a certain yarn quality by offering insights and information tailored to each unique buyer and use case.
And when it comes to payments, we provide the clarity that suppliers crave. No more wondering when a payment will hit your account. Our advanced payment system offers predictability. Suppliers know exactly when to expect payment, either pre-shipment or post-shipment. It's all about aligning expectations, eliminating uncertainties, and ensuring a smooth, transparent process.
What are the current challenges confronting yarn sellers in today's market, and what suggestions would you like to offer for overcoming them?


Looking at yarn sellers, mainly yarn manufacturers in the Indian textile industry, we see a landscape dominated by around 55 million spindles, with a significant concentration in the south. However, beyond these larger players, there's a multitude of smaller suppliers representing MSMEs or SMEs. The challenge they face is twofold.
Firstly, their distribution is limited, often confined to just their local areas, perhaps one or two geographies. Their sales heavily rely on middlemen and channel partners, such as agents and traders, who operate in restricted regions. Expanding their distribution network could significantly boost sales. Secondly, there's a glaring lack of branding. This absence of a brand presence prevents them from commanding higher price premiums compared to larger manufacturers.
In addition to these issues, many of these smaller manufacturers struggle with low factory utilisation and operational efficiency. They operate at reduced capacity, leading to high levels of wastage. In some cases, we've seen manufacturers producing different counts in the same spindle capacity, creating quality inconsistencies. Even larger yarn manufacturers, despite their pan-India presence, have strengths and weaknesses in various clusters and product categories.
The Yarn Bazaar bridges these gaps by offering manufacturers a pan-India distribution network, granting them access to a more extensive market. We don't stop there; we also assist in establishing their brand, ensuring they receive fair prices for their quality through consistent quality standards. The Yarn Bazaar provides manufacturers with pan-India distribution, enhancing their market reach. We help establish their brand, maintain quality standards, and simplify the procurement-to-payment process and established firm agreements with manufacturers to enhance product efficiency and production capacity. So, our suggestions are clear. Manufacturers should strive for pan-India distribution, ensuring they are competitive in every product category they offer. Quality and consistency are key, and for smaller players, it's essential to focus on just a few SKUs that cater to a larger audience. Additionally, improving factory efficiency and minimising wastage can significantly impact their bottom line.
Can you explain the organisational culture that prevails within The Yarn Bazaar, shedding light on its values, work environment, and overarching ethos?

At The Yarn Bazaar, we recognize the immense value of nurturing company culture, where employees are encouraged to thrive and discover their unique paths to success.
We understand the importance of taking care of our team's well-being. That's why we have an excellent leave policy, fully paid maternity leave and paternity leave. Also, employees have the freedom to clock in and out at their convenience, as long as they fulfill their daily working hours.
To create a positive first impression for new employees, we schedule their first day of work on Saturdays and host a company-sponsored dinner for them. We also give each new team member a box of chocolates to distribute while introducing themselves, which helps foster connections and create a warm and inclusive work atmosphere.
To strengthen team camaraderie and build a robust company culture, we organise regular game nights, and weekly tribe sessions while engaging in insightful discussions on compelling case studies and other educational topics, fortnightly movie mornings, and encourage team lunches. We also have spontaneous jam sessions to promote unity and enjoyment in the workplace.
How do you perceive the state of the Indian textile industry at present, considering its strengths and areas that may require improvement or innovation?
Export numbers for the financial year 2022-23 were notably lower than in the previous year. This is a concern, given India's vast potential in the textile industry. The primary issue can be traced to the textile sector's composition, which is largely comprised of Micro, Small, and Medium Enterprises (MSMEs) and Small and Medium Enterprises (SMEs). These smaller businesses often grapple with outdated processes in marketing, sales, and distribution.
The disconnect between the vast textile ecosystem India boasts and its ability to harness the "China plus One" strategy is evident. While technological advancements have brought better machinery and efficiency to the sector, there remains a significant lag in areas such as marketing, sales, and distribution. This hampers India's competitiveness in the global textile market.
To effectively tap into the massive global opportunity, India needs to address these challenges. Improving quality, price competitiveness, and lead times is crucial. Success in these areas will allow India to offer high-quality products at attractive prices with swift delivery. Simultaneously, enhancing branding and aligning with global environmental, social, and governance (ESG) norms is essential for positioning India's textile industry as both innovative and sustainable.
Our partnership with Wazir Advisors on the Sustainability Survey Report, launched on World Environment Day 2023, showcases India's commitment to global sustainability standards. We'll continue this report each year to drive positive change.
What are the company's anticipations and strategic growth initiatives for the fiscal year 2024?
We recently concluded a successful pre-Series A round, securing substantial funding with participation from prominent investors. This milestone has injected fresh momentum into our growth trajectory. As we move forward, our strategic focus is centered on expanding our footprint in the market.
Our laser-focused commitment remains in the Yarn segment within the Indian market. No detours into fiber, apparels, or fabrics; we're all about Yarn. But that doesn't mean we're standing still. Our expansion strategy involves diversifying our Yarn categories and looking at global opportunities when the time is right. Simultaneously, we are directing our efforts toward expanding our team, enhancing our product portfolio, and advancing our technological capabilities. Importantly, our engagement with both buyers and sellers has provided invaluable insights into their pain points and requirements. As a result, we are diligently developing innovative product offerings tailored to address these challenges and elevate the overall experience for our esteemed community of buyers and sellers. The future holds promise, and we are poised to embrace it with determination and enthusiasm.