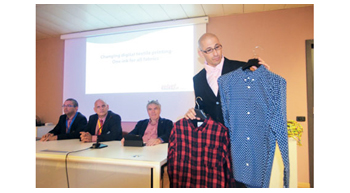 One Ink All Fabrics: velvet jet inks new revolution
One Ink All Fabrics ? which he terms it as a big revolution in printing.
Guy Evron, Marketing Director of Velvet Jet, a division of the Israel-based company Bordeaux Digital Printink Ltd, finds it difficult to control his unbridled exuberance & enthusiasm for the company?s new product, Velvet Jet ? One Ink All Fabrics ? which he terms it as a big revolution in printing. ?You name it and Velvet Jet can deal with it; cotton, silk, polyester, viscose, blended fabrics and even leather and décor can all be printed with Velvet Jet,? says Evron as he jubilantly waves a couple of colourful shirts in the air and does a solo dance round the table.
He enumerates the virtues of Velvet Jet: ?With Velvet Jet ink you get a uniform colour coverage and bright vivid colours regardless of the fabric composition. With this pigment ink, the original natural feel of the fabric is preserved, so printing can be done even on the most delicate fabrics as silk and velvet.?
It is a simple process, he repeats like a refrain, striking home the point that Velvet Jet enables with a simple pretreatment with an optimiser solution for perfect results on all fabrics. He lists the benefits of the process succinctly; ?Simple printing process, bright vivid colours, expanded rub resistance, enhanced washability and no need to depend on a specific printer.?
Evron also indulges in some musings: ?The industry was characterised by complex printing processes involving different types of inks and machinery for different applications. Print houses are striving for better and more cost-effective solutions.?
The Velvet Jet product would offer a new way for print shops to expand their business opportunities and use the ink to give garment manufacturers more versatility in their printing processes, he says.
Velvet Jet brings a new and a fresh approach for dealing with the current complexity of digital textile printing. It combines experience in ink development with experts from the textile industry in order to meet the industry?s needs for mass customisation of digital prints on textiles.
The new water based pigment ink high quality characteristics include uniform coverage for quality prints on any type of fabric while preserving of the natural feel of fabrics. In addition, the ink requires only a single pretreatment to all different fabrics significantly simplifies the process, while the fact there is no post treatment as the ink shortens entire process, and significantly reduces electricity and water consumption.
Ink attributes such as rub and wash resistance are high even without any pretreatment to the fabric. When using Velvet Jet optimiser the test results are among the highest in the market with 5/5 wash and rub resistance and 7/8 colour fastness.
?Velvet Jet?s pigment ink simplifies the complexity of the current digital textile printing.? Says Evron: ?This pigment ink created a huge interest at ITMA as the fashion, apparel, footwear, decorative and industrial textile markets recognise the huge business potential Velvet Jet can bring.? Textile manufacturers and integrators will now have the ability to provide new, simpler solutions to their customers, while reducing overall printing costs and eliminating the multiple production lines needed for printing different fabrics. Visitors to Velvet Jet stand enjoyed a live performance of the new pigment ink and were able to get a closer look at the different applications and fabrics all printed with one pigment ink ? Velvetjet. Digital textile is gradually increasing its share of the textile industry. Velvet Jet ink, with the simple one ink-one process for all fabrics digital, is expected to dominate the textile printing arena.
Velvet Jet is the textile inks division of Bordeaux, a developer, manufacturer and distributor of customer-focused premium inks and comprehensive solutions for all wide format inkjet technologies, printers and the graphic arts industry. For the past 15 years, Bordeaux has been a worldwide lea