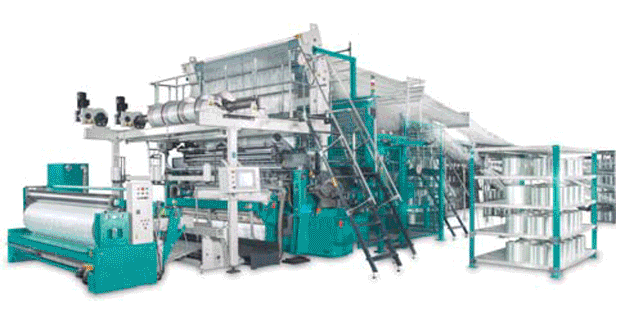 Modern showrooms in Chemnitz and Naila
Textiles for technical applications are usually customised to suit the requirements of their intended application right from the production stage, and innovative technical solutions and specific know-how are needed to produce them. And KARL MAYER Technische Textilien GmbH can offer both of these things.
Textiles for technical applications are usually customised to suit the requirements of their intended application right from the production stage, and innovative technical solutions and specific know-how are needed to produce them. And KARL MAYER Technische Textilien GmbH can offer both of these things. This subsidiary of KARL MAYER has a showroom equipped with high-tech machines in Chemnitz as of September 2016. Another showroom was expected to be ready by the end of 2016 in Naila.
During the course of many projects, KARL MAYER has gained years of experience and technical knowledge of the many applications of its machines. With its extensive expertise and technical innovations, this company stands side-by-side with its customers in their relevant business fields, and has showrooms equipped with a wide range of machines of the latest generation. The technical upgrade began in May 2016 in Chemnitz, and was expected to be finished by the end of the year in Naila.
According to the Sales Manager, Hagen Lotzmann, it is important for its customers to see the value of any new investments. KARL MAYER can also carry out trials with very innovative customers and customers with new product ideas. "The processing trials can show if and how the desired objectives can be achieved, and also what changes need to be made to the machine technology," explained the Sales Manager.
The showroom in Chemnitz offers customers to try out various weft-insertion warp knitting machines and a biaxial warp knitting machine, and to see them being demonstrated. Naila is the first point of contact for multiaxial warp knitting machines. The following models are available:
WEFTTRONIC® II RS: This high-speed raschel machine with weft insertion facility is ideal for producing coating carriers and advertising substrates having a high tear resistance. It delivers impressive values in terms of productivity, operating reliability and product quality. Thanks to the use of modern materials and complex technical features, especially for the drives and weft insertion elements, these machines are extremely fast and also handle the yarn gently. A WEFTTRONIC® II RS 2, 268", gauge E 18, and two WEFTTRONIC® II RS 3, gauge E 18, with a working width of 268" and 184" respectively, are housed in the showroom.
WEFTTRONIC® II HKS: This high-speed tricot machine with weft insertion facility produces lightweight, weft-inserted, warp-knitted textiles with high stitch densities in a wide range of gauges. A completely new machine gauge of E 40 is also now available.
A WEFTTRONIC® II HKS 2, 213", gauge E 40, is housed in the showroom. This unique machine extends the scope for designing products, especially for interlinings. Top-quality interlinings having weights similar to woven fabrics can be produced on this innovative machine at speeds of up to 1,500 min-1. Bars made from CFRP and the KAMCOS® 2 system guarantee high-precision processing and a first-rate operating reliability. The weft insertion and fabric take-down systems have been optimised on this machine series, which also guarantees rapid setting-up times. BIAXTRONIC® CO: This high-speed warp knitting machine processes continuous filament yarns made from glass fibres to produce biaxial textiles and composite structures. A feature of this machine is that the weft yarn is inserted in line with the stitches and is not pierced or damaged – an advantage that is opening up new potential in the design of biaxial textiles for producing the rotor blades of wind turbines especially.
When using conventional glass fibres, higher strength values can be achieved or, when the strength values are the same, new material configurations can be worked. Chopped glass strand mats and nonwoven mats can also be integrated into the textiles. The technology is such that the warp and weft yarns are incorporated into the textile structure so that they are completely straight, and they can also be processed extremely efficiently.
At a speed of up to 1,400 min-1, the maximum production rate is 6.5 m textile/min.
Other performance features of this innovative machine include the fact that it can be operated intuitively using a touchscreen monitor, and it produces premium quality products. This is mainly due to the well-thought-out material feed system. The weft yarns are inserted reliably and processed gently using a complementary laying device as a yarn compensator. Four separate delivery units are used to feed in the filler yarns separately. These technical features, together with all the other performance features of this biaxial warp knitting machine, can be demonstrated on a BIAXTRONIC® CO, 101 inch, gauge E 7.
Fibre spreading unit: Dry, unidirectional fibre tapes are the preferred starting materials for use in the production of high-quality components for the car and aviation industries. The UD tapes have a low weight per unit area, are made mainly from continuous filament carbon yarns, and are produced on fibre spreading machines.
The showroom houses an FSA 600 Plus fibre spreading unit. This machine preferably processes carbon fibres with up to 50,000 individual filaments per 7 µm diameter. The rovings are taken off from special creels under a specific starting tension and processed into tapes having a uniform tension.
The maximum speed is 40 running m/min – depending on the material and the desired spreading effect. The resulting products exhibit a uniform material distribution and a low weight. For example, tapes made from 50 K rovings having a weight per unit area of 130 g/m² and a maximum width of 800 mm can be produced. The processing results are completely reproducible, since all the necessary material-specific setting parameters are infinitely variable – a technical feature that also guarantees a high level of flexibility.
Multiaxial warp knitting machines: Multiaxial warp knitting machines produce multiaxial textiles for applications where a high strength and rigidity for a low weight are required, i.e. in the composites sector. The machines are economical; they can be operated easily, and deliver impressive, high quality products – and customers will be able to see this for themselves from December 2016 onwards. Once the showroom has been upgraded, a COP MAX 4, 101", gauge E 5, and a COP MAX 5, 50 inch, gauge E 5, will be available for carrying out customer trials and performance demonstrations.
With three variably adjustable weft insertion systems, these two machines manufacture products having different characteristics. The COP MAX 5 specialises in using carbon fibres. It processes spread carbon tapes with an adjustable laying angle of from +30° to –30° to preferably produce textiles having low weights.
The COP MAX 4 is ideal for producing multilayered, multiaxial, textile structures with angles of +20° to -20°. The starting materials may be carbon, as well as glass and aramid fibres.
New expression of elegance
A bizarre trend or shimmering luxury? In the 1980s, Vivienne Westwood, Jean Paul Gaultier and Madonna were some of the people who finally established fetishism on the mainstream fashion scene. When Gianni Versace presented his Bondage collection in 1992, fetishists all over the world complained that the collection had pushed fetishism into mainstream fashion (1) – a trend that Sara Linke is promoting with her master's collection. This young graduate of the fashion design course in the Fakultät Angewandte Kunst (Faculty of Applied Arts) Schneeberg of the Westsächsischen Hochschule Zwickau has used latex, and combined this fetishistic material with lace to produce extravagant, special-occasion wear. Sara Linke was supported in the development of these new, innovative, composite materials by KARL MAYER Textilmaschinenfabrik GmbH and Latexmanufactur.de.
A collection that is making latex acceptable: The Obsessive Latex collection is a homage to the female form and plays with luxurious materials – woollen fabrics, silk and latex are incorporated into seven outfits to create exciting combinations. A new, vibrant design concept has also emerged by combining open, warp-knitted fabrics and lace with natural rubber, which is nurturing the "fetish fashion" trend. The result is eveningwear, whose aesthetics and elegance are showing real commitment to pleasure, fashion and femininity. The elegant apparel shows that eroticism can be combined with conventional garments. Lingerie and latex have been a hot topic for some time, and are now becoming an acceptable "dress code".
Sara Linke combined classic garment pieces with high-end lingerie and brightened up the look with bold style elements borrowed from the 20s and the fetish scene. This daring experiment has been a huge success. The exciting collection emphasises all those feminine charms, plays subtly with the material esthetics, and has an impressive, luxurious feel to it – the result of combining a touch of Art Déco with 1920s' glamour. The luxury of the materials typical of the twenties, which include varnish, leather, chrome and gold, is now reflected in shimmering latex. Chokers and laces as fetish elements in the collection are placed stylishly on the garments using rings, stand-up collars and tie-belts, for example.
The design of the dresses, tops and a skirt, which are made from extravagant materials, makes them both wearable and striking. The contrasting widths in the silhouettes create a vibrant, overall look, and the trapezoidal intersecting lines send out a message that the wearer is tough and determined. Refinements like laser cuts and latex net constructions produced by hand round off the design features.
(1) Valerie Steele: Mode, Sex und Macht (Fashion, Sex and Power), Berlin Verlag, Berlin, p. 172, 1996