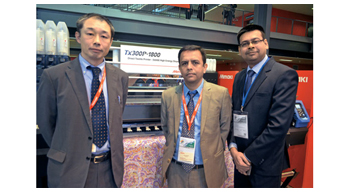 Mimaki's new printers, inks & apps to cover all markets
Mimaki, a leading global manufacturer of wide-format inkjet printers and cutting plotters for the sign/graphics, textile/apparel and industrial markets.
Mimaki, a leading global manufacturer of wide-format inkjet printers and cutting plotters for the sign/graphics, textile/apparel and industrial markets, brought one of the industry?s broadest selections of digital textile printing solutions to ITMA.
?This is our biggest and most exciting presence at ITMA ever,? says Mike Horsten, General Manager ? Marketing EMEA at Mimaki Europe. ?Digital textile printing is truly coming into its own, not only for sample making, but for full production runs. Mimaki is leading the pack with digital textile printing solutions that can meet just about every need. We were excited to speak to ITMA visitors at our stand to find out how they want to use digital printing so we can continue to stay ahead of the curve with new developments that will take the segment even further.?
In addition to two new inks, Mimaki?s New Neon pink and yellow ideal for sports and active wear, Mimaki was exhibiting five 1.8 m digital textile printers, each addressing a separate textile application space with new ink technologies. Mimaki?s advancement in textile pigment inks is the first industry solution that combines the speed of the printer with the high quality of the inks into one simple-to-use solution.
Highlights on the Mimaki booth
TS300P-1800 SB410 ink:

This dye sublimation printer is ideal for paper transfer and will be able to take advantage of the new neon pink and yellow fluorescent inks.

TS300P-1800 SB410 ink:

The production dye sublimation printer is ideal for paper transfer in 2 x BMYK ink configurations running speeds up to 115 sq m/hr.

TX300P-1800 TP400:

Using direct print technology with pigment inks enables anhydrous printing that does not require a washing step in post-processing, simply heating the media fixes the ink. This means there is zero waste water in this environmentally-friendly approach to digital textile printing. Textile pigment inks can be used on all kind of medias, like natural fibres like cotton or linen and man made fibres.

TX300P-1800 Dd400:

Direct disperse dye inks used with this printer are light and abrasion resistant and are ideal for industrial textiles as well as swim and active wear.

TX500-1800B RC300:

Sticky belt driven system.
The reactive dye inks can be used for direct printing on textiles like cotton and other prepared printable fabrics.
?We are also pleased to be able to show a brand-new concept printer,? Horsten adds, ?the 3.2 m TS500P-3200. This highly productive digital textile printer, which will be commercially available in 2016, will deliver beautiful prints for wider textile requirements such as curtains, bed covers and more. This printer will use Mimaki?s SB310 inks, and we are looking forward to hearing what visitors have to say about the new opportunities it will open for them.?
Last but not least, Mimaki launched the new SB420 Dye sublimation inks for direct print for the TX300P-1800 direct to textile printers. Also featured at ITMA was Mimaki?s digital textile printing workflow that will make both small lots and larger production runs more efficient. From the designer through to delivery, Mimaki?s digital textile workflow system makes fast, error-free production the name of the game. Combined with Mimaki?s outstanding digital textile printers and inks, this highly-automated workflow makes it easier for designers and textile manufacturers alike to take advantage of the many benefits digital textile printing can offer to their businesses.
Mimaki is a leading manufacturer of wide-format inkjet printers and cutting machines for the sign/graphics, industrial and textile/apparel