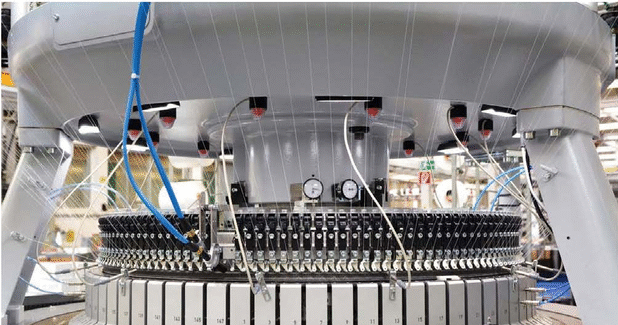 Mayer & Cie. premium machines for Indian market
For the German manufacturer of circular knitting machines, Mayer & Cie. MCT, India is one of its strongest markets.
For the German manufacturer of circular knitting machines, Mayer & Cie. (MCT), India is one of its strongest markets. Every year, Mayer & Cie. ships a substantial number of its premium products to India, from the highly productive Relanit to premium mattress ticking OVJAs. New innovations such as spinitsystems, Mayer & Cie.'s spinning and knitting technology, are viewed with great interest, too. Together with its long-standing local agent Batliboi, the German manufacturer successfully serves several hundred clients all over the country.
Strong presence in Indian market
India's economy is one of the fastest growing in the world, expected to reach a growth rate of 7.5 per cent in 2018. The textile industry is a major contributor to this impressive figure, boasting a compound annual growth rate (CAGR) of more than 13 per cent. The situation is unlikely to change, as both domestic and international demand for the industry's products are high. Indian textile exports totalled around 40 billion dollars, making it one of the world's leading textile industries.
International textile machinery manufacturers benefit from sustained demand in their lines of business. Among India's young population — 70 per cent of the 1.3 billion Indians are 40 and younger — knits for outerwear are very much in fashion. Although local Asian manufacturers outnumber Germans in terms of sales volume, Indian textile producers choose German suppliers when it comes to the premium segment. "Our local clients greatly value quality, reliability and durability in their machines. Along with the overall situation in India, this means ideal conditions for a company like Mayer & Cie.," states Abhay Sidham, CEO of Batliboi, Mayer & Cie.'s longstanding local agent. "Besides, raw materials such as cotton and man-made fibres are available. Steady growth in expendable household income coupled with increasing quality consciousness amongst the young generation will provide an ideal platform for Mayer & Cie. to further consolidate its leadership position in the domestic market."
Dominance in the mattress cover market
Mayer & Cie. is in a strong position in India, especially in the manufacture of mattress cover fabrics. According to Batliboi calculations, it commands a market share of over 90 per cent for electronic mattress machines. It owes this position to two machines in particular: the OVJA 1.6 E and the OVJA 1.6 EM. The former is the flagship for electronic jacquard production and provided launching pad for the hugely successful model OVJA 1.6 EM, which was specially designed for the mattress market. In addition to the manufacture of mattress cover fabric, the tried and trusted OVJA 1.6 E is often used to make outerwear and, of late, shoe uppers, an emerging and fast-growing market in India and many other textile manufacturing countries.
Superior productivity in single and double jersey
Mayer & Cie.'s single most popular machine in India is the S4 3.2 II. "Its market share in the A segment has grown over 30 per cent," says Batliboi's Sidham. Looking at double jersey, the D4 platform is well established among local customers. Eighty per cent of all D4 2.2 HPI machines Mayer & Cie. has produced since its market launch in 2013 are working in India, according to Batliboi numbers. This high performance machine's sister product, the D4 2.2 II, is widely employed for producing classic rib.
Mayer & Cie.'s Relanit machines are also firmly established in the Indian knitting industry, especially the Relanit 4.0 with its high output of Single Jersey knitwear. The company expects the Relanit 3.2 HS, the latest member of the Relanit family and one of the most productive Single Jersey machines in the market, to sell particularly well.
Great potential of spinitsystems
For spinitsystems and the Spinit 3.0 E, of which Mayer & Cie. began series production in 2018, India is one of the most important target markets. It was no coincidence that Indian textile manufacturers were among the first pilot customers to receive a Spinit 3.0 E and put it through its paces. For Michael A. Tuschak, spinitsystems marketing and sales manager at the company's Albstadt head office, there were various reasons for that. "Full-service companies and, especially, spinning mills interested in forward integration are following with great interest the opportunities that Mayer & Cie. can offer with its Spinit 3.0 E," he says. "They see in it potential for effectively setting themselves apart from the competition." In addition, the Spinit 3.0 E is of interest in itself as a genuine cotton specialist in India, one of the world's largest cotton producers and processors.
Understanding and facing challenges
India is predominantly a cotton country. That, according to Batliboi's estimates, will continue to be the case for a few more years. However, polyester consumption is already growing, mostly for non-apparel purposes. In the knits sector and for apparel purposes, it is limited to active wear. "We are also noting an increase in regenerated cellulose fibres such as modal and viscose or, most lately, LIVA, that all need to be processed on circular knitting machines," says Abhay Sidham, adding "we appreciate the fact that Mayer & Cie. is well positioned to meet both existing demands and newly emerging uses."
Yet there are hurdles for Indian customers wanting to invest in overseas machinery in general and Mayer machines in particular. Firstly, the Indian rupee's devaluation against both euro and dollar makes investment costs escalate. Indian entrepreneurs also continue to face high interest rates. Secondly, the most popular Mayer & Cie. machines may have lead times that Indian customers are reluctant to accept.
Wolfgang Müller, Head of Sales and Marketing at Mayer & Cie.'s head office in Germany, is aware of these challenges: "With our premium machines, we can offer our clients the fast and strengthened return on investment they are looking for. We are working hard on reducing our lead times, understanding that our customers also need short-term solutions. Other than that, we are convinced that we, along with our local partner Batliboi, are in a strong position in the Indian market. By offering sustainable, highly productive circular knitting machines, we can contribute to the growth of the Indian textile industry."
Mayer & Cie. is a leading international manufacturer of circular knitting machines. The company manufactures the entire range of machines required for making modern textiles. Fabrics for home textiles, sportswear, nightwear and swimwear, seat covers, underwear and technical uses are made on MCT knitting machines. Founded in 1905, Mayer & Cie. generated sales of EUR 105 million in 2017 with about 500 employees worldwide, according to preliminary figures.
"Mayer & Cie.'s Relanit machines are also firmly established in the Indian knitting industry, especially the Relanit 4.0 with its high output of Single Jersey knitwear."