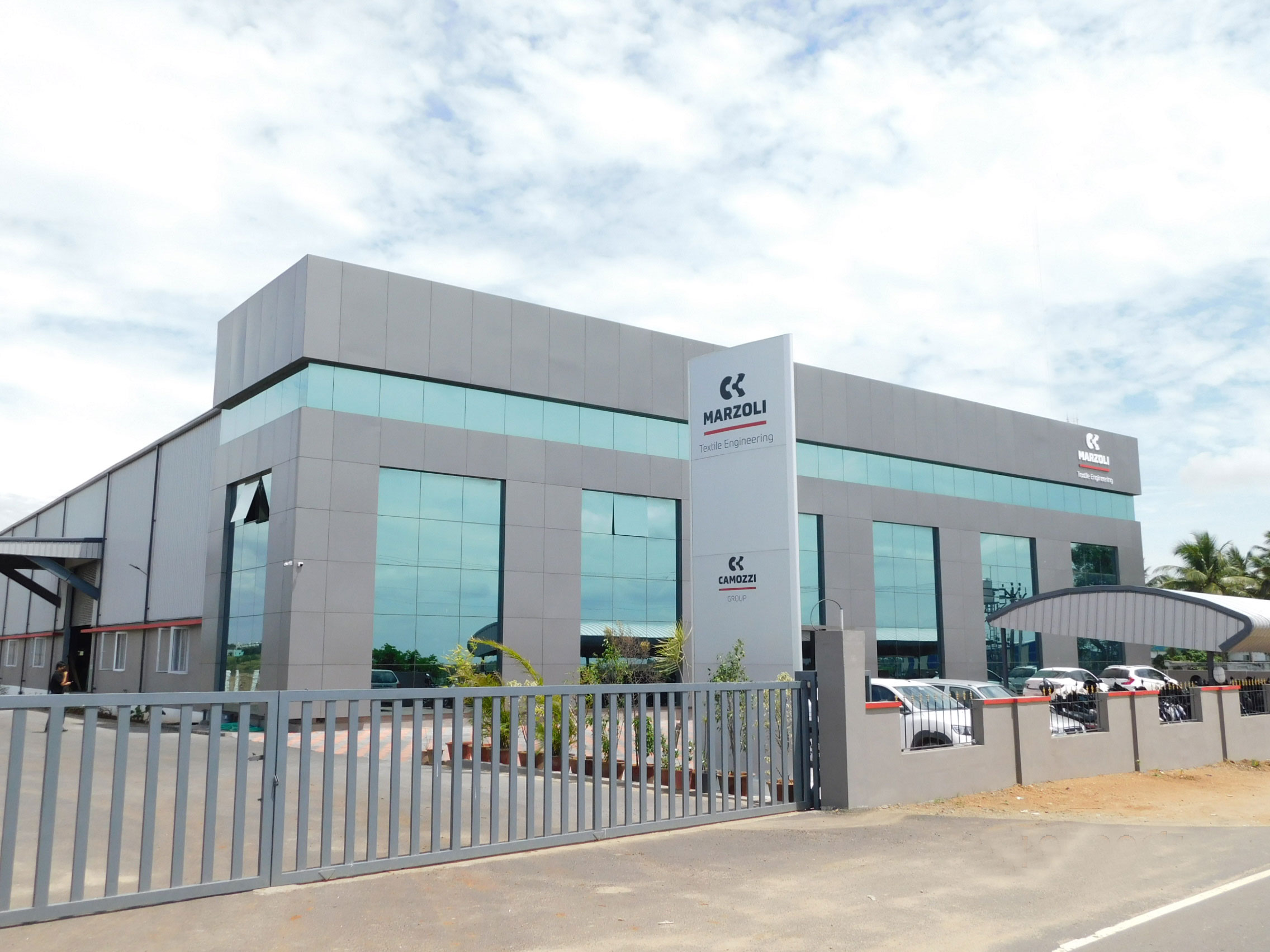 Marzoli unveils '2025 strategic roadmap for India' at ITME 2022
India ITME is the opportunity to showcase the outstanding value of Marzoli products portfolio for the spinning sector, with a special focus on Roving Frame Technology and combing machine, combined with the whole range of digital solutions for the textile industry.
Marzoli is exhibiting at ITME, the most important event for the textile machinery sector in India.
During these early days, the team met a lot of relevant customers, mainly from India and Bangladesh, they are comparing with industry professionals and having interesting discussions about their next investment projects.
India ITME is the opportunity to showcase the outstanding value of Marzoli products portfolio for the spinning sector, with a special focus on Roving Frame Technology and combing machine, combined with the whole range of digital solutions for the textile industry.
In the present global textile scenario, India is playing a key role, and continue to be the enabling ground for the textile machinery manufacturers.

Marzoli started its journey in the Indian market ten years ago with a first branch in Bangaluru and now, in its new 115,000 square ft plant in Coimbatore, the company is building its future in India.
On Saturday 10th of December, Marzoli welcomed in an exclusive location near to the India Expo Centre & Mart, a delegation of more than 80 Indian customers and journalists to share and present the "2025 strategic roadmap for India" that has the ambitious goal to shape the future of Indian textile industry.
During the event, Neeraj Jain, JointManaging Director & Business Head (Spinning), Vardhman Textiles joined them to share his viewpoint on the current global market scenario, highlighting the short and medium terms developments.
The "Marzoli strategic roadmap for India" is based on 6 pillars:
Made in India: Thanks to the assembly of machinery and systems in their plant in Coimbatore, we are Marzoli is increasing the production capacity for the whole product portfolio.By the end of 2023, the company will achieve the full increment of 40%. A well-proven supply chain with international and local partners and a local stock of spare parts have been established tomaintain the highest quality standards onthe product and service. Well-trained and skilled engineers in Marzoli India guarantee the finest assembly of our machines complying with Marzoli Group's well-proven procedures and a team of engineers support our customers on the market with commitment, starting from the internal assembling, factory testing, erection and final set up, creating a direct connection and flow of technical competences, delivering passion and the over 170 years of Marzoli textile culture.
Digitalisation and AI: The long-term vision and innovative digital journey that Marzoli and Camozzi Group have designed in 2010 have made it possible to develop the first AI enabling platform dedicated to the textile industry. The Digi4spin centre based in Marzoli India will support the customer through advanced remote services and training activities. Digi4spin will sustain the corporate's organisation for accelerating the digital transformation processes and culture through a specialised academy. As well as promote the adoption of AI technologies in the industry.
Automation: More than 170 years of textile technology and optimisation of the spinning process result in a strong commitment towards automation of production lines and processes. Marzoli firmly believes in Automation, directly connected with Digitisation and AI, constitute the enabling platform necessary to standardise quality, improve performances and productivity. The capability to fit an advanced automation system to the existing ecosystem, improving workplace conditions, workers engagement,while reducing wearing and alienating tasks, is a tailor made approach which Marzoli is going to deliver and promote through Marzoli India.
Italian design: Being a brand that represents the Italian design excellence in the textile machinery sector means creating unique tailor-made solutions designed on customer needs which combine innovation and tradition, creativity and accuracy, reliability and out of the box approach, distinctive traits of the Italian culture.
Innovation: In the development of new products and processesfrom a sustainable and digital point of view.
Tradition: To fully take advantage of the experience and competences and transform them into a well-established know-how.
Customised engineering services: Marzoli wants to address the needs of its customers with tailored solutions. We want to do this by intercepting and understanding the emerging trends, working in close contact with customers, research institutes, competence centres and technological suppliers to create value through a careful activity of engineering and networking. Marzoli India wants to be an open house for its customers, where different ecosystems can meet and share ideas to create disruptive concepts and solutions.
Circular economy: Make circular economy real, in the textile industry, is Marzoli's vision. The company's mission: The development of circular technologies and processes to carefully balance economic and environmental sustainability. Marzoli India circularity program is aimed at promoting a supply chain alliance able to realize full industrial projects for the regeneration of valuable fibres from post-industrial and post-consumer fabrics.
Empowering people as a key resourse for the textile industry of the future is their goal.
Marzoli wants to create an expanded ecosystem engaging customers, strategic suppliers, institutions, textile schools and reseach centres.
Working with them in a proactive way. In the next three years Marzoli is going to create a programme of cooperation to promote the development of the next generation of engineers dedicated to Advanced Automation, Robotics, and A.I. for the textile industry.
By the end of 2024 we will launch dedicated workshops aimed at implementing open innovation approach in collaboration with the technical and maintenance teams of our customers.
This 2025 ambitious roadmap is, for Marzoli, the first necessary step to realise its long term vision for India.