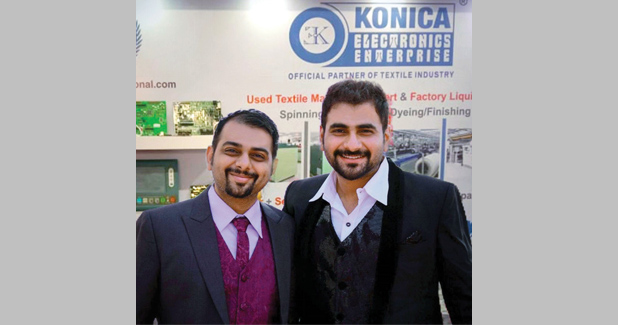 Konica Electronics takes quality in textile engg to new heights
The story of trust and excellence started for Konica Electronics Enterprise in the year 1993, when a true visionary and himself an electrical and electronics engineer, late BM Patel decided to set up a professionally managed company with a mission to create a competent organisation.
The story of trust and excellence started for Konica Electronics Enterprise in the year 1993, when a true visionary and himself an electrical and electronics engineer, late BM Patel decided to set up a professionally managed company with a mission to create a competent organisation. With missionary zeal, the founder of the new setup offered enhanced services, expertise and valuable experience in the field of textile engineering. "Hence, Konica Electronics Enterprise was born out of passion and commitment," proudly said the company's partner Hiren Patel, while speaking with ITJ Senior Sub Editor, Karthik Muthuveeran. Hiren alongside his elder brother and partner Nirav made sure that company stays as a leading supplier of high-quality second hand machinery and spare part's in India.
Armed with engineering and management education, Nirav (Computer Engineer) and Hiren (Electronic Engineer, MBA) have taken the same philosophy ahead and created a name for the organisation with the cooperation of their qualified working family. They have also helped the company to move in new directions especially the business based on used textile machines and accessories. Konica Enterprises Enterprise is driven to provide quality services and establish long-term relationships with organisations.
Why the name Konica Electronics Enterprise? Is it from the leading Japanese company? "Yes!," says Hiren. "My dad, when he was in Japan, was inspired by Japanese people's work ethics. This is why he named our company Konica too."
Speaking on the journey of the company over the years, Hiren said, "My father, who was a Chief Engineer, used to look after the entire weaving & dyeing process at Dhana Singh Group, which is now famously known as G.M. Fabrics and G.M. Syntex. During his tenure with Dhana Singh, he helped a lot of companies who bought new or used machines from Europe. During those days, a lot of Sulzer Projectile, Rapier & Waterjet looms from Europe, Japan and Korea were coming in India. In fact, he was the only main in entire Tarapur area who knew about this machine. He wanted to spread his knowledge and that's when Konica was born in the year 1992."
He further added, "From 1992, we started off as an electronics repair company. It was during the 1994-95 period; a lot of machines were coming in from abroad as the textile industry in India was booming. At that time, no one went to China to buy the replacement parts. The industry wanted us to make original replacement parts. We made replacement parts for many different makes and models of the Looms. At that time, Sulzer was the only company that was doing well in India. Electronics was our forte, and we made a lot of original replacement parts for Sulzer."
"There was a time, when we used to manufacture close to 2,200 products in-house", said Hiren. 80 per cent of money we made were spent on making a new product. At that time, making a new product was a challenge, and we used to hire professors from IIT to develop an electronic board."
So, when did you enter the second hand machinery business? Hiren answered, "It was in the year 2009 we entered selling second hand machines. The first machine that we imported was from Europe. Used Machines from Europe are always in excellent condition as they have the sense of preventive maintenance. In fact, you just have to clean the machine, lubricate and regrease them, and the machines are up and running well with the same efficiency and the same speed. The challenge is with the machines from India. Maintaining a machine is not in our forte, and we at Konica help them with this."
Product basket
"From 2,200 products in the 1990s, we now manufacture close to 300 products," said Hiren. This is because, he said, "a lot of Chinese players have entered the market and spoiled the entire market with their cheap makes." He further added, "For rapier and airjet machines, we are manufacturing a lot of electronic products which this Chinese companies are not manufacturing. These are basically replacement products. You cannot say that it is a copy, it is a reverse engineering the logic is same, even the working and software is same, it's just that the design is ours. We have 300 such products. We provide replacement parts for Picanol, Somet, Dornier, Vamatex, Toyota, Tsudakoma, Sulzer, Smit, ROJ, LGL to name a few. We have also developed our own Electronic Loom Control System which can be replaced with the existing one.
We have now expanded with new portfolio's, Konica as a Group has three companies as Konica Electronics Enterprise – www.konicatexspares.com (Spare Part's and Electronic Repair's) Konica International – www.konicainternational.com (Used Textile Machines & Accessories). Konica Automation – www.konicaautomation.com (Textile & Industrial Automation)
What is the process that you follow while buying a machine? Said Hiren: "Buying a used machinery is a big investment in terms of time and resources. Konica exists for a long time and has acquired a solid experience regarding the used machinery market. We do it through reputed references, we work with close to 800 factories and professional overseas agents. Sometimes we get references or sometimes we get a call from the owner that they want to sell their machines or liquidate some inventory. We have done many Liquidation's, it is common for big corporate companies to have surplus inventory or go for an upgradation. However, if left unused, they might depreciate in value. Selling this inventory is one of the ways you can recoup the costs of surplus inventory. Konica has been helping corporations manage and liquidate inventory for over 10 years. Even a business with good financial standing may come upon hard times or acquire too much inventory that needs to go before it continues to lose value. We provide inventory liquidation for a variety of needs. We go with our technical & competent professional staff. Our added advantage is that as we both the brothers are engineers, and we understand the machines very well. Our promise is to make the used machinery trading a fair, transparent and economical experience. If you want to sell or buy, we provide you with a full service right from the beginning: you focus on your business, we take care of the rest. The core value of our company is our team! We work every day with full energy and commitment to craft the future of machinery trading.
"Apart from this, we cannibalize the entire machine, which are in bad shape. We cannibalize these machines for parts. May be the accessories are not good, but the machine mechanism may be good or the gearbox or electronics, some motors are fine. Last year, we cannibalized close to 150 machines for parts. We have this setup in Bhiwandi. We have four warehouses in Bhiwandi," said Hiren.
Said Hiren: "In second hand machinery, there are no after sales service. What we do is we buy a machine, and make it beautiful, aesthetically. There may be some delicate components like harness frames, dobby mechanism, etc. that requires replacing, and we do that. We open the machines, clean it up and remove the parts and make sure they are in fine condition. If we feel that the parts are faulty, we replace them with new ones. We make sure that these machines do well with our customers in the long run. We give them a warranty up to 500 m."
Stronger domestic & global markets
The world is where we operate, the company understands the global nature of textile engineering and its happy customers are spread all over the globe. Konica has provided spares and machines in countries such as USA, Mexico, Brazil, Taiwan, Australia, Spain, Russia, Korea, Italy, Turkey, Saudi Arabia, Vietnam, Indonesia, Bangladesh, Morocco, to name a few.
"In India we are supplying close to 750 weaving factories. We have some re-seller in Bhilwara, Coimbatore, Panipat, Amritsar among others. We have not appointed any distributor as such, but we have good long term relations with them. They have a lot of faith on us because the products offered by us are at par with the originals."
"Recently, we have had a setup in China, which is our sourcing office. India is one of the fastest developing economies in the world, but it lacks the edge of competitive electronics sector. So having a sourcing office in China has really helped us. We can now produce Electronic circuits in China as well. We make the design here and circuits are produced there. Apart from this, we also import and export a lot of parts from China. After China, we are now planning to set up an office and warehouse in the United States. This is because the US market for textile and other sourcing products is booming. We already have some supplier's and with our own warehouse we will have better business opportunities," added Hiren.
On the market for second hand machinery in India, he said "by 2022, I expect a lot of more machines to come in. China has some problems with the anti-pollution norms, and they also have some ongoing trade issues with the United States so it's an opportunity for us and we should not miss it"
Challenges galore
"The main challenge we face at Konica is the mindset of the people buying second hand machines," thinks Hiren. He adds, "Most of them think that after buying a new machinery, they don't have to take care of the maintenance for a few years, but they don't understand that they are investing a lot of capital in that. Customers should understand that they can get a similar end result even with lesser investment."
Another challenge is that, "people, who are into second hand machinery business in India, are in the business out of sheer luck. They don't have any technical knowledge. They might have entered into the business because their parents would have been in the business. Technically they don't understand machines. They would just know the model number, make, etc. But what about the performance? They would not be able to answer that. The most ideal approach to passing judgment on a machine condition is to have a real professional like us look at the machine. We have 17 engineers working with us and we also hire free lancers for big projects. We inspect the machine, the technicians provide their views on the machines, and we work on it to make it better."
ITMA plans
On plans for ITMA, Hiren, who is not an exhibitor but will be visiting the biggest exhibition as a visitor with his brother Nirav, said, "ITMA is a great platform with a lot of new technologies coming in. It's basically like an educational institute for us; a five-day course, a global platform wherein we get opportunities to network, collaborate, gain knowledge, develop skills and prepare for the future.
Konica Enterprises Enterprise is driven to provide quality services and establish long-term relationships with organisations.
Need government backing
Indian textile industry is facing various challenges i.e increase in production cost, tough competition in domestic as well as export markets, huge fluctuations in Raw Material prices, volatile market conditions, increase of electricity, shortage of skilled labor and equal distribution of good policies by state and central government etc." thinks Hiren.
He provided a few suggestions for the government. "The new machines coming in from china are substandard and only few makers from china are genuine, they can never match the machine quality of that of European and Japanese make. This substandard machine is infact a threat to the Indian textile industry and also a loss of revenue to the government. The self-life of this machines is 7-8 year's so instead of buying such sub-standard machines the buyers should invest in new or used European and Japanese machines and the Government should stop giving TUF or related subsidy's on it, instead they should start giving TUF on certified used machines. He also said, "I would request the government to come out with some schemes for the used machinery market as well as this is the most labor-oriented industry. When I buy a factory with at least 40 machines, I need at least 50 people to work on it. We need people for loading, unloading, transportation, cleaning, erection etc."
If Government of India takes some good and focused initiative i.e reduced special power tariff, skill development, passing on the subsidy schemes etc. will help India become world's global textile industry.
ITMA is a great platform with a lot of new technologies coming in. It's basically like an educational institute for us.
.He concludes: "Our current focus is only on supplying high-quality second-hand machinery which will be certified as Konica Certified Used Textile Machines. We plan to launch a digital platform and as a part of this digital company we will be using state-of-the-art technology and data-driven solutions for our global trading operations to ensure best possible market prices for sellers and buyers of used machines and accessories. We plan to launch by the end of this fiscal year."