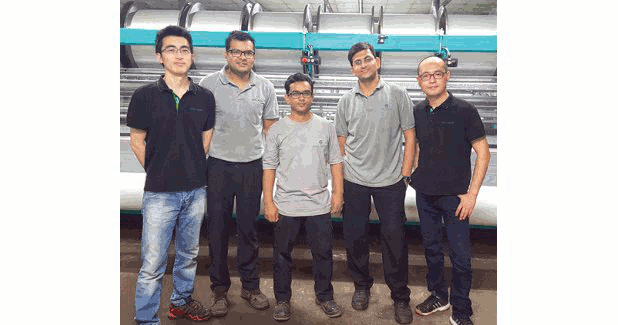 Karl Mayer: Turning the screw of success in Asia
KARL MAYER is expanding its service operations in Vietnam, Bangladesh and India. Asia is, and will continue to be, a lucrative market for the global textile machinery building sector – a market that should be nurtured carefully.
KARL MAYER is expanding its service operations in Vietnam, Bangladesh and India.
Asia is, and will continue to be, a lucrative market for the global textile machinery building sector – a market that should be nurtured carefully. KARL MAYER, too, has seen a growing demand from the countries bordering China, especially for tricot machines. Together with its sales operations, this leading producer of warp knitting machines and warp preparation machines has, therefore, also been expanding its service operations in this region. This targeted expansion in capacity has focused on Vietnam, Bangladesh and India. KARL MAYER relies on its global network of subsidiaries, particularly on KARL MAYER (China), to provide its customers with technical support more efficiently on site. "Our Chinese service technicians are, therefore, located close to our growth markets – in terms of location, culture and language," explained Martin Hornig, the Head of the Service Division. This is all the more important since many business people of Chinese descent located in the countries bordering China also operate in the warp knitting sector.
KARL MAYER has taken on two service technicians to provide its Vietnamese warp knitting customers with technical support, and they were trained for their future practical jobs in the spring of 2017. The training was carried out by the KARL MAYER Academy China. These highly qualified specialists are now based in Ho-Chi-Minh City and Hanoi, so that they can be deployed from the north to the south of the country.
KARL MAYER also relies on its Chinese subsidiary for its operations in Bangladesh. Service technicians from Changzhou City and other service hotspots in China are supporting their colleagues in the region with carrying out a large project. From February to the end of May 2017 alone, roughly 60 two-bar HKS machines were installed at the premises of a domestic producer of mosquito nets. More machines are to be sold in the middle of the second quarter. A colleague from India also helped the Asian team with the extensive assembly work. Thu Minh Tang, the Supervisor of Service Projects, provided this high level of coordination from the parent company in Obertshausen. As far as warp knitting machines are concerned, Bangladesh is a relatively new market for KARL MAYER, but one which is currently developing in a very promising way.
India is seen as less of a new market and more as a market offering a great deal of potential. Since the end of April, Peter Stutz has been working in India as KARL MAYER's new Service Manager in order to strengthen the company's customer relations in the warp knitting sector in this traditional, textile-producing country, and to be able to react even better to their needs. This experienced specialist is shaping the dialogue there, and is also coordinating the operations of the company's own technical support team. This team, which provides technical support for warp knitting machines, is currently made up of 12 service technicians and three employees working in the office.
KARL MAYER is currently introducing its KARL MAYER CONNECT app onto the Indian market to effectively complement its technicians operating there. If required, customers can communicate efficiently and without any errors with the service organisation of this textile machinery manufacturer via mobile terminals. To send off a service request, all that has to be done is to scan in a QR code from the machine's touchscreen display, and the main machine data are transmitted in order to explain the problem. Pictures and comments can also be sent. All the machines operating in India built from the year 2010 onwards can be given a specific software update to enable them to use this communication tool as quickly and easily as possible. The work is scheduled to take place from the beginning of February to the end of June 2017, and applies to about 630 machines.
To strengthen its customer relations in Asia, KARL MAYER is also stepping up the activities of its customer service engineers. These highly qualified specialists are helping to strengthen customer relations in the long term. They visit customers, determine what their needs are, help to solve problems, and act as trend scouts as they go about their business. The team of eight is made up of German and Chinese people and one Japanese person. "With our global network of customer service engineers and service technicians, we can offer our customers technical expertise and a high degree of flexibility, especially in Asia. Roughly three-quarters of our customers operate there. Wherever our technical support is needed, we can be on site quickly to provide expert technical assistance," says Martin Hornig.
Valuable source of inspiration for Indian clothing
The Indian textile industry is increasingly focusing on synthetic fibres. By processing versatile polymer-based yarn materials, warp knitting is greatly on the rise. In particular when manufacturing lavish lace articles and light, patterned apparel fabrics, the Indian warp knitting mills are setting new trends by using modern Raschel machines and creative ideas. KARL MAYER can provide the Indian companies with both inspiration and high-tech machines. Especially for the production of traditional Indian saris but also of upbeat fashion styles, this innovative textile machinery specialist can offer its RASCHELTRONIC machine. What can be done with this equipment shows a collection of sophisticated clothing fabrics made by KARL MAYER's own product developers. "Especially for Indian apparel market, we have developed rigid RASCHELTRONIC articles with a lace-like, filigree design and country-specific motifs", explained Stefan Gross from KARL MAYER's creative section.
When producing the warp-knitted articles, the RASCHELTRONIC was equipped with one ground guide bar and the Jacquard bar. Both knitting elements processed polyamide, a material which ensures a soft, silky touch and, thus, a pleasant wearing comfort on the skin.
However, the fabric not only impresses with its look and feel, but also with its extremely high production efficiency. The RSJ 4/1 in a gauge of E 28 used for this purpose, operates at a rotational speed of up to 1,450 min-1.
First-class fluffiness
KARL MAYER is perfecting its technology for producing warp-knitted terry fabrics all the time. In order to exploit the potential of its TM 4 TS EL terry tricot machine fully, this innovative manufacturer developed a collection of bath towels featuring long repeats, hems and borders at the end of last year and is now carrying out a second series of tests. The aim of the recent work is to produce heavyweight fabrics, especially for the hotel sector. Soft, fluffy fabrics having the typical loop strength of warp-knitted fabrics, and consequently their high wash resistance, are mainly used at the premium end of the hotel market. The TM 4 TS EL at KARL MAYER was threaded with thick yarns in order to meet the appropriate requirements. "We used OE-spun cotton yarns having a count of Ne 12/1 in ground guide bars, GB 1 and GB 4. Cotton yarns in this count have never been processed on tricot machines before," says Christiane Litterst, a product developer in textile technology. The lowest count recommended previously was Ne 16. Despite this, no problems were encountered during the warp knitting process. "Even at a speed of 800 min-1, fly formation was not an issue with the type of pattern and yarns selected," Christiane Litterst confirmed. To work the ground, cotton of Ne 16/1 was used in GB 3 and polyester of 100 den was used in GB 2.
No changes had to be made to the finishing sequences either. The fabric produced weighs 600 g/m², has a fluffy handle, and is extremely absorbent. The EL pattern drive of the TM 4 TS EL enables loop-free stripes to be worked to produce the pattern, and the fabric edges are worked directly during the process.
This universal terry tricot machine also enables different loop heights to be worked in the same article, and very lightweight fabrics of the highest quality can also be produced. Even those warp-knitted terry fabrics weighing 200 g/m² have an attractive and extremely stable construction.