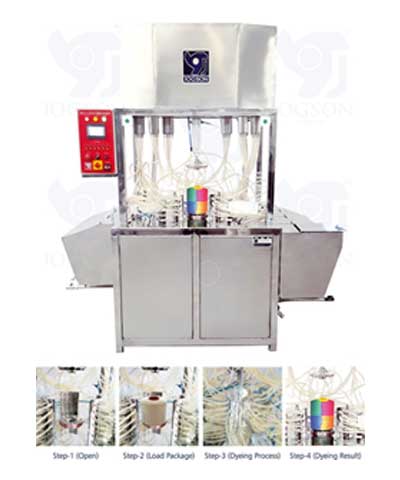 Jogindra Industries to add up more textile processing machines in the coming year
Jogindra Industries is a renowned expert in the design and manufacturing of cutting-edge machinery specifically designed for the dyeing and processing of yarn. Harmeet Singh, Sales & Marketing Director, Jogindra Industries, shares about the company offerings and challenges faced by the industry.
What is the range of materials that can be dyed using Jogindra Industries' machines?
Our extensive range of machines is highly versatile, offering the ability to dye various forms of materials including yarn, fibre, tape, tops, muffs, narrow fabric, and more. With their expertise and commitment to innovation, Jogindra Industries is dedicated to meeting the diverse needs of the textile industry.
What types of challenges are faced by Indian machinery exporters?
The primary difficulties faced by Indian machinery exporters stem from buyers' preferences for European or Chinese machines. This preference arises due to India's inability to effectively market its products, despite the immense potential possessed by Indian manufacturers.
How was the company's performance in 2022 and what are your expansion plans?
The performance of the previous year was remarkable, displaying significant achievements. As a result, we plan to expand our offerings in the textile processing machinery sector in the upcoming year. This decision is based on our positive outcomes and the growing demand in the market. By introducing more advanced and efficient machines, we aim to cater to the evolving needs of our customers and maintain our upward trajectory.
Jogindra Industries offers Space Dyeing Machine for polychromatic dyeing of cones
This machine is also able to space dye fine count filament polyester yarn in single cycle.
JOGSON Multicolor Space Dyeing Machine has been developed with the growing need of Space dyed yarn globally and tie & dye market locally. This machine is used for polychromatic dyeing of cones in different possible patterns. It is suitable to dye any type of yarn both natural and synthetic i.e. Polyester, Cotton, Rayon and many more. This machine is also able to space dye fine count filament polyester yarn in single cycle. It is one of the technologically advanced and successfully running machine in the market with newly updated JOGSON Pneumatic Actuated Distribution system, water saving system for vacuum pump, Pneumatic Stirrer for colour tanks, etc. The machine is offered in various models with options of 4, 6 and 8 colors depending on the needs of the buyer.
Salient features:
With options of 4, 6 and 8 colours
Machine body stainless steel 304 & all parts coming into contact with the dye liquor are made of AISI SS 316Ti/316L, highly corrosion resistant
High vacuum through mono block vacuum pump
Water saving system for vacuum pump
Liquor transfer through seal less magnetic pumps
Liquor dosing by highly efficient over head mounted JOGSON Pneumatic Actuated Distribution system
Automatic dyeing cycles, high productivity, 1 dyeing cycle in about 60 seconds
Suitable for any type of yarn natural or synthetic, wound on dye spring, plastic tube, steel tube, etc.
Suitable for dyestuff like Acid, Reacted , Direct, Disperse and Pre-metallized
Multiple design pattern possibilities
Power control panel with PLC & touch interface
Floor level installation
Individual colour tanks for stocking dyestuff / jerry can connections