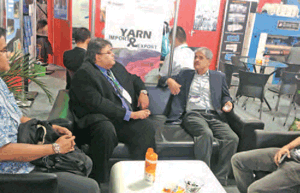 ITAMMAs strong participation at INDO inter TEX 2014
ITAMMA was the only Indian association that participated in the 12th edition of INDO inter TEX 2014, the Indonesia International Textile and Garment Machinery & Accessories Exhibition, organised jointly by PT Peraga Nusantara Jaya Sakti
ITAMMA was the only Indian association that participated in the 12th edition of INDO inter TEX 2014, the Indonesia International Textile and Garment Machinery & Accessories Exhibition, organised jointly by PT Peraga Nusantara Jaya Sakti, Indonesia. The exhibition received a tremendous response from 807 exhibitors from 25 countries, including 41 Indian exhibitors. ITAMMA took 23 of its members to showcase their specialized services.
Activities organised at ITAMMA Stall 49 in the Hall D-2
ITAMMA showcased its services as well as the products of its members at Stall 49 in Hall D2. The trend of visitors registered at ITAMMA Stall was 52.81 per cent from Spinning, 23.59 per cent from weaving, 12.36 per cent from wet processing, and 11.24 per cent were from garment apparel industry. While the category of visitors were 8.89 per cent of agents interested in purchasing and selling the products, 7.87 per cent of owners from all fields (out of this 20 per cent owners were from garment and apparel industry).
ITAMMAs initiative during INDO inter TEX 2014 for its members.
A special Catalogue Display Scheme was organised for its members who were not able to participate in the above exhibition and there was an overwhelming response from members.
Also during the exhibition, ITAMMA logo was displayed at 23 stalls of the member-exhibitors of ITAMMA. During the exhibition among the renowned identities, Rakesh Kumar Arora, First Secretary from the Indian Embassy at Indonesia, visited ITAMMA stall and also had interaction with ITAMMAs office bearers & other members.
A networking dinner was organised by ITAMMA for ITAMMA member-exhibitors and the entrepreneurs from the user industry on 23 April 2014 at the Sunlake Hotel in Indonesia. Diven Dembla, President, ITAMMA, welcomed the guests and ITAMMA members. About 88 participants attended the event, which was clubbed with a catalogue display of about 32 ITAMMA members.