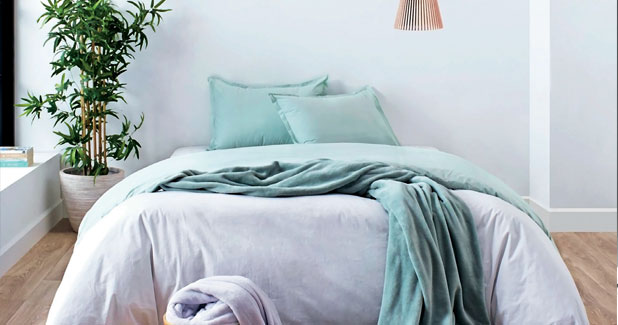 Housing boom spurs home textiles market
There was a time when home textiles were purchased only during the festivals in India. But this story was 20 years ago! Thanks to the growth of retailing and increase in purchasing power, home textiles market in India is transforming. An ITJ Exclusive Report delves into this transformation.
There was a time when home textiles were purchased only during the festivals in India. But this story was 20 years ago! Thanks to the growth of retailing and increase in purchasing power, home textiles market in India is transforming. An ITJ Exclusive Report delves into this transformation.
The market for home textiles and furnishing fabrics in India is extremely wide and varied, in terms of prices, designs and colours. While affluent consumers prefer refined international taste in terms of quality and design, with price no constraint, the mid and economy segment consumers offer huge volumes for reasonably priced products. With growing awareness towards environment, safety, hygiene and functionality, the demand for better quality home textiles with features like stain-resistance, flame retardant, fragrance, etc is increasing.
India is home for some of the world's biggest producers in the segment like Welspun, Trident and Dicitex. Many Indian brands like Indian Drape, RR Décor, F & F, Maspar, Goldtex, ABN, Portico New York, Birla Century, Spread, Swayam, MYCK, Zyneand Super Net, etc are recognised nationally and are growing at a healthy pace. A large number of international brands like Zimmer+Rhodes, Designers' Guild, Esprit Home, Harlequin, United Colour of Benetton have experienced a 20-30 per cent annual growth in the Indian market.
India is globally recognised and appreciated for its wide variety and exquisite designs in home textiles. The country is on the verge of a big boom in the affordable housing sector and there is good growth in employment opportunities, especially in the services sector and hence high disposable incomes in the hands of young consumers. A combined result of these factors have seen the demand for home textile products growing by a healthy 30-40 per cent per annum.
At HGH India 2017, which took place in Mumbai recently, manufacturers and brands from Mumbai, Delhi NCR, Ahmedabad, Jaipur, Panipat, Karur, Bhadohi, Kunnur, Coimbatore, Bengaluru, Raipur, Kolkata showcased a wide range of products in home textiles like, bedsheets, bed sets, top-of-the-bed lines, towels, upholstery fabrics, drapery, table and kitchen line and other household textiles.
At HGH India 2017, over 500 exhibitors from India and abroad showcased their innovative products from across categories, which included designer, branded and mass produced goods. This includes over 100 new and unique domestic and international exhibitors across the home products segment. The list includes TTK Prestige (cookware & kitchen appliances), Baltra (kitchen appliances), Stallion Barware (Barware), Decorex (Blinds), Divine (wallpapers & soft furnishings), Marcopolo (decorative flooring), Peps (mattresses) and Archies (Gifts) from India and TSV (cookware) from Italy, Uscan Plastik (household & kitchenware) from Turkey and many more companies participating in the Turkish, Chinese and Taiwanese Pavilions. However, the backbone of the trade show has been the returning exhibitors which include almost all prominent names in the industry.
Neeraj Jalan, Business Head – Home Textiles, GHCL, a manufacturer of home textile products in India, said, "Indian home textile industry has been ever growing. While India has been celebrated over centuries for its fiber base, spinning techniques and weaving magic, it is now carving a distinct place for itself in home textile space worldwide. Spanning virtually all the categories of known textiles in the world markets, the country has emerged as the second largest supplier of home textile products only after China. Industry is sustainably growing at CAGR of over 10 per cent."
GHCL is of the largest manufacturer of home textile with investment of over Rs 1,000 crore. GHCL has a complete vertical setup to manufacture home textile products starting from yarns to finished products ready to retail. Home textile forms an integral part of overall business strategy for growth inside GHCL.
He added, "With Indian economy evolving, consumer spending money on home décor is encouraging. Western economies has been growing very slowly, but due to shift in business from China to India, exports from India on sheets and towels have reached to majority levels, today out of 10 bed sheets sold in the US, at least six are made in India. Our Exports to EU though remain a challenge because of non-competitiveness arising out of policies in the EU. There are other markets which are showing good potential for growth, as well there are few categories where India can create new growth drivers.
"Labour reforms have been most-awaited government step industry is waiting for while competing with Pakistan, Bangladesh and other neighbouring countries. Infrastructure hurdles and procedural delays in exports are another roadblock. Availability of finance at competitive interest costs remain a challenge. The Textile industry in India traditionally, after agriculture, is the only industry that has generated huge employment for both skilled and unskilled labour in textiles. The textile industry continues to be the second largest employment generating sector in India. It offers direct employment to over 35 million in the country. The share of textiles in total exports is about 12 per cent. Indian textiles industry is pegged at $60 billion, 64 per cent of which services domestic demand. In 2010, there were 2,500 textile weaving factories and 4,135 textile finishing factories in all of India", said RS Jalan.
G Shekar, Executive Director of Raga Tex India Private Limited, said, "It appears that many big retailers abroad, either have already done, are planning to open shop, in India. This shows that India is a growing market for home textiles and we should therefore have plans to start investing in brand building and product promotion, within India. The irony is that some of us would presently be supplying to these foreign companies who would in turn be selling our products, in India." (Read full interview later in this section)
G Shekar added, "I think the State Government in Tamil Nadu could certainly do a little better to help the industry. While quite a few States are represented in this exhibition, Tamil Nadu could also have had a fair share in promoting the State, for investment. The issues related to Zero Discharge and Effluent treatment, coupled with acute ground water shortage in the region during the past few months have contributed to the misery of the industries here that are dependent on such dyers and processors for their dyeing and printing needs. The Government can attempt to find a permanent solution for such issues without compromising on environmental sustainability." Raga Tex, was launched in 1996 as a proprietorship concern by a young lady entrepreneur Thiurmagal, ably assisted by her doctor husband Dr Bharathi Muthurathinam. Later, as the concern started to grow it was converted into a private limited company, Raga Tex India Private Limited.
Shrinidhi Nadgauda, Vice President, Sales & Marketing, InterMarket (India) Pvt Ltd, said, "The home textiles market in India is growing tremendously. I think, in the next 10 years or so, home textile players will focus more on the Indian markets rather than focus more on exports. According to me, the home textiles market in India is growing by 100 per cent year-on-year. When established, we focused not on the domestic markets, but for the last three years, our focus has changed, we are focusing on the Indian markets." (Read full interview later in this section)
InterMarket offers high-end towels, compact sheets and bed linens. Our bed linens are completed engineered ones. It's completely Made in India. "Even the designing, layout, conceptualising, etc. are done in India. The name given to these sheets are compact sheets where we have used high-end spinning technology, which cools the durability of bed linen, when it goes for the industrial laundry," added Nadgauda.
He added, "When there are big players, then you need to focus more on the niche markets where you can offer flexibility, which is the key driver in the sale of the product. We are a small player. Bigger player will offer quantities in larger numbers, but we offer explosive product range in smaller quantity. That helps in smaller countries where the requirement is small. Big players like Welspun, Trident, etc. cannot cater to these smaller markets. They will focus on countries like the US, the UK, etc. There are small retailers, small boutique shops that need service. That's where we count ourselves."
According to Rajiv Merchant, Co-Founder & CEO, Tangerine: "The home textile market of India is on a boom with positive macro factors. The market is estimated to be around Rs 26,650 crore by 2015 with bed and bath account for two-third of the category at approximately Rs 20,000 crore. When it comes to wide variety and designs in home textiles and furnishing fabrics, India has set its foot in the global market and is one of the well known contributors. The robust growth of infrastructure in the country with the big boom in housing and growing affordability of Indian consumers a growing demand of home textiles is being witnessed per annum. The number of increasing women workforce, spending power of consumers in aspiration-based categories and the concept of luxury living has intensified the Indian home textile market. Overall, one can expect healthy double digit growth for the category for at least next 5-7 years."
Talking about the changing scenarios of home textiles industry all over the world, Merchant said, "The market is fuelled by residential construction and a trend towards home decoration that sees consumers get increasingly involved in changing their homes to suit their tastes. Demand is not exclusively for the private consumers, but also other establishments, such as hotels and hospitals. Demand for original, colorful bed furnishing in emerging markets is in vogue and driving the market profoundly."
"The market is fuelled by residential construction and a trend towards home decoration that sees consumers get increasingly involved in changing their homes to suit their tastes. Demand is not exclusively for the private consumers, but also other establishments, such as hotels and hospitals. Demand for original, colorful bed furnishing in emerging markets is in vogue and driving the market profoundly," Merchant added. Vaibhav Jain, CEO, Deco Window, a window solutions brand from the house of one of the largest exporters in India – Jayanita Exports Private Limited, said, "The home textile industry is flourishing in India exorbitantly. Indian products have made a mark in the international markets and have a strong footing. Over the next few years, one can find more innovation. Our customers are well-informed, conscious and aware of the trends. Customers opt for sustainable and easy to maintain solutions for their home. We have a creative and dedicated team who are devoted and meticulous. The team comes up with designs that add panache to the interiors. Our team shows their complete passion for what they design. We believe in providing a 360-degree solution in terms of window solutions and our designers create trends to match the expectations of our customers."
Added Jain, "The textile industry today, is not just limited to the design, colour, and feels besides there is a lot of technology that goes in. We today get to see black out, perfumed fabrics etc hence a new invention is required every time to be called new."