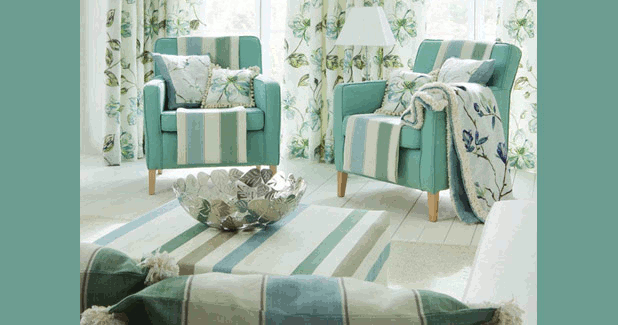 Hometex, an emerging status symbol
A wide range and diversity of design options in pillow covers, bed sheets, pullovers, curtains, etc. have further driven people's interest in investing in these products
A wide range and diversity of design options in pillow covers, bed sheets, pullovers, curtains, etc. have further driven people's interest in investing in these products. The influence of digital world has opened new markets for home textiles, opines Avinash Mayekar, MD & CEO of Suvin Advisors.
Click to make it hit! Yes, you heard it write. It's a whole new world today. Everything is captured and recorded. And if it is not being clicked it simply means it's not good enough for being photographed. In this new social media-driven world, the first wish of good morning is no longer just limited to the people living with you. But even before one steps out of their bed the world is made aware about it by uploading a streak on snapchat or equivalent social media tabs. So obviously after clothes, the next big fashion makeover is offered to the home furnishings. A photo can be as good as the background it's clicked in. The shades of home textile products opted by an individual directly convey the state of mind. Bright bold shades just show the enthusiasm of an extremely happy person whereas the lack of colour shows the dullness one is experiencing and many more attributions attached to it.
So as one can't really keep on changing the colours/wallpapers of their home every single day. The variety of home textile products has come as a saviour to this digital world. A wide range and diversity of design options in pillow covers, bed sheets, pullovers, curtains etc. have further driven people's interest for investing in these products. The influence of digital world has opened new markets for home textiles. The stereotype restaurants are now re-branding and a lot of café culture is flooding the market. Thereby influencing investments by restaurants and hotel owners into a more sophisticated and eye catchy home linen products from curtains, table covers to even pillows for adding the extra comfort.
With the younger generation stepping into the corporate world and worldwide expansions a lot of migration is seen in major cities. This new migrated working class mostly opt to live in the rented apartments. Obviously with rising income and time constrains the working population prefer to rent for spaces that are fully furnished. This arrangement is more appealing to them as they need not invest on new décor that will eventually leave them with piles of boxes during their next time to move. Even the township projects in metro cities are offering fully furnished homes to attract the customers by offering a fully ready to move apartments. Interior designing or revamping one's home is no longer a phenomenon for the upper higher society. With affordable and classy contemporary designs easily available on retail outlets and online e commerce website the trend for home fashion is just rising day by day. For years, this segment of shopping was meant for only festivals and special occasions but today it's like shopping for a new garment just when the heart desires.
We have done remarkable innovations in this segment and have become one of the key leaders in this market having a share of 11 per cent in world touching $4.2 billion.
Home textiles consist of promising products like curtains, bed sheets, towels, pillow covers, furnishing fabrics, kitchenware, bath rubs, rugs, mattresses, tableware, bed linen, upholstery fabrics, drapery, window blinds, etc. The most in demand products are the bed linen and carpets.
Bed linen has 35 per cent share in Indian home textiles market. India exported $1.59 billion of bed linen in 2018-19. India's export to the world is increasing with a CAGR of 3 per cent whereas the imports of home textiles are steady having a negligible share. India exported home textiles worth $4.26 billion in 2018-19.
Globally, retail value of home textiles segment is expected to grow with a CAGR of 7.7 per cent between 2018-2022. Globally, China is the major supplier of home textile having a share of 39 per cent with $18 billion. However because of the rising labour cost and other varied reasons the market is slowly being captured by Indian players because of their competitive prices. Moreover China's has adopted recent strategy of investing into other countries like Africa, Cambodia, Vietnam, etc. for the production of textile materials. China's import from India is increasing in home textiles segment major products imported are carpets, bed linens, curtains and blankets with share of 39 per cent, 16.3 per cent, 8.3 per cent and 6.7 per cent respectively as on 2017 (source: UN comtrade). Similarly, the UAE has also emerged as a significant market for Indian home textiles with carpets having a 41 per cent share in 2016.
Conclusion
The major reason behind the success of home textile is the modernisation of society. Today a lot of efforts are been put to make a place lively, it is the feel and vibe that the surrounding gives which is of upmost importance. In an era of Instagram and Snapchat where one clicks pictures of each and everything, it highly matters to have beautiful décor with lively colours around. Home textiles have become a style statement and has a status associated with it. Also today it is not just the cost but the comfort of goods that are driving the market. If we see our homes, hotels and showrooms, home textiles are what gives the unique x factor to the place. An additional "me factor" is added to the rooms due to the varied colour and designs of home textiles that decorate the rooms in shades or character of the person or brand. A pink cushions, curtains, floral wallpaper and Cinderella bed sheets easily indicates it is a room of a baby girl whereas the rustic colours are used for vintage brands.
The rising disposable income and importance to hygiene has also changed the buying trend of home textile products. These products like the curtains, bed sheets are no longer reused for decades or purchased only during festive periods but are replaced frequently after just 3 to 4 washes. The rising attractions towards these products are further driving the business for home textiles.
However the top players in India like Trident, Welspun are continuously increasing their capacities to become the largest player of the world irrespective of their capacity consumption. This continuous capacity expansions has resulted in proliferation in home textiles as its happening without the control of the market. The setback of Alok Industries is one such example to it. The situation is an eye opener to other players in home textiles.
Looking at market trends of the disposable textiles, it is possible that in coming years disposables might take control of a significant share of home textile market. As home textiles are a highly fashion oriented segment the entry of disposables textiles is very easy. Hygiene is one of the important characteristics for home textile products there will be serious competition from nonwoven disposable textiles which are competitive in pricing with good fashion touch. The consumers are well aware that if we use nonwoven in towels the additional task of daily laundry will simply be eliminated as they are use and throw products. Even there is a possibility of using low cost recyclable material either for home textiles or even for disposable beds by itself for certain specific purpose.
There is no doubt that there is a great potential for home textile segment and expansion is the necessity but the market leaders must not forget that any time there might be entry of new fashion or alternate cheaper comfortable products which will change the game completely and so must plan their expansions having a good understanding of the market.
In order to avoid proliferation in home textiles existing players should continuously monitor the situation and understand competition within as well from substitute products. Moreover we should not forget that fashion is changing very fast and hence "disposable home textiles" will be the next big hit. Let us change ourselves with changing times and introduce "innovation" as a buzz world to "click" ourselves into our new product portfolio.