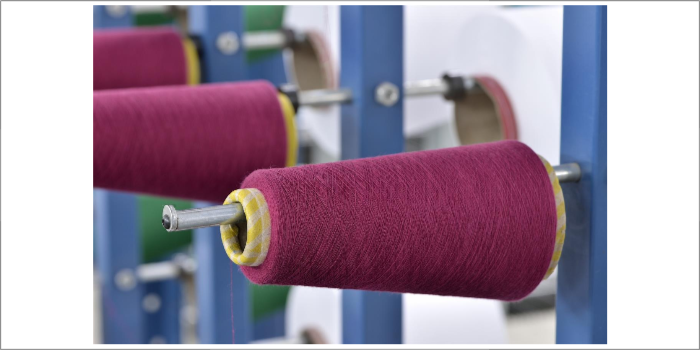 Healthy rise in fibre production: Ind-Ra
Ind-Ra December 2020 report highlights the trends in the sub-segments of the textile sector, including cotton, man-made fibres (MMF), yarns and fabric with a focus on commodity prices, imports/exports, production and recent rating actions.
India Ratings and
Research (Ind-Ra) has published the December 2020 edition of its credit news
digest on India's textile sector. The report highlights the trends in the
sub-segments of the textile sector, including cotton, man-made fibres (MMF),
yarns and fabric with a focus on commodity prices, imports/exports, production
and recent rating actions.
Steady Cotton Prices: The prices of textile products continued
their upward momentum in December 2020, due to a healthy domestic demand and
sustained export growth. Furthermore, the exports of raw cotton were higher by
2.5x year on year (yoy) during August-November 2020. Cotton prices increased
marginally on a month-on-month (mom) basis and remained higher yoy basis during
December 2020, supported by a healthy export demand for cotton and yarn coupled
with Cotton Corporation of India's (CCI) procurement at minimum support prices
(MSP) during the current cotton season. The agency expects cotton prices to
hold steady in the short run, despite the likelihood of a surplus production in
the ongoing cotton season.
Continued MSP Support from CCI amid Higher
Cotton Arrivals: Cotton
arrivals were higher during October-December 2020 by 44 per cent yoy, supported
by higher procurement from CCI. CCI procured 52 per cent of the cotton arrivals
during December 2020, setting a benchmark and string to support MSP for cotton.
Furthermore, private traders swayed away from taking huge positions, on account
of a subdued domestic demand and the increasing cotton prices.
Exports Supporting Yarn Prices and Higher
Spreads: Domestic cotton yarn
production continued to grow by 1.3 per cent mom and 4 per cent yoy,
respectively, in December 2020, on back of the higher export demand. Also, yarn
prices continued their healthy growth in December 2020 and supported higher
gross margin for players during 3QFY21-4QFY21. Exports increased by 10 per cent
yoy in October 2020 and are likely to moderate during 4QFY21, with the closure
of the winter season. However, there is an increasing cotton yarn demand from
Asian countries which used to depend on supplies (cotton/yarn) from the Xinjiang
region (China), and this is likely to benefit Indian spinners over any further
de-linking by global players.
Healthy Rise in Fibre Production, Delayed
Recovery for Synthetic Players: MMF production increased by higher single digits on yoy basis during
October 2020, on back of a recovering demand. The price of polyester staple
fibre (PSF) rose on an mom basis, mimicking the healthy rise in crude oil
prices during November-December 2020. While the segment recovered with delay in
3QFY21, large players with a healthy balance sheet size have increased their
exports, leading to a 4.4 per cent yoy rise in export volumes during 7MFY21.
Cotton-MMF Spreads to Remain Steady: The cotton to PSF spread decreased by
INR5/kg mom in December 2020, however remained higher by INR11/kg yoy. The
lower spread was led by a higher-than-expected increase in PSF prices compared
with cotton prices. The spread has thus supported polyester demand with a
likely switch to MMF from cotton in the near and medium term.
Increase in Fabric Demand and Prices led
by Festive Demand: Cotton
knitted fabrics production increased for the fifth month in a row in November
2020, led by a surge in demand from the opening of retail stores and malls.
Furthermore, demand for blended fabrics recovered in November 2020 and was 20
per cent yoy higher, led by the festive and marriage season demand. Demand for
cotton woven fabrics though increased by mid-teens mom in November 2020,
remained 40 per cent yoy lower on back of a lower demand for formals and school
clothing. Fabric exports continue to recover in November 2020, although
remaining 14 per cent yoy lower on value terms. However, volumes surged 14 per
cent yoy in October 2020. Fabric players would remain weak for 2HFY21, due to
social distancing and the fear of a second-wave of pandemic and emerging of a
new coronavirus strain.
Recovery Mode in Apparel Segment, Price to
Remain Soft: The apparel
segment Wholesale Price Index recovered to pre-COVID levels in November 2020,
led by the festive and marriage season demand. Ind-Ra continues to expect
apparel prices to remain benign in 2HFY21, leading to inventory liquidation.
The agency expects apparel and ready-made garments exports to fall 22-25 per
cent yoy in FY21.
Healthy Performance of Home Textile
Players: Home textiles
players continued to witness a steady recovery over October-December 2020, led
by consumers' willingness to pay for health and wellness across the US and EU
territories. Wholesale Price Index levels for November 2020 remained steady
compared to October 2020's. Players in segments such as bed sheets, towels,
advanced textiles have announced capex to increase their operating capacity.
Furthermore, depreciation of INR to USD by 6 per cent yoy during 9MFY21
contributed positively for exporters. The agency continues to expect a healthy and
sustained demand improvement for players in their export markets, led by the
restoration of retail store inventories. Ind-Ra expects the players to increase
their already strong market share in terry towels and bed linens, led by supply
chain diversification away from China.