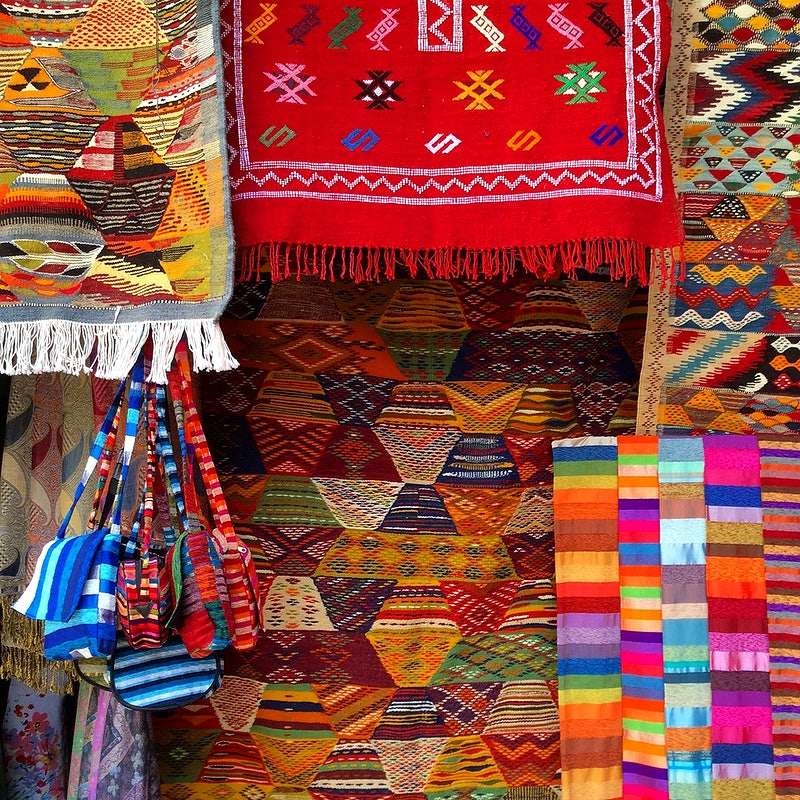 Gujarat: Nurturing a rich textile culture
Gujarat has a flourishing textile sector that contributes not only to India's arts and crafts but also to the country's economy. So, let's take a look at how and why Gujarat is the country's textile capital.
Gujarat, often known as the "Textile State of India," has one of the country's most thriving textile industries. The Denim Capital of India generates over 3% of the country's GDP. Gujarat has managed to preserve its historic history and culture, which is one of the major reasons for the textile industry's success. "Gujarat has long been known as the "Manchester of India," and it will continue to be so in the future since it produces maximum cotton," says R R Patel, Proprietor, Gayatri Textile Machines.
Gujarat is home to brands like Arvind Mills and Praful, and the state creates the best textiles owing to a perfect combination of skilled labour, a wide range of raw materials, a seamless blend of yarns, and the application of traditional techniques. Not only manufacturers, but the land of Gujarat has some given opportunities to the textile engineering sector and Amoli Shah, Director, Prashant Group of Industries, commented, "Gujarat is one of the very important states of India for the textile and textile engineering sector. Gujarat has many ginning, spinning, weaving and processing units. Ahmedabad is one of the most important processing sectors. Surat is India's largest man made fabric manufacturer. Rajkot has many ginning and spinning units. Even the technical textile sector is increasing in Gujarat. If we talk about textile machinery business, Ahmedabad, Rajkot and Surat have many engineering units. For us, Surat is one of the biggest markets for our sectional warping and filament sizing machine."
Prof Ashwin Thakkar, Vice President, The Textile Association (India) Ahmedabad Unit, asserted the importance of Gujarat in Indian textile industry by saying, "Gujarat is the most thriving state for textiles for three reasons: it is the highest producer of cotton, it produces the highest denim fabric in the country, and it produces the majority of textile machinery." Gujarat has become a popular investment destination as a result of all of these factors.
Performance of Gujarat Textile Industry in 2022:
| | | | | |
| --- | --- | --- | --- | --- |
| Cotton | Fibre | Fabric | Fashion | Foreign |
| 37% of India's cotton produce | 50% of India's man-made fibre production | Largest producer of synthetic fabric in India | 90% weaving machinery manufacturers are established in Gujarat | 30% of India's export in cotton fabrics and made-ups |
| 60% of India's cotton export in terms of value | 4.5 million established spindles in state | 30% of India's woven fabric production | 25% of India's technical textile output | 3 operational Apparel Park |
Source: Invest Promotion Organisation – Government of Gujarat
Government Support
For the assistance of Gujarat's garment and apparel industries, the Gujarat government has introduced the "Gujarat Garment and Apparel Policy 2017." Over the next five years, the initiative intends to create 100,000 new employment, increase exports, and attract investment in the garment sector. Any company with at least 150 new machinery (cutting and sewing) and at least 300 staff is eligible to participate in the scheme.
"The government has provided enough support to the state, especially to the technical textiles sector. The central govt runs programmes such as TMTT (Technology Mission for Technical Textiles), while state governments supports us to their own programmes," mentioned Thakkar
Raw Material Availability
Gujarat is the leading cotton-producing state, with 90 lakh bales produced in 2020-21. Gujarat produces approximately 28% of India's total cotton, and Gujarat exports 60% of the country's cotton fibre. The primary cotton-producing districts are Surendranagar, Jamnagar, Rajkot, Bhavnagar, and Amreli. Cotton production is further aided by the state's meteorological and geographical circumstances, which include black soil mixed with lime and potash and a rainfall of 50 cm, which are ideal for cotton growing. "Gujarat has enough raw materials because all of the crops are grown here, thus we have never felt the need to import them from other states," adds Patel.
Gujarat also produces 30% of the country's woven fabric, as well as 50% of the country's processing machinery and 90% of the country's weaving machinery. It's also a major producer of technical textile fabrics, accounting for 25% of the country's total.
Skilled Manpower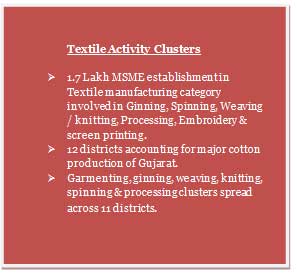 Gujarat has ensured competent workforce and workers while luring investments in the T&A sector. In Gujarat, there are approximately 28 industrial training institutes (ITIs) that provide training courses in the textile and garment industries, with a total intake of 6000 students. Cutting and Sewing, Cutting and Embroidery and Needle Work, Computer-aided Dress Making and Dress Design, Tailoring, Pattern Making, Finishing Garment Checking, and other textile development courses are available at these colleges. The textile sector in Gujarat is well recognised for its healthy work environment cites Shah, "We get skilled labour to cater to the textile engineering industry. There are many ancillary units which can cater the needs of textile machinery manufacturers. Work environment and work culture is better compared to many other states. This is the reason why Gujarat has many textile engineering units." Textile technology bachelor's and master's degrees are available at a number of colleges throughout the state.
Logistics and connectivity
Gujarat is well connected by air and marine links to all of the world's major cities. It has direct international flights to cities in Europe, the Middle East, East Asia, and the United States. Gujarat has a 1600-kilometer coastline with 42 ports connecting to important sea-based trade routes and trade centres such as the Middle East, West Europe, Asia, and future African destinations. Gujarat serves as a crossroads for India's landlocked states, connecting them by road, rail, and air.
Presence of textile hubs and large textile manufacturers
Due to the abundance of raw materials and investor-friendly policies, leading national and international companies have invested in the Gujarat textile sector. Arvind Mills, Welspun, Vardhman Group, Alok Industries, Raymond, Garden Silk Mills, Mafatlal, and Aditya Birla Nuvo are some of the major industry players in Gujarat. Gujarat has a thriving textile industry, with over 1500 medium and big textile businesses. There are also 18 textile-related project clusters in the state.
Dominating Exports
Gujarat's textile sector is presently seeing increased export demand from Europe, the United States, Australia, and New Zealand. In recent years, demand for household textiles, cotton, and synthetic fibres has increased dramatically. The Indian textile business is benefiting from the trust deficit in China.
What's next in Gujarat?
A mega integrated textile park in South Gujarat is expected to strengthen the state's textile industry. Darshana Jardosh, the Union Minister for Textiles, announced in April that 13 states, including Gujarat, have submitted bids for mega textile parks. The idea for seven mega textile parks was recently accepted by the central cabinet. Gujarat has submitted an application for a massive textile park near Navasari. The government would own a majority stake in the proposed parks and will contribute Rs 350 crore in financial aid to each park.