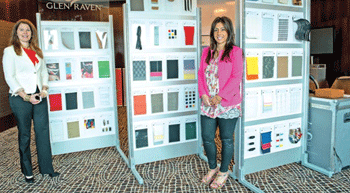 Glen Raven Concept Gallery sparks innovative ideas
Concept Gallery, organised by the US headquarters of Glen Raven Inc, displayed more than 150 different products providing the spark for innovation. The event designed to encourage the initiative of experimenting with technically textile material in various industries from automotive, petrochemicals, construction, mining, and geo-synthetics to filtration and protective fabrics for the police, military, fire fighters, etc
The gallery served as a platform for sharing information and building a community of individuals and organisations dedicated to innovative development in the Indian market segment.
Concept Gallery, organised by the US headquarters of Glen Raven Inc, displayed more than 150 different products providing the spark for innovation. The event designed to encourage the initiative of experimenting with technically textile material in various industries from automotive, petrochemicals, construction, mining, and geo-synthetics to filtration and protective fabrics for the police, military, fire fighters, etc.
Exploring and expanding its presence in India, the leading global in fabric-based innovative solutions showcased products along with their subsidiaries, Strata-the US & India and Dickson of France to promote collaboration and opportunities in the technical textile market segment. The Concept Gallery programme promoted new ways of thinking about discovery, inspiration and creativity. The gallery served as a platform for sharing information and building a community of individuals and organisations dedicated to innovative development in the Indian market segment. Products like Glen Flow®, a permeate carrier component, which contributes to filter efficiency and reduced energy use in the water purification and desalination process. The products also had other characteristics like fire resistant, water resistant, protective work wear in thermal operations, military and safety apparel, etc. The audio visual presentation at the event also helped in understanding better implementation of the products in existing techniques.
Paige Mullis, Curator of Concept Gallery, said, ´We have been very excited with discussions that Concept Gallery has played important role in developing considerable interest. The exchange of views and ideas indicate the potential for innovation in Indian market.´
Girish Kherdekar, Scientist, Wool Research Association, who visited the gallery said, ´Over all display of products was nice. The presentation explained the information in detail and further scope for improvement. Implementing according to Indian Standard would be required on exploratory terms.´
Suranjana Gangopadhyay, professor from V.J.T.I. Textile Department, expressed that, ´This is a very novel approach to reach out to the stakeholders. Display was very attractive and with some additional technical inputs availability, it will make the experience even better.´
Ashish Vaidya from Shiva Texyarn Ltd, Coimbatore at the Concept Gallery, says,´ It is a one stop solution for innovators in the technical textile industry. Fabrics are tested, yielding high performance and can be used in various ways. India needs to think about safety level and cost factors of Glen Raven products.´
With more than 150 products at display, the visitors got indeed an inspiring experience in creating and blending the technical textile materials according to their requirements and needs of market.
"Innovation has always been a focus for Glen Raven"
Started as a cotton mill in 1880, Glen Raven Inc has now everything to offer – right from R&D, dyeing to spinning, weaving and finishing, and all the way down to distribution and logistics. The company serves a wide range of industries including awning, marine, furniture, protective, military, geosynthetics and more. Glen Raven Inc is basically into three business units – custom fabrics, technical fabrics and trivantage. Their Dickson® brand of performance fabrics are known in Europe as the leaders in solar protection. Consumers are also familiar with their brand, Sunbrella®. The distribution is done through Trivantage, a one-stop-shop allowing more than 10,000 items including fabrics, hardware and other components.
In an interaction with the Editor of t