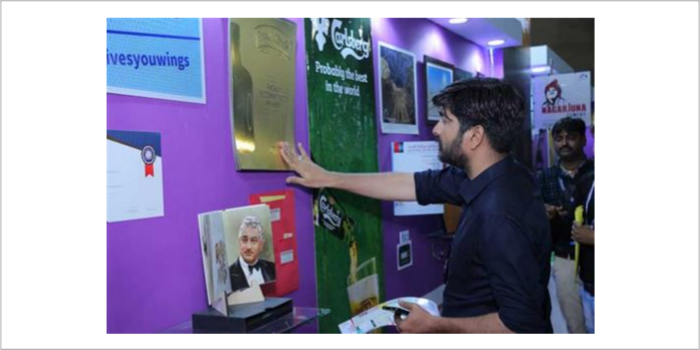 Gartex Texprocess to be held from Dec 17–19 2020
With an aim to provide an impetus to denim industry stakeholders in the aftermath of the pandemic, organisers Messe Frankfurt Trade Fairs India and MEX Exhibitions have jointly announced new dates for both New Delhi and Mumbai editions of the Denim Show.
With an objective to support the swift revival of the garment and textile industry, India's most comprehensive exhibition on garment and textile manufacturing supply chain – Gartex Texprocess India is back with new dates for its Delhi and Mumbai editions. While the Delhi edition will take place from December 17-19, 2020 in Greater Noida, the Mumbai edition has been scheduled in March 2021.
Following detailed consultations with industry stakeholders, organisers – MEX Exhibitions Pvt Ltd and Messe Frankfurt Trade Fairs India, have announced new dates for Gartex Texprocess India's Delhi and Mumbai editions. Originally scheduled in August 2020, the New Delhi edition of Gartex Texprocess India has now been pushed ahead to 17 – 19 December 2020 at India Expo Mart (IEML) in Greater Noida, Delhi-NCR, whereas the Mumbai edition will take place from 19 – 21 March, 2021 at Bombay Exhibition Center, Mumbai.
The organisers believe that the new dates will ensure optimal revival of trade and provide additional time to exhibitors to plan their exhibits and product launches more effectively in the current environment. The decision which was taken on the basis of feedback from exhibitors, partners and industry associations, also aims to ensure that the event serves its objectives of business, knowledge and tech-exchange in a more meaningful way when the entire textile fraternity can come together.
Exhibitions are a crucial tool to revive businesses and boost economy. Networking in a safe and controlled environment is an effective way for industries to get back on track, especially for the garment and textile industry that sees Gartex Texprocess as an indispensable channel for marketing, showcasing innovations and forging valuable partnerships in the long run.
Gartex Texprocess India is a trusted industry platform offering immersive experience to both exhibitors and visitors and has transformed the way stakeholders operate in garment & textile machinery industry. The key business event comes packed with the experience and expertise of two major exhibition organisers and draws thousands of quality visitors in every edition. The three-day fair provides a holistic experience to participants not just by way of an extensive display of exhibits, but also through a series of seminars and workshops aimed at facilitating dialogue that highlight on-going trends, opportunities and challenges for the business of textiles. Prominent highlights of the show include Denim Show, Embroidery Zone, Garmenting & Apparel Machinery Zone, Digitex Show, India Laundry Show and Fabrics & Trims Show.
Between now and its opening in December 2020, the organisers aim to continue to keep the industry connected through its webinar series to draw focus on sustainable measures and support the sector during its recovery phase.
Mumbai edition of Screen Print India to be held alongside Gartex Texprocess
Screen Print India has announced new dates for its Mumbai edition with a promise to keep the industry abreast with the rapidly changing business landscape in the screen-printing sector. The exhibition will be held in parallel with Gartex Texprocess India, from 19 – 21 March 2021 at the Bombay Exhibition Centre in Mumbai.
Messe Frankfurt India has announced new dates for the Mumbai edition of Screen Print India – the leading trade fair for screen, textile, sublimation and digital printing technologies, which will open its doors alongside the premier trade fair for the textile industry – Gartex Texprocess India in March 2021. With the gradual re-opening of commercial activities and businesses, the co-located fairs will enable the industry to channel their efforts back towards business development and cater to the needs of screen printing, textile and garment manufacturing industry players as it gears up to bring the production and manufacturing value chain under one roof.
While the focus segments under Gartex Texprocess India will draw attention to innovations in garmenting & apparel machinery, the product launches and live demos at Screen Print India will enable business visitors and traders to track technological advances in digital textile and screen-printing technologies. The secure, business-focused ambience will enable both printing and textile sector players to showcase, source and strengthen their supply chains and keep pace with the shifting demand for screen printing, textile printing, digital and sublimation technologies across other sectors.
Screen Print India will also host a series of sessions on processes and innovations related to the graphics industry. Another key highlight of this successful trade fair is the Screen Print Excellence Awards that upholds a strong tradition of honouring technology inventors and trailblazers within the screen-printing industry. With this in mind, the Mumbai edition will curate a special "SPI Gallery" to showcase award winning pieces of screen-printing excellence.
Screen Print India, which is also marking its launch in New Delhi in December this year has garnered the support of leading industry associations including Screen Printing & Graphics Association of India (SGAI), South Indian Printers Association (SIPA), Madurai Screen Printers Association (MASPA), Tirupur Export Knit Printers Association (TEKPA), Tirupur Export Printing Managers Association (TEPMA) and Offset Printers Association (OPA). From technologically advanced to environmentally sustainable solutions, the platform through both its Mumbai and Delhi editions, promises to be a one-stop sourcing platform to cover a broad gamut of products in screen, textile, sublimation and digital printing technologies.