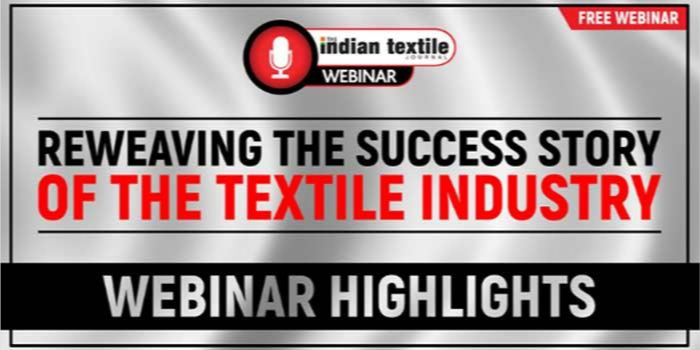 Focus on value addition: ITJ webinar
ITJ webinar provided a roadmap for the growth of Indian textile industry with experts emphasising on self-sufficiency, value addition and increasing inherent competitiveness of the industry.
ITJ webinar provided a roadmap for the growth of Indian textile industry with experts emphasising on self-sufficiency, value addition and increasing inherent competitiveness of the industry.
Textile industry, after agriculture, generates large number of employment (12.9 million) for skilled as well as unskilled people. The Indian apparel sector, the world's fourth largest producer of textile and garments, contributes approximately 7% to industrial output in value terms, 2% to the GDP and 15% to the country's export earnings.
Indian industry dominates in the cotton value-added product line up (being one of world's leading producers and exporters of cotton), while it is struggling to compete in the man-made fibre or synthetic fibre segment due to unavailability of cheap raw material and tax anomalies. Similarly, on technology front, while it is independent in spinning segment, imports account for a major share of weaving machineries in the country. Government policies, more often tilted in favour of natural fibres, have not helped the cause of the Indian textile industry.
Covid 19 has exposed the world's weakness of overdependence on one country (Read: China) for the supply of raw material as well as finished goods. Story is not different for textiles. As the world looks at paradigm shift in global sourcing, India has good chance to make a major impression on the global textile market provided the industry, along with favourable government policies, focus on improving efficiency across the value chain and start diversifying into value-added textiles.
In this context, a webinar on "Reweaving the success story of the textile industry amid Covid-19 pandemic" was conducted by The Indian Textile Journal (ITJ) on April 28, 2020. The webinar was moderated by Pratap Padode, Editor-in-Chief, Indian Textile Journal. Panelists for the webinar were: Ashok Juneja, President, The Textile Association of India (TAI); Ronak Rughani, Chairman, The Synthetic & Rayon Textiles Export Promotion Council (SRTEPC); Kapil Pathare, Director, VIP Clothing; Gurudas Aras, Director, Textile Engineering Group, A.T.E. Enterprises; and Navdeep Sodhi, Partner, Gherzi Consulting Engineers.
Padode, in his introductory speech, said, "India's share in the global textile expert is just 5 per cent, which is minuscule as compared to China's share of 38 per cent. Even the share of apparel exports in the country's total textile exports have fallen sharply from 51 per cent to 45 percent in 2019."
Speaking on the challenges before the Indian man-made fibre (MMF) industry, Rughani said, "There is GST of 18 per cent on raw materials, 12 per cent on yarns and 5 per cent on fabrics. This leads to a lot of accumulated input tax credit which also blocks a lot of working capital. So, high rate of interest is one of the challenges for this capital intensive sector."
Data compiled by the Directorate General of Commercial Intelligence and Statistics under the Union Ministry of Commerce and Insustry showed India's exports at $21.7 billion for the period, down over 8 per cent from $23.6 billion in the corresponding period last year.
According to Juneja, "In spinning, India is at par with China. However there is still scope for further automation. In garments, we are even behind Bangladesh, leave alone China. Vietnam is also a growing segment in garments."
Recently, the government has released a total of Rs 6,717.18 crore under the Amended Technology Upgradation Fund Scheme (ATUFS) during 2015-16 to 2019-20. ATUFS has a provision to meet the committed liabilities of its previous scheme versions in addition to the new sanctions.
On technology ugradation fund, Aras said, "India has roughly 25 per cent of the market and spinning is fairly modernised. What is needed is the funding for weaving and processing segments. I think the new ATUFS should also be given to weaving preparatory, processing, garmenting and technical textiles."
"As of today, we import nearly 60 per cent of machinery in spinning, 90 per cent of weaving and preparatory machines, 60 per cent of processing machines and 90 per cent of garment machines. Unless we develop indigenous textile machinery manufacturing, we are not going to benefit the textile sector, which will have to pay high capital cost for importing these machines. If we really want Indian textile industry to compete globally, then weaving, processing, garments and technical textiles should get funding," added Aras.
Sodhi highlighted five points with regards to India's presence in the global market. The five points are: India being second largest producer of fuel, strong in cotton market, largest exporter of yarn with 25 per cent share of the global market, huge share in bed linen, and unlike China, India is connected with global value chains.
The global trade in textiles and apparel was about $800 billion in 2018 in which China's share was 30 per cent while India's share was 5 per cent. "The technical textiles amount in India will double from the present about $20 billion to $40 to 45 billion by 2030. This will help to get into downstream segments," said Sodhi.
Covid-19 and beyond

On how the textile industry will cope with the challenge of Covid-19? Pathare had this to say: It will definitely have some impact on the retail segment. This is because it will increase the pace of retail consolidation as all the retail giants would like to consolidate themselves." He added, "Retail segment would be looking forward to 100 per cent FDI investment in India. E-commerce will see a boom for at least next couple of years."
"There could be challenges of financial or a liquidity cash crunch in the industry because the industry will have to still manage the payouts on account of salaries and fixed overheads. For the first time, we have seen that the demand and supply have been impacted together," said Pathare.

Aras believes that the overall consciousness and seriousness about hygiene in India and abroad will go up considerably. "Nonwoven sector will have a huge scope," said Aras.

"In India, around Rs 4,500 crore worth of machines are supplied domestically, while Rs 8,000 to 9,000 crore worth of machines are still imported. For the textile industry to grow, the textile machinery industry has to grow. European machinery manufacturers are keen to enter India, but because of red tape, they are not showing much interest. If the European players come to India and set up their base here, then the machines would be cheaper," concluded Aras.