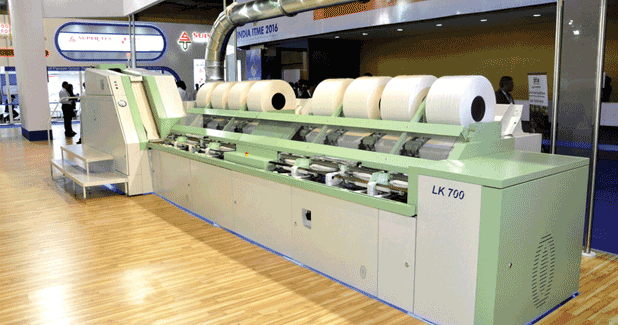 Energy-efficieny, automation focus of LMW solutions
At ITME, LMW's new innovations focused on automation and energy efficient spinning solutions in all the three subsystems. The live demonstration of the products and its outstanding superlative features were well appreciated by the customers.
At ITME, LMW's new innovations focused on automation and energy efficient spinning solutions in all the three subsystems. The live demonstration of the products and its outstanding superlative features were well appreciated by the customers. In an unprecedented move, LMW releases a manifest to match even better than before the exact spinning requirements of customers with latest and most advanced technology, designed with customer needs in mind.
The products that attracted attention were:
Card sliver system: Card LC 636
Combing system: Breaker Drawframe LDB 3, Comber LK 700, Autoleveller Drawframe LDF 3
Ring spinning systems: Speedframe LF4200/AX, Ringframe LRJ9/SX
Roving Transportation System (RTS)
Yarn Breakage System (YBS) and roving stop motion
New jet spinning, LJS 9
Components, parts and PEKs
Card LC 636
Card LC636 is designed for higher productivity up to 250 kg/hour with increased working width of 1,500 mm to achieve better carding sliver. Card LC636 has optimised cylinder diameter with highest active flat area (1.95 m2) and active cylinder area (3.95 m2) compared to all cards in the market. Replaceable shoe type plastic end connector for flats enhances user friendliness. Brass clips are used for flats to maintain uniform setting between flats and cylinder throughout the width of the machine.
Drawframes LDB 3 & LDF 3
LMW proudly launched its New Breaker Drawframe LDB 3 and Autoleveller Drawframe LDF 3 with delivery speed of 1100 mpm (mech) and with the outstanding features. LDB 3 and LDF 3 comes with change gearless drive concept which eliminates main draft change pulleys and facilitates main draft adjustment through display. Inverter controlled main motor facilitates delivery speed changes through display which in turn results in stepless increase in speed. Newly developed Top roller end bush with sealed bearings and life time greasing ensures user friendliness. Self cleaning top roller strippers automatically lifts periodically to remove the fluffs accumulated which in turn increases cleaning efficiency and eliminates fluff accumulation on the drafting zone. Replaceable stainless steel coiler for man-made fibres reduces maintenance cost. Autoleveller Drawframe LDF 3 is equipped with Duo digital Autolevelling system and with automatic suggestion of Autoleveller correction point.
Comber LK 700
Comber LK 700 with a production of up to 2.4 tonne per day at 700 npm is achieved by adopting new drive concept. Nipper and Circular comb driven from two ends and detaching roller driven from middle ensures torsion free drives which results in constant quality of sliver across the machine. LMW introduces Auto lap piecing with the launch of its new model Comber LK 700. Auto lap piecing coupled with Lap transportation System has increased the machine efficiency significantly. User-friendly piecing index setting placed outside headstock. Inverter driven main motor facilitates speed changes through display. 24-inch x 48-inch delivery cans with 2 reserve cans and 40-inch x 48-inch delivery cans with one reserve can (optional) with minimum space requirements.
Auto doffer Speedframe LF4200/AX
The Longest Speed frame in the world with 240 spindles is incorporated with state-of-art technology that ensure high productivity and quality. Dual drive arrangement for drafting has facilitated for the longer machine for all types of processing material. With the development of constant discharge duct (CQ duct) effective suction arrangement has been ensured. The 240 spindles coupled with 1,824 spindle ring frame will help reduce the space requirements to a great extent. Automation like Auto doffer and Lakshmi Roving Transportation System (RTS) reduces the dependency on labour. The all new ring frame LRJ9/S series is a change gearless machine with a host of features that provides the customer comfort in terms of producing fancy yarns such as siro, slub, injection slub, Multicount, Multitwist and Multieffect yarn with higher productivity, quality, user and maintenance friendliness.
Spin Connect
Spin Connect, a web-based monitoring and control application which can be downloaded from App Store and accessed across the globe on a secure connection on any device – computer, laptop, iPad and smartphone. Large digital signage in the floor keeps the technical staff always updated and helps to achieve optimum plant performance. In the event of machine stoppage, mail/SMS alerts sent to assigned users to improve machine utilisation. Auto escalation alerts to higher level in case of unresolved issues. Monitored centrally for preventive maintenance, energy conservation and ensuring normal working.
Overall system helps technical team to: envision the problems, localise, swift analysis & solution, analyse and optimise the plant performance, and guarantee production and quality.
New jet spinning LJS 9
LMW also demostrated its capability in other spinning system by displaying air jet spinning machine, LJS9.
As a global leader, LMW constantly invests in R&D to assure highest performance of its Spinning machines, both for new machines and for those already installed in the field. Envisaging the trend that technology and automation is going to drive the spinning industry for improved productivity in future, LMW is fully committed to accomplish the customers need in this direction.