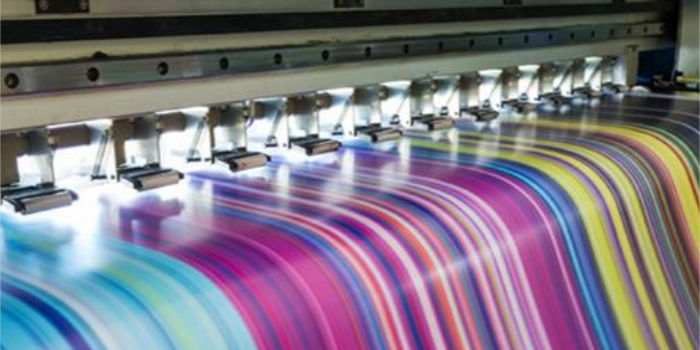 Digital printing helps textile firms meet green goals
Textile companies are under pressure to adopting sustainable practices across the value chain. Traditional printing technologies such as table printing, flat bed printing or rotary printing are expected to give way to digital printing as the latter has an interesting sustainability profile, says Rakesh Rao.
Textile
printing is one of the fastest-growing areas in wide format and industrial
printing as it covers several different types of fabrics – from synthetic to
natural materials – and various applications from soft signage through to
sportswear, fashion clothing and home furnishings. Rising population,
increasing purchasing capability and rapidly changing fashion trends are
driving the demand for printed textiles globally.
"Printing
is a low-cost process but highly value additive process from design
perspective. It is the most versatile technique to add designs/ colours to all
type of the fabrics which is not possible to achieve through weaving alone.
Printed fabrics are always in high demand for fashion wear, sportswear and in
the home textiles category. As a textile manufacturer, the focus is on ensuring
a shorter turnaround time from the design concept to printing the fabric as it
helps in better inventory management for the end customers," said Prashant
Agrawal, Managing Director at BRFL Textiles Pvt Ltd (BTPL).
Textile
printing companies – who are always under enormous pressure to reduce time to market
– are looking at ways to increase print speeds, efficiency and flexibility. As
a solution to these challenges, textile companies are increasingly opting for
digital textile printing. Though digital printing's share in textile printing
market is very small at present, it is witnessing robust growth than the
conventional textile printing methods.
Anjani
Prasad, Managing Director, Archroma India,
said, "Textile printing is still mainly applied by reactive printing and
pigment printing. Pigment printing still represents approximately 50% of the
market due to its easy application and the fact that no washing is required at
the end of application process. At the same time, digital printing is growing
at a fast pace, with an expected 6-8% growth every year. We can anticipate that
traditional printing technologies such as table printing, flat bed printing or
rotary printing will give way to more digital printing, in particular as the
latter has an interesting sustainability profile towards water saving."
Digital
in demand
According
to Kornit Digital, digital textile printing is a process of printing on
textiles and garments using inkjet technology to print colorants onto fabric.
This process allows for single pieces, mid to small-run cycle production and even
long-runs as an alternative option to screen printed fabric.
The
first step in digital textile printing is to pre-treat the fabric with liquid
solutions that prepare it to accept the dye and better absorb the colour. Then
it is fed through the printer, which sprays the dye onto the textile with tiny
droplets. The final step is fixing the fabric, a process that ensures the
permanency of the design. Depending on the type of textile and type of dye,
fixing may involve steam, dry heat, or pressure. Sometimes it requires a
combination of two or more of those, according to Kornit Digital.
"Digital
printing, photographic screen printing and computer-assisted print designs now
enable us to print and produce intricate patterns and designs on textiles that
were once unimaginable. This enhanced capability has sparked a huge demand for
printed textiles across major fibers. While traditionally, printed textile
production systems were known to be heavy on resource consumption, Huntsman's
new age solutions offer better water and energy savings, thus reducing impact
on the environment," stated Suhas More, Commercial Director – SAMEA,
Huntsman Corporation.
The
Indian textiles and apparel market is growing at an unprecedented rate and
contributes to 7% of the country's industrial output. As output grows, it is
essential that the sector comes together to minimise the impact of operations
on the environment. Suhas More stated, "Digital printing offers
high-resolution prints with unlimited colour combinations and utilises less
amount of ink, electricity, and water as compared to other traditional
techniques. Huntsman Textile Effects is one of the leading providers of
integrated textile solutions for every aspect of digital printing right from preparatory
and digital inks to finishing segments."

According
to ResearchAndMarkets, global production of printed textile is tipped to reach
36.8 billion sq m by 2024. Even in India, increasing number of textile firms
are opting for digital printing to meet growing customer demands. Sharing BRFL
Textiles experience, Prashant Agrawal said, "Out of its total processing
capacity of 4 lakh meters per day, BTPL has a capacity of 2.5 lakh meters per
day of rotary printing with up to 16 colours. The demand for digital textile
printing is continuously increasing in India. To cater to our customer's
digital fabrics demand, BTPL gets it done by way of outsourcing."
Suhas
More added, "With the adoption of the latest printing technologies and
methods in India, the demand for printed fabric especially on the consumer end
has also witnessed swift growth. On the textile printing front, we have
witnessed a technological shift from traditional printing to more eco-friendly
and sustainable digital printing platforms. This segment has also witnessed
good investments as is evident from big printing clusters in Surat, Dombivali,
Amritsar, Delhi NCR markets. As an industry leader in Digital Inks portfolio,
we address the needs for applications in different array of fibers like Co,
PES, Silk, Nylon etc., have a widespread market reach and OEM partner network,
and best in class service teams to help customers with their digital printing
needs."
According
to Mark Sollman, Product Manager EMEA, Mimaki Europe, the textile
industry is very much in the middle of the transition from conventional to
digital printing and one can image that the digital textile industry will only
continue to grow from here. "The extreme versatility of digital printing
technology, as well as the ability to customise, also lends itself well to fast
fashion and sportswear. Namely, direct printing onto natural fabrics has become
increasingly popular due to the quality and uniqueness it adds to the garments,"
he added.
Call
for sustainability
Adopting
sustainable practices across the value chain, right from procurement of
materials to the processing and manufacturing of textiles, has gained much
needed attention in the last few years. "More manufacturers are shifting to
newer machines and processes that enable companies to reduce the ecological
footprint of textile printing. One of the key benefits of our offerings for
this sector is that we help companies further their sustainability efforts
while also enabling cost-reduction and maximization of yield. We believe this
provides the industry with a real imperative to make the shift to new
innovative technologies. The rise in demand for printed textiles has majorly
been fuelled by this coupling of energy efficiency and cost management," stated
Suhas More.
As
opposed to customary printing techniques, computerised printing is fast and
allows for customisations while reducing water, chemicals and material wastage.
"Further, newer solutions have also majorly boosted productivity and efficiency
within the industry. For instance, Huntsman's ERIOPON E3-SAVE offers
significant sustainability benefits. Based on unique polymer technology, this
textile auxiliary delivers a combination of best-in-class performance and
value. It enables savings in time, water, energy and ultimately cost by
enabling the shortest possible processing cycles and helps them comply with
current and anticipated industry sustainability standards. Within a year of
its' launch, our solution had collectively saved more than 130 million litres
of water," said Suhas More.
The
market is driven by technology developments that will improve print speeds,
design, and efficiency; effervescent adoption of digital printing technology;
and improvements in dyeing techniques, and ink formulations. "A few of the
factors driving the adoption of digital sustainable printing technology include
water, water efficiency; reduction in chemical wastage; the ability to print
with different effects," stated Edward Menez, Co-founder and Chairman,
Rossari Biotech Ltd. As a leading textile chemical manufacturer in India, Rossari
Biotech offers binders for special effect finishing agents to fulfil the
requirement of the digital printing industry.
Edward
Menez added, "The clothing and garment industry accounts for a significant
market and is expected to be the fastest-growing segment in coming years. Major
factors influencing growth in the market are migration towards sustainable
textile printing practices using cleaner consumables such as urea and eco-friendly
printing inks; and use of more efficient printing processes."
Sustainability
is no longer just a good-to-have optional approach. All industries need to
unitedly future-proof their manufacturing workflow by adopting technologies
that will reduce climate change and preserve the world's precious resources. "Textiles
industry uses a considerable amount of water and energy and a printing process in
particular for the steaming and washing," said Prashant Agrawal.
The
digital-edge
According
to Edward Menez, digital technology has greatly affected the textile printing
market (like many other industries) not only by introducing full-width jet
printing machines but also in every aspect of conventional print production,
from the design stage, through coloration and recipe formulation, screen
manufacture and print paste preparation to the final electromechanical control
of the printing machine itself. Rossari has introduced unique products like the
Sensocryl series, Neobind series for digital printing, taking textile printing
to the next level.
One
of the important benefits associated with digital printing on textiles is speed
and reliability as this has commercial implication for the industry. "Therefore,
techniques allowing time and energy savings that are highly sought after. This
is why we developed our patented Inkpresso technology. Inkpresso is a paradigm
shift; it allows printers to manufacture their own fresh inks next to their
printing machines, ensuring high stability and no issues with shelf life," said
Anjani Prasad of Archroma India.
Prashant
Agrawal added, "Digital printing technique is in trend because of its low fixed
costs, fast sampling & delivery time, high resolution printing with
unlimited designs & colour combinations, higher savings on water & energy,
etc. 3D printing on clothing has also been increasing though it is relatively
costly; but this will certainly revolutionise the fashion industry."
More
than 20 billion linear meters of printed textiles are produced every year, and
currently only around five percent of these are made using digital printing
techniques. With number of printing mills making the transition from
conventional to digital printing increasing rapidly, one can expect the market
to boom in the near future.