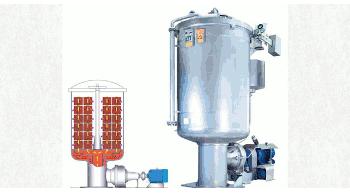 CHTC Fong's: One-stop solution in dyeing & finishing
Fong's, Monforts Fong's, Xorella, THEN, Goller, FWT and Monforts are the leading brands under CHTC FONG's Industries, and also the renowned labels in the global textile industry. The CHTC FONG's Group is proud to present the 'one-stop' sustainable solution in dyeing and finishing range of pre-treatment, dyeing, post-treatment and waste water treatment at ITMA ASIA+CITME 2016 in Hall 6, C01, National Exhibition and Conventional Center, Shanghai, China from October 21-25.
Hall 6, Booth C01
Fong's, Monforts Fong's, Xorella, THEN, Goller, FWT and Monforts are the leading brands under CHTC FONG's Industries, and also the renowned labels in the global textile industry. The CHTC FONG's Group is proud to present the 'one-stop' sustainable solution in dyeing and finishing range of pre-treatment, dyeing, post-treatment and waste water treatment at ITMA ASIA+CITME 2016 in Hall 6, C01, National Exhibition and Conventional Center, Shanghai, China from October 21-25.
FONG'S DYECOWIN HT Dyeing Machine
DYECOWIN is a breakthrough in the long tube dyeing machine operating with a much lower running liquor ratio of up to 1:5. The production cost can much be saved. The patented fluid distributor at the rear of the machine can adjust the distribution of dyeing solution according to different fabric types and ensuring an organized fabric stacking pattern.
The rollerless design overcame the tangling problem with conventional dyeing machines. The fabric surface defects such as scratch marks and light spots caused by unsynchronised motion between nozzles and rollers can so be minimised. The patented CONJET nozzle technology can ensure the quality of finished products by enabling precise adjustments of flow velocity and pressure without the needs of dismounting.
The productivity and efficiency is much enhanced.
The rectangular fabric delivering channel allows fabric to have free expansion and run smoother along the channel, thus reducing crease marks effectively.Furthermore, Fabric cycling velocity can reach up to 600 m/min for light fabrics. The load capacity can be increased while the outstanding dyeing results are still able to achieve.
FONG'S SUPERWIN HT Single Flow Package Dyeing Machine
SUPERWIN is more than an ordinary dyeing machine running adopts single I-O flow. The revolutionary wave dyeing technology and intelligent control reduce the liquor ratio close to 1:3. SUPERWIN empowers your production to the leading edge of efficiency and eco-friendliness.
Low liquor ratio: During a single inside-out flow process, dye liquor discharged from the pump enters the carrier and passes through the spindles, then reaches the packages and diffuses outwards. Only a sufficient water level is required at the kier bottom to maintain steady pump pressure and it is not necessary to have all packages fully immersed with liquor, hence lower liquor ratio is achieved.
Innovative wave dyeing technology: By executing a specific period of change in pump frequency, smashing the packages like waves such that it could move under differentiating pressure would lead to perfect utilisation of the advantage of dual flow concept, but in a much lower demand of water and electricity.
THEN Synergy 8 Super Aerodynamic High Temperature Dyeing Machine
SYN 8 SUPER – The most advanced aerodynamic high temperature dyeing machine.
It has individual blower per tube. The pressure loss due to resistance can be much minimised by eliminating manifolds. Thus, the efficiency is improved and there is significant reduction in energy usage.
The individual control on separate tubes ensures sustained operation in case of tangling or any emergencies. Better flexibility, quality and ergonomics for dyeing can be obtained. SYN-8 SUPER equipped with Integrated Intelligent Rinsing (IIR), Fuzzy Logic Temperature Control Technology and FC30EX Program Controller providing comprehensive control management. The input of labor is reduced while the productivity can much be enhanced.
Optimised airflow system: The design of impeller and case structure of the blower are closely coordinated to ensure smooth AIRFLOW movement within the system. The nozzle performance has thus been optimised and the dyeing quality of fabric is improved.
Dual nozzle device: Having an additional jet nozzle system to allow more operation modes as well as different dyeing applications. In these coordinated condition, the electricity consumption of the pump can be saved up to 30 per cent. Automatic cleaning function of nozzle: The nozzle gap size is adjustable providing flexibility to different dyeing application procedures as well as automatic cleaning function.
GOLLER SINTENSA Cyclone Tandem High Efficiency Washing Compartment
The newly-designed GOLLER washing compartment – SINTENSA CYCLONE TANDEM can reduce fabric's running tension by means of the following two points.
By optimising fabric's running route. The optimised fabric's running route and the increased cladding intensity of the driven rollers and driven drums can keep the speed of the running fabric in accord with the speed of driven rollers and driven drums, stabilise the processing conditions for fabric in the washing compartment and enhance the accuracy of synchronisation so as to facilitate the minimisation the running tension of fabric.
By the specially-designed rotor being installed on the driven drum (perforated).
The rationale behind is that when the range is running, the rotor can rotates at different speeds under liquor and the high-speed water stirring of rotor can result in low pressure and thus achieving the suction effect of the running fabric. As a result of this, the problem of fabric-slipping can be avoided and the lower running tension can be resulted.
SINTENSA Cyclone Tandem can indeed guarantee energy-saving, emission reduction and production costs-saving and make the open-width washing process for knitted fabric more smooth and efficient.
MONFORTS FONG's Stenter Montex 6500
The MONTEX 6500 of Monforts Fong's Textile machinery Co adopts technology originated from the cutting-edge technology of the A. Monforts Textilmaschinen GmbH & Co. Twin air technology allows top and bottom airflow to be regulated separately. The Integrated exhaust duct saves extra ducting works on top of the chamber roof; CAD Stream nozzles allow uniform distribution of hot air resulting in even temperature across the fabric.
Programmable logic process controller (PLC) – Its expandable and adaptable features could cope with all practical tasks arising in modern textile finishing.
It has features of "programmable control functions", "operation of the range via panels along the machine", "storage of set-up data sets", "Integration of setting values for measuring and control devices", "batch management", "network interfacing", "automatic nozzle pressure control" etc.
Besides, the new heat recovery device ECO BOOSTER as an integrated option for the MONTEX 6500 which fits for the growing awareness towards further reduction on energy consumption. Low maintenance and no standstill times, automatic cleaning processes, are the key features of this new ECO BOOSTER. Also, the new cleaning system Disc-O-Clean rotary screen lint filter is a fully automated cleaning system for the front chambers where most lint occurs, hence, it ensures a consistently high performance of Montex 6500 stenter.
MONFORTS Timatec Coating Solutions
Monforts will also present its latest Timatec modules for coating. The recently acquired Timatec Company has already resulted in first orders from Italy, Germany, Mexico and Colombia.
Cut models of different coating options will be on show for 'Knife over Air', 'Knife over Roller', 'Magnetic Knife' and 'Screen Printing' versions of coating units as well as the multifunctional unit incorporating all options into one most versatile unit.
Special focus will also be given on Monforts competence in denim finishing ranges especially featuring the new 'Eco Denim' range and the high speed denim finishing version.
Monforts Technologists for continuous dyeing and technical textiles will be available on the exhibition to for provide detailed advice. Being the leading dyeing and finishing equipment suppliers in the world, CHTC Fong's provides not only a comprehensive range of high quality and advanced dyeing and finishing machineries, but also timely and thoughtful after-sales technical services to the customers worldwide.
SETEX makes Industry 4.0 a definite possibility
Hall H6, Booth E07
Many companies have introduced since years an ERP-software for data management.
On the production floor level, machines and controls became powerful and have been connected to a supervisor software. Nonetheless the optimisation of the production processes require a lot of time and cost with traditional systems.
The new SETEX OrgaTEX X1 system provides entire new possibilities to realise an efficient digital workflow. After three years of development and more than 25,000 lines of source code – comparable to the words in two books of Harry Potter – three modules form the new integral role that manage, predict and analyse processes and production recipes. The root-data management deals with all kind of information-types and attributes used in modern textile enterprises, including maintenance, energy or efficiency information. The aim is to allow interoperability with highly specialised systems throughout the production chain.
The process and recipe module received a concept of using smart collections of recipe and process segments. This isn't about replacing existing dyeing and finishing processes (although it can). It's about leveraging some of the awesome power of the expert´s knowledge converted in self-adapting standard processes.
Wizards to exploit the application's strengths of prescriptive analytics of appropriate parameters – with a usability for good old-fashioned human knowledge.
With all the experience converted as formulas, we let the system adapt the production process and product quantities by an intelligent mechanism.
Built for intuitive use and to simplify complex production steps, the new SETEX MES system OrgaTEX X1 is helping from day one to reveal potential through the digitalisation of the working processes.
SETEX is a global leader in designing, manufacturing and implementation of automation solutions for the textile dyeing and finishing market. In twenty years SETEX has manufactured more than 40.000 industrial controller with innovative graphical user-interfaces in the German headquarters.
The SETEX supervisor and manufacturing execution system OrgaTEX is embedding production cells for an efficient coordination and optimisation of the production.
More than 40 leading textile machine manufacturers worldwide are using SETEX´s innovative solutions to provide efficient high-tech machines for ease of use.
SETEX is a family owned and operated company. Being independent allows operating fast and flexible, and achieving new standards in functionality and usability.
Assistant Q on a tour of USTER Total Testing Center
Uster Technologies knows how difficult it is for spinners to recruit suitable employees. So the company is offering them a new virtual staff member. His name is Assistant Q and he has the know-how and ability to make a real difference in quality management and business success – as well as absolute loyalty and commitment. Meet Assistant Q at the USTER booth at ITMA Asia + CITME 2016.
Assistant Q is ready to slot in to a spinning company at a senior level. He already has 65 years of USTER experience and is totally quality-minded. In addition, Assistant Q is always there, working 24/7 as part of the new USTER® TESTER 6.
Smooth running of every mill operation
With the data from the Total Testing Center Assistant Q has an overview of all the processes in the spinning mill. He examines test data from every production stage, alerting management to any potential issues. He directs alerts to the personnel responsible via their PCs (and in future to mobile devices) and also manages the process of solving the problem. He records when messages are acknowledged and tracks the history of the issue to its resolution.
Data analysis and fabric predictions
This new staff member takes in all the test results and provides fast analysis and interpretation. For example, he might identify changes at the carding process leading to a lower nep removal efficiency. In that case, he would immediately report the issue to the relevant operator.
Assistant Q supports to prevent against negative feedback from buyers about unsatisfactory yarn quality for weaving and knitting applications. He evaluates fabric appearance, using a series of parameters and a grading system of 1 to 5. Yarns graded 5 are expected to be top of their class in fabric appearance. His vast application knowledge and years of sample testing underpin this grading system. He also makes reliable predictions for knitted fabrics, where pilling is a key issue. His grading here is based on the new hairiness values provided by the USTER® TESTER 6 – as well as other parameters affecting pilling resistance.
Meet Assistant Q in Shanghai
Assistant Q can be observed in action at the USTER booth at ITMA Asia + CITME 2016. Interested parties – as well as curious visitors – will be introduced to him in his workplace, the Total Testing Center. Here, accurate test results are combined with real-time information from yarn clearers and additional testing instruments. Assistant Q's knowledge, experience and working practices are integrated in the USTER® QUALITY EXPERT which is incorporated in the USTER® TESTER 6 evenness tester. With Assistant Q, the Total Testing Center is an indispensable tool for modern mill management, making the leap from traditional data collection to powerful analytics and informed decision-making. The Uster Group is the leading high-technology instrument manufacturer of products for quality measurement and certification for the textile industry.
The Group provides testing and monitoring instruments, systems and services that allow optimisation of quality through each individual stage of textile production. This includes raw textile fibres, such as cotton or wool, all staple fibre and filament yarns, as well as downstream services to the final finished fabric. The Uster Group provides benchmarks that are a basis for the trading of textile products at assured levels of quality across global markets. The Group's aim is to forward know-how on quality, productivity and cost to the textile industry.
The Group is headquartered in Uster, Switzerland and operates through a worldwide Market Organisation complemented by Technology Centers. It has sales and service subsidiaries in the major textile markets and Technology Centers in Uster (Switzerland), Knoxville (USA) and Suzhou (China).
R + F: Premium rings and travellers made in Germany
Hall H1, Booth B30
At ITMA Asia + CITME 2016 in Shanghai Reiners + Fürst will present new travellers for Siro-Compact with optimssed geometry and new surface characteristics. The end-users benefit from low yarn hairiness and longer traveller service life.
Customers in China prefer the latest generation of TURBO rings especially for Compact and Siro yarns. During ITMA in Milan R+F introduced this further milestone in high speed spinning. Already more than 2.5 million units are running successfully in the markets. The enhanced surface allows increasing machine efficiencies by up to 10 per cent – especially when producing yarns of sensitive fibres or with highest spindle speeds.
For worsted spinning R+F introduces J-travellers for ring heights of 9.1 and 11.1 mm with enhanced surface for better performance of the spinning process. Different shapes are available for top results in the whole range of worsted spinning.
For the processing of fibre glass R+F shows the latest series of horizontal travellers for twisting of fine fibre glass filaments for ring heights of 9.5 and 4.8 mm.
Customers especially value the professional service and support R+F is providing particularly for finding solutions of increasingly complex applications.
R+F is a leading manufacturer of premium spinning rings and ring travellers with a long tradition as a family-owned business in the 4th generation. R+F successfully implements the policy of in-house manufacturing for setting premium quality standards. The inventions of R+F mark several milestones for highest efficiencies and yarn qualities over extended service life in the history of ring spinning. Customers all over the world benefit from R+F's continuous product innovations and service made in Germany for over 70 years.
Godets & beyond: Retech's tailor-made solutions
Hall 1, Booth A08
In recent years RETECH has achieved a reputable position in the market for textile machinery due to innovative, flexible and customer oriented products and solutions. Its moto is — Experts at drawing your fibres to perfection, get your inspiration – become fascinated by the 'blue thread'."
RETECH, a well-known manufacturer of high quality components for man-made fibre processing, presents a significant range of solutions for thermal treatment and drawing in the field of synthetic yarn production at ITMA ASIA 2016 in Shanghai. RETECH has achieved a leading position in the market for heated godet rolls, which are performing in spin-draw plants all around the world.
The initial equipping of new machines in close cooperation with the leading machinery manufacturers is the driver for innovation. Cooperation with important yarn producers, who develop new polymers and processes, gained importance in recent years.
The following new components will be presented:
Roll Temperature Surface Measurement Device
RETECH presented its newest development in the field of temperature measuring for first time at Itma 2015 in Milano. A service tool, developed for its engineers, became in reality a customer demand. This device is now available and is now also approved in production sites from its customers.
How precise is the roll surface temperature? How accurate from godet to godet?
These questions can be answered and measured by using this new device from RETECH.
Up to 4 measuring points can register the exact roll surface temperature within 1 to 2 seconds. The measured values for each godet and machine are stored and indicated in the hand held operating panel. They can be transferred to the customer's supervision software via USB connection.
It is a convenient small maintenance tool, which offers continuous and repeatable information to assure final yarn quality and not only for Retech godets.
New Temperature Transmitter: Another new development presented at Itma in Milano is now proved in different applications at production condition. Not only in its own Retech godet as well as in other brands godets as substitution achieve a better temperature transmission.
New UTR-4A Temperature Transmitter, Rotor, Stator and PT100 Fork: Retech supplies not only the heated godet but also the required temperature transmitter for 1 to 6 individual heating zones. This can be combined with UCR controller or USC signal converters. The new innovative temperature transmitter, which replaces the proven and successful UTR-4, has been miniaturised as far as possible and is completely sealed (no connections in the hot part of the roll). It has many applications in the field of textiles and elsewhere. It goes without saying that RETECH is also offering this feature for upgrading and modifications of existing heated godets.
Heated godet rolls: For many years the godets have been and will be the leading product range of Retech.
Heated godet with 4 Heating Zones and Rotating Temperature Sensor: Retech's attention turned always to optimise heating and motor capacity in order to save energy. The whole power of new innovation leads to fulfill this credo and therefore to the optimised godet. To define the right and best suited godet a close collaboration between customer and equipment designer is very important. There is no such thing as an "off the shelf" godet. Based on the permanent synchronous magnet motor (PSM) concept there are three main sizes of motors, available in different performance categories.
Together with the customer, RETECH engineers will elaborate all options required for the specific process. Whether process requirements call for one-zone or multi-zone heating, or specifically high drawing speeds is not a problem, RETECH godets are capable of up to 6000 m/min with temperatures up to 400°C. All godets are based on the same modular concept and are available as well with their own bearing and housings for use in very low speed application or centrally driven with a belt drive for multiple godet rolls.
Air Bearing Separator Rolls (ABSR)
Separator Rolls are an important addition to Retech component family. RETECH is focusing on a larger range of Air Bearing Separator Rolls (ABSR). Numerous ABSR's are in operation in polymer plants all around the world. Using a very advanced technology proprietary to RETECH, it has been possible to reduce the air consumption on our latest version ABSR by one third. This economical solution is furthermore paired with lower wear and tear of this component. ABSR now available in new dimensions: New dimensions such as Ø 36 x 110 mm and Ø 58 x 125 mm used mainly as guiding rolls have been added to the product range.
Online Monitoring System: RETECH can improve your process and product quality by means of their on-line tension control Win OLT. RETECH has further developed the well-known Win OLT which is a yarn tension measuring system that continuously monitors yarn tension, records yarn breaks, calculates downtimes and provides machine efficiency and quality data. It has been specially optimised for DTY processes.
RETECH supplies the tension sensor either as a stand-alone standard component with now 4 standard measuring ranges, or as a complete QA system, depending on the requirements. It is called the Win-OLT system. A special development focus was the enlargement of the data evaluation, called Win –Eval, which offers a huge information base for plant managers to optimise the efficiency of their machines. Statistics per shift, day or over a defined time period can be evaluated. Quality control in many stages of the textile process can be covered by Win-OLT at the same time setting the industry standard for high quality and optimised production.
RETECH´s components and installations are important links within the textile added value chain. As the market leader, RETECH possesses extensive Know-How in design and construction of heating and drawing elements in order to provide high technology installations with excellent customer service. The development of innovative, efficient and high quality draw machines adapted to the customer's specification, as well as their conversion and upgrading are additional and vital topics. Integration of new technologies has become essential in order to achieve sustainability in many respects including environmental protection and energy usage in combination with maintenance cost reduction and user-friendly operation.
Whatever the customers needs, whether process components for technical yarn, for sports wear and medical applications as well as for automotive or tire cord, these are all part of the creativity of RETECH in specific field.
DORNIER weaving machines for green technologies
Hall 3, Stand F01
Lindauer DORNIER GmbH will present market-leading machine concepts for the production of highly sophisticated fabrics at the ITMA ASIA + CITME 2016 in Shanghai. Under the DORNIER motto "The Green Machine" the family company, which manufactures the machines exclusively in Germany, will present as focal point comprehensive solutions for 'green technologies'. This stands not only for the noted green colour of DORNIER weaving machines but also the 'sustainable effect' of fabrics produced on these machines. These fabrics are of decisive importance for 'green technologies' in many branches: Whether finest filters for purifying water or air, airbags and antiballistic structures to protect against injuries or death, composites made of glass or carbon fibres to reduce moved masses and the CO2 emission. In all these sectors, DORNIER 'Green Machines' have long been indispensable for manufacturing customised precision fabrics in the respective application areas.
Apart from the production of textile fabrics, focus will be on weaving high-quality materials for clothing. Chinese and Asian textile manufacturers will also be able to see how they can manufacture reliable prime quality, combined with high productivity, in the fast growing clothing market segment. DORNIER weaving machines show unique performance and process reliability, especially in these production segments with the highest demands on the fabrics. This results from consequent exchange of ideas with customers, the imagination of DORNIER engineers as well as the quality of the production in Germany.
After presenting the rapier weaving machine P2 type TGS at the ITMA 2015 in Milan, DORNIER will now present a further new type of rapier weaving machine at the ITMA Asia + CITME 2016 for the first time. The new P2 type TGV combines the reliability of the previous P1 PTV model with the future-oriented modular P2 machine concept. Apart from that, DORNIER will show an airjet weaving machine of the latest generation A1 type AWS. An air-jet weaving machine in Jacquard version can be seen on Stäubli's exhibition stand. Each of these machines will prove its performance capability through the production of especially demanding fabrics in compliance with DORNIER's basic principle 'Quality creates value'. Peter D. Dornier, chairman of the executive board, on the participation at the ITMA Asia: "We are now looking forward to the ITMA Asia after a very successful ITMA 2015. The 13th Chinese FYP (Five Year Plan, 2016 – 2020) has ambitious goals for the textile industry. The target is an industrial transformation to cutting-edge technology. And it demands green technologies, which means environmental protection is becoming more and more importance. This fits perfectly to DORNIER since our special strengths lie in these areas. We want to support Chinese weavers with our weaving machines, our know-how and reliability as a German family company to reach their ambitious goals and to help them successfully master the transformation. Our weaving machines stand for technological leadership and we have been first choice and very reliable partners for growth and success for many years now, and will continue as such during the Chinese structural change with, for example, green technologies, higher productivity and highest quality fabrics." DORNIER will present the following machines and applications at the ITMA Asia:
DORNIER rapier weaving machine P2 type TGV 4/S G 20
The latest rapier weaving machine P2 type TGV is a further development of the DORNIER weaving machine generation with positive central transfer, the same as the new P2 type TGS presented at the ITMA 2015. It replaces the proven P1 PTV and stands for a new machine concept focused on the future.
With a reed impact of 3.7 tons, a special reinforced cloth take-up in sturdy design and absolute filling insertion evenness, the new weaving machine generation shows its technical superiority, especially when producing high density filter fabrics. The fabrics produced maintain constant mesh counts per cm2 and are therefore completely homogeneous. This, together with the density, is a basic demand on a high-quality filter fabric which the P2 manufactures in heavy duty design at the ITMA Asia.
The DORNIER SyncroDrive® is the basis to control the warp tensions created by the 3.7 tons reed impact (monitored and limited to protect the machine).
The latest rapier weaving machine type TGV provides, as real "green machine", the Chinese and Asian weavers with the option to produce the highest quality in the growing market for filter fabrics, e.g. for wet, liquid and solid material filtration or for soot particle separation and much more. In addition to productivity, sturdiness and reliability, DORNIER weaving machines are sustainable because they have an average service life of several decades. The platform strategy and modular concept of the DORNIER weaving machine system family, together with the worldwide support that even 30-year-old DORNIER machines receive reliably, make this possible. This creates a sustained added value for DORNIER customers.
DORNIER air-jet weaving machine A1 type AWS 6/S G16
This A1 air-jet weaving machine of the latest generation produces a suit fabric made of high-quality wool at the ITMA Asia + CITME as used by worldwide leading fashion houses for the menswear sector.
Special highlight: The suit fabric with a yarn from Südwolle Group, of Chinese production and designed by the Chinese Shandong Ruyi, is already being produced in China on DORNIER weaving machines.
The demands of the Chinese consumer-oriented middle class for high-quality clothing have risen strongly over the last years. Various studies prophecy that this trend will grow further. This opens up large opportunities for Chinese weavers to produce superior quality for the clothing market and to be successful in this segment.
The special challenge here is to produce a fabric with this quality whilst meeting the most demanding requirements with high productivity. The DORNIER air-jet weaving machine achieves this with a gentle filling insertion (senza pelosità , i.e. no fabric hairiness) combined with automatic filling break clearance. But DORNIER would not be DORNIER if productivity and quality were not continuously driven on. In industrial use, this has already been successful in the unique DORNIER quality by prominent Italian wool weavers with a speed of up to 1,000 rpm.
The heart of the DORNIER weave-by-wire technology is the patented drive concept DORNIER SyncroDrive®.
It is a very low maintenance weaving machine drive based on servomotors without clutch-brake unit. The close of shed is adjustable electronically during weaving via DORNIER ErgoWeave®, style data are archived and therefore reproducible.
The newly developed nozzle concept that allows a gentle acceleration of the filling thread and the high-performance carbon shafts further more reduce vibrations during shedding.
DORNIER air-jet weaving machine A1 type AWS 4/J G
At the Stäubli stand, an air-jet weaving machine type A1 produces an airbag fabric one piece woven as a hollow body. This very special demand is mastered optimally by the Jacquard weaving machine with its very high flexibility. About 12,228 lifting hooks are used here. The machine has the patented DORNIER SyncroDrive® fitted as standard.
During Jacquard weaving with the DORNIER SyncroDrive®, the weaving machine and Jacquard machine have separate drives and servomotors whereby the cardan shaft is not required. The connection runs via an electronic shaft. The very rigid and low vibration drive concept reduces the mechanical load as well as wear in the complete shedding area. The forces acting on the system as well as the energy consumption are drastically reduced.
This t