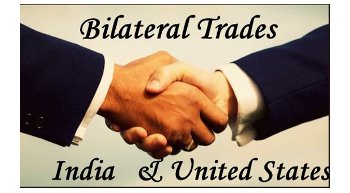 Bright scope for bilateral trade with US
India is targeting to increase its bilateral trade with the US to $500 billion from current levels of over $100 billion in the near term
India is targeting to increase its bilateral trade with the US to $500 billion from current levels of over $100 billion in the near term. According to a recent joint report by PwC and Indo American Chamber of Commerce (IACC), bilateral relations between India and the US have been strengthened further in the last two years with increased issuance of visas, visits by dignitaries, initiatives to combat terrorism, as well as trade.
Ten sectors like aerospace and defence, banking, financial services and insurance, chemicals, dedicated freight corridors, energy and infrastructure have immense potential not just for domestic growth, but also for strengthening India's position as a global business hub. Other sectors mentioned in the report are ports and inland waterways, oil and gas, pharmaceutical and digitisation.
The high rate of economic growth and projections for coming years indicate that India will continue to be a preferred investment destination. As per the report, India continues to remain the world's largest arms importer, accounting for 14 per cent of the global imports in 2011-2015, with the US being one of its biggest suppliers.