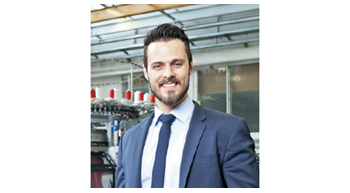 Benjamin: MD of Mayer & Cie.
Benjamin: MD of Mayer & Cie.
Benjamin Mayer is Managing Director of Albstadt-based company Mayer & Cie. He joined the company?s senior management in 2014 and shares with his cousin Marcus Mayer management responsibilities at the circular knitting machine manufacturer.
Mayer, born in 1982, studied industrial engineering. He graduated with a diploma in Ravensburg and went on to study for his master?s in Berlin. He wrote his master?s thesis, which deals with plastic welding in the automotive industry at a German car supplier in the US. Mayer began his career at BMW in Munich, where he worked for two years in R&D. In 2013 he became the second fourth-generation family member to join the long-established SME. In his spare time, Mayer is a keen sportsman and shares his time with family and friends.