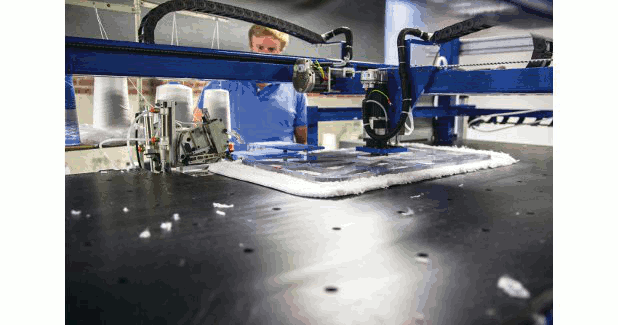 Automation vital for textile
vIt is very much a fact that automation has uplifted the textile industry; however, it is an observed theory that a single change brings about thousand other changes in the system, says Avinash Mayekar.
It is very much a fact that automation has uplifted the textile industry; however, it is an observed theory that a single change brings about thousand other changes in the system, says Avinash Mayekar.
In this super era, time and precision are the essence of one's living. We are living in a highly engineered world where every micro second counts, thanks to the technological advancements. Auto is a word that is driving today's world. From flying/driving in auto mode to mere calculations everything is done by the gadgets. So if we speak about advances in manufacturing industry the scenario is not much different. All major operations from ventilation control to stock management everything is handled automatically. Gone are the days when hours and hours were spent to manually count and feed the number of products produced. Today 100 per cent precision is what is aimed.
An error is something that can't be avoided but something that can be rectified. Automation has just made this happen. It's the driving force for the growth in manufacturing industry saving an ample of time. Automation has brought new ease to this industry thus increasing the efficiency and quality of products. Moreover the auto error detecting technology helps in minimising the errors by discontinuing the process at the very instant when a defect is detected so that it can be rectified and a zero defect product can be delivered. Coming to textile industry the era of automation has proven to be a boon to this sector. It has made the process much simpler and has drastically brought down the wastage levels. As reported by technavio research agency, global automation market in the textile industry by hardware and software was valued at $1,553.7 million in 2016 and is estimated to grow with a CAGR of 7 per cent till 2021. In Asia the automation market in textile industry is growing with a CAGR of 6.33 per cent.
Thus if we go some years back. A simple process of removing contamination from the cotton bales was done with the help of human assistance and despite 100 per cent accuracy from workers a hand full of contingency still existed. If we speak about yarn making process, a simple yarn breakage in the process needed manual attention to rejoin the yarn, thereby questioning its quality and also increasing the production time.
Automation has completely changed the scenario of spinning mills. Automation has taken place in various processes right from cotton picking and ginning which were 100 per cent manually operated earlier to winding and rewinding. At blow room, sequence of different machines are arranged in series and connected by transport ducts for opening, cleaning and blending to help improve the performance. Invention of machines like ring spinning, open end spinning airjet spinning, rotor spinning, Vortex spinning, ring can spinning, etc. has increased the efficiency and reduced the operating time of spinning units by manifolds.
The improvements in ring spinning machines have taken place with inventions of drive systems, drafting systems and use of robotics. Invention of high volume instrument (HVI) has made possible to carry out the cotton fibre test in seconds which earlier needed a couple of hours. This test has improved the accuracy in measuring cotton's staple lengths, colour grade, micronaire, strength, elongation and uniformity index. Further automated cotton mixing helps maintain uniformity in the yarn. Introduction of auto yarn fault detection tool has improvised the production and provided uniform yarn quality.
Yarn knots are now been replaced with the joints using splicing techniques like air splicing, wet splicing, hot air splicing and moist air splicing thus minimising the defects in the produced fabric. Recently automated machines using ultraviolet, optic and acoustic technologies are being used for the detection and elimination of contaminant of any colour, size and nature improving the overall quality of the yarn produced. Robotic system is used for yarn fault detection, correction as well as for transportation to lift heavy lofts which were earlier done by labours. Packaging, package collection and palletisation also have automated solutions. In India, automation in spinning is already experimented to a large extent and a proper balance of automation and requirement of labour is maintained. In areas where there is a shortage of skilled labours, auto-doffing for ring frames, automatic bobbin transfer systems with link coners are already implanted.
Weaving machines have also undergone tremendous modifications in last three decades ultimately resulting in improved quality and production. From handloom to powerlooms and now automatic shuttle and thereafter shuttleless looms have taken this industry to a new level. Shuttleless machines have not only increased productivity, efficiency but have also made possible the production of fault free fabrics.
Major developments for the shuttleless machines are in three basic picking principles i.e. rapier, projectile, air-jet and water-jet. Some of the key features of the machines are high speed, wider width, multiple pick insertion, automatic pick finding, microprocessor controls, quick style change etc. In case of Rapier looms recently various developments have taken place in filling insertion, shedding mechanism, let-off mechanism, take-up mechanism, selvedge, quick style change to name a few. Moreover the microprocessors today are integrated with the weaving machine which monitors, controls, regulates and optimises all key aspects. The Automation is possible due to use of microelectronics that control warp tension, picking of multi colours, break detection, data collection etc.
In dyeing process, there are multiple stages like desizing, scouring, bleaching, printing and finishing. Automation has helped the dyeing process by providing the precise control on various factors which are critical for maintaining the quality like pressure, temperature, time of treatment, water level etc. Also robots are being used to pick the yarn bobbins and transport them with the help of the self-propelled bobbin carriers to the dyeing and drying machines. Unloading is also automated with the help of robotics. Automation in dyeing helps in reduced water consumption and lesser cost for treatment and water. It also helps in controlling the consumption of colour chemicals and hence increases effective utilisation of man and machine ultimately improving production per shift. It also automates the colour matching in the dyeing process which increases the uniformity of end product and reduces a great amount of wastage.
The garment industry has evolved with the introduction of automation, today technologies like reconfigurable robotic handling devices, cutting table with automatic unloading, intelligent transportation system, manufacturability prediction, virtual tryon, 3D garment design, etc. are being used worldwide. Cut fabric parts are now being collected and delivered to the next stage by automated transport system. Automation has gifted the fashion industry a precious gem to print, make and embroider any type of designs on garments at the same time.
Atlanta-based SoftWear Automation Inc recently introduced a radical new approach to sewing automation. The company has developed a system that eliminates fabric distortion issues by relying on an advanced computer vision system. The camera tracks stitching at the needle and coordinates the precise movement of the fabric using lightweight robots. SoftWear's line of sewing robots with their patented high-speed computer vision systems, have the potential to transform today's labor-intensive manufacturing plants into high-tech automated production facilities. Sewbots or sewing robots will reduce production costs, improvise quality, cut lead times and allow brands to take back control of their manufacturing process.
As we can see each and every process in textile industry from spinning, weaving, dyeing to garmenting has undergone automation. This automation has improvised the quality, reduced time and on the larger scale brought down the cost of production. So speaking from an integrated unit's prospective the only missing link is the logistics and administration management. For this very purpose the ERP systems are launched that are widely being used for managing the inventory, orders, production, logistics, sales and marketing and financials.
Many generic ERP solutions as well as customised ERP solutions are available for textile industry. An ERP solution helps in integrating the operational processes and establishes synergies between various resources of the textile industries. Automated systems are also being developed for the effective communication between the production floor and other supervisory control systems. Now a day, operating and process related data is being captured from the machines and analysed in BI software for the operation analysis and further improvements in the productivity. BI reports are being published for the top management and are used for various decision making processes.
Conclusion
When it comes to automation, I believe textile industry is the best suited for it because of the variety of products that are being produced. In India right from cotton cultivation there are many contaminants which are present in cotton textile process. By adopting complete automation, there will be a large amount of vegetative and other contaminations that will be removed. For example in USA, they do not use any manpower for cotton harvesting other than the machine operator.
Such automation is needed in India for enhancing the quality of cotton and it's end products. Also this automation will completely eliminate pseudo practices like adding water, stone and other impurities that is practiced for increasing the cotton weight. Thus automation must be implemented in cotton harvesting machines and scanners in opening lines and optical yarn clearers at winding stage. Polypropylene which is one of the major contaminants which used to be undetected is now easily detected and removed due to high level auto detective systems.
It is very much a fact that automation has uplifted the textile industry, however, it is an observed theory that a single change brings about thousand other changes in the system. Similar are the roots of automation. On one hand automation has helped improve quality, increase efficiency, deliver high production rate and reduce production cost but has reduced the employment. No doubt it's an asset for entrepreneurs but at the same time for a country like India where population is huge, automation goes against social cause.
Although there are many units running on automation technology, there are a lot of mills that are still operating on age old technologies which are increasing overheads of these factories and finally resulting in shut down of the mills. I feel when it comes to Automation the industry must take its own call keeping in mind the high rejection rates of orders in past due to manual interventions in pre automation period. An approach for modernisation is lacking but with time people will surely see the vision and go ahead with automation that is needed for their unit.
Understanding the key elements of business practices by thoroughly scrutinising the techno-commercial analysis of technology, effective use of human skill sets and adopting automation wherever it suits the best, would be the factors for successful business.
The article is authored by Avinash Mayekar, MD and CEO, Suvin Advisors Pvt. Ltd.