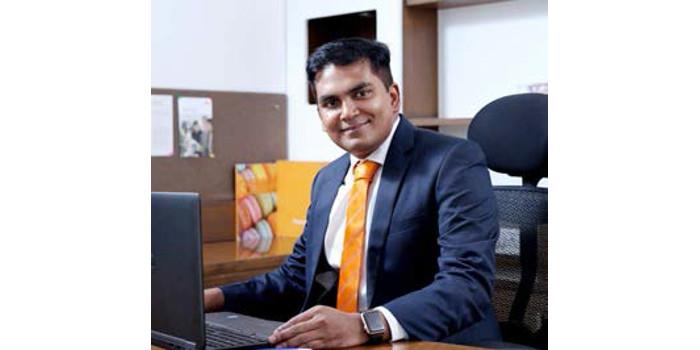 Automation: Must for textile factories
Jhankar Dutta, Managing Director, B&R Industrial Automation, India, explains trends in textile manufacturing in India and importance of automation and digitalisation in textile industry.
The Indian textile industry is one the largest and oldest sectors in the country. Many companies still use either semi-automated or even manually operated machine, thus drastically affecting quality of products manufactured. Realising this, textile companies are now investing in automation to raise the quality and productivity. In this interview, Jhankar Dutta, Managing Director, B&R Industrial Automation, India, explains trends in textile manufacturing in India and importance of automation and digitalisation in textile industry.
How is B&R Industrial Automation serving textile industry?

B&R has many years of experience in automating textile machines and factories. We offer advanced automation solutions for entire textile industry may it be production or process to achieve maximum performance. Our product range includes various automation and digitization solutions for textile machines and factories. Our comprehensive control, motion, safety portfolio is a perfect fit for the textile industry. Automation Studio, a single tool for programming all B&R hardware, makes project management and version management easier than ever. It is the ultimate tool for machine building and system engineering. Through our sustainable and efficient approach to software development, we help machine builders to keep the quality up, engineering costs down and time-to-market short – even in the face of ever-increasing product complexity. mapp Technology is revolutionising the creation of software for industrial machinery and equipment. It helps machine builders to configure more and program less, thus, reducing machine development time by 67 per cent.
With POWERLINK, openSAFETY and OPC UA, we assist our customers to meet their connectivity demands, which is the need of Industry 4.0. For factory automation, B&R APROL enables systematic analysis of recorded operating and process data coupled with business intelligence, where users can gain valuable information for decision-making process with the help of standard reports, personalized interactive and ad hoc reports. Our APROL EnMon, ConMon & PDA, easily meet the increasing demands of energy savings, reducing environmental impact, reducing unplanned downtimes, predictive maintenance and data acquisition. As an expert textile partner, we offer intuitive diagnostic functions, remote diagnostics and open interfaces, which ensure reduced downtime and increased productivity.
What is the impact of automation on various areas (such as Spinning, Weaving, Dyeing & Processing, Apparel manufacturing) of textile industry?

Achieving high precision, maximum availability, increased efficiency and flexibility in textile industry is possible with automation. Automation not only helps in optimising cost by increasing production but also reducing wastage and offering safe workplace in the factory.
Today, it is just not about automation. With digitisation, machines and factories are looking at optimising various operations and processes. They are providing higher efficiency, productivity, throughput and thus, higher profitability. Secure accessibility of machines from anywhere across the globe is reducing downtimes and ensuring higher machine availability.
Is automation feasible for SMEs in textile industry? Are SMEs in textile industry open to adopt automated solutions?
India relies considerably on imports of textile machinery. However, the current situation provides an opportunity for Indian SMEs to expand their business with right use of advanced technologies. Indian government is already providing immense encouragement to SMEs through schemes such as, 'Promoting Innovation, Rural Industry & Entrepreneurship (ASPIRE), Domestic Market Promotion Scheme (DMP), Technology Upgradation and Quality Certification, Marketing Promotion Schemes, Entrepreneurship and skill Development Programme etc.
If we look back then we can witness Indian textile industry being benefitted by automation by upgrading legacy equipment. Manufactures have witnessed a positive impact of automation on quality, productivity, overall machine efficiency and costs. It is needless to say, automation is the need of the hour and India's SME sector needs to adopt it in order to stay competitive in the market. If Indian SMEs start looking at automation technology as a boon, it will certainly allow them to focus on productivity, quality and business growth. Moreover, in order to adopt automated solutions, SME needs systems, which are simple and fast to integrate in existing setups. Most importantly, SMEs should rely on automation vendors who are well established in market and provide best support and service.
What are the challenges faced by Indian textile industry when it comes to adopting automation?

Many textile factories in India still operate with decade-old infrastructure. In order to adopt advanced technology and to upgrade existing equipment, machines and devices incurs high costs, and this is one of the major challenge Indian textile industry is facing. The access to latest technology for Indian SMEs and MSMEs are acting as a deterrent for adoption of these solutions effectively in their machines and facilities.
Moreover, Indian textile industry have realised the importance of automation and with government schemes, they are willing to make investments in their facilities. The increasing cost of labor, raw material and other utilities are forcing Indian textile industry to consider automation as a feasible option as it helps increase overall equipment effectiveness (OEE), Boost the return on investment (ROI) and shorten the time to market (TTM).
How is B&R helping SMEs in their automation journey?

SMEs are of key importance to Indian manufacturing ecosystem. However, SMEs are still cautious in their approach toward embracing latest automation technologies. As B&R, we closely work with many Indian SMEs enabling them understand available spectrum of technologies in the market, optimising various solutions, which meets their needs, thus, helping them satisfy their customers' demands.
Through various technology days, seminars and training modules, we provide high level of flexibility needed to maximise learning experience by our customers. We do not consider relationships with our customers and suppliers to be short-term or one-off situations. We look for partnerships based on lasting trust and a high level of expertise. This philosophy has instilled trust and made us a preferred automation vendor for many textile machine builders and factories.
How important is for Indian textile industry to invest in automation?

The Indian textile industry is one the largest and oldest sectors in the country and among the most important in the economy in terms of output, investment and employment. Even today, many machines are either semi-automated or even manually operated. This usually tends to drastically affect quality of products manufactured.
With globalisation, many factories have access to high-end advanced machines with extremely high-quality output. In such a competitive market, it is of utmost importance for Indian textile machine to invest in automation to compete with such global players. In addition, we see consumers driving demands in the market. This puts added pressure on factories to meet these ever-rising demands. Consumers today are more focused on quality and individualisation over costs competence. Eventually, it is necessary for factories too to invest in automation and digitisation to keep up with production and quality demands.