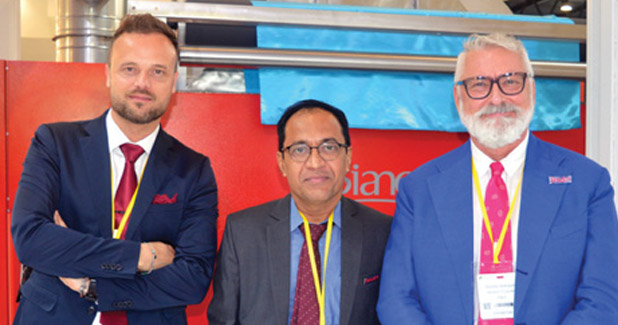 Aquaria, a new revolution in washing: Biancalani
Biancalani Textile Machinery, Italy designs and manufactures 100 per cent 'Made in Italy' textile finishing machinery for the main finishing treatments in the textile and nonwoven industry.
Biancalani Textile Machinery, Italy designs and manufactures 100 per cent 'Made in Italy' textile finishing machinery for the main finishing treatments in the textile and nonwoven industry. Founded in Prato in 1957 by Fiorenzo Biancalani, over the years the company has made a name for itself on the market both thanks to the constant activity of its Research and Development department, which has led it to producing increasingly innovative finishing textile machines, and to the internal Technological Department where customers can go to ask for advice on certain treatments and to verify the achievable results for their fabrics.
On the very first day of ITMA Barcelona, Biancalani stall was visibly crowded, and a noticeable trend was the bustle created by Asian visitors, showing clearly that Biancalani machines have a great demand in the Asian markets. One could not miss Rossano Biancalani himself getting surrounded by curious visitors, asking questions about the features of the new systems and machines, often assisted by Fabio Cecconi, Sales Area Manager. SK Chatterjee, Deputy General Manager, Bakubhai Ambalal, Ahmedabad, was also seen often in the stall guiding Indian visitors with information.
Rossano Biancalani was more than willing to talk about the new machine — AQUARIA, which he says "is the ideal solution to perform continuous washing processes in enzyme washing, peach skin, relaxation of stretch fabric, desizing, soda treatments…". He along with Fabio Cecconi spoke to the Editor of ITJ. Excerpts:
In the world talking often about sustainability, what is Biancalani Textile Machinery's contribution?
Rossano: Sustainability is very important in today's world. Most of the manufacturers are producing machinery with little impact on environment. But at Biancalani we manufacture with natural elements. The latest machine we have presented at ITMA Barcelona is Aquaria, which is transporting fabrics in an air-jet, and at the same time washing it. It is a combination of air and water, in the most natural way, combined to give perfect washing.
What about energy-saving aspects of Biancalani machines?
Rossano: The experience of Biancalani is mostly transporting of fabric in air-jet. Our well-known machine is AIRO that the textile world knows. It can be in rope or open width. The treatment time is also very low compared to such other systems available today.
Ceconi: The Aquaria is a new revolution in mechanical action while washing is done. Up to now, the continuous washing machine has been using simple spraying of water on the fabric to give mechanical action. But in Aquaria, the real mechanical action is brought in while the washing is done. So, the big beating action that is happening on the grid bars enhances the effect of the enzymes during washing. This makes the fabrics move back and forth inside the tube several times, leading to better enzyme action than in any other systems.
How has been the market developments for your systems, especially in Asian and particularly in Indian market?
Rossano: We are looking at two new developments in markets like India. One is growth of new kinds of fabrics. The other important side is the saving of the energy. Industrialists are very much interested in these two aspects. With Aquaria, we are introducing new kinds of treatment for these new types of fabrics. With AIRO, we have worked upon to reduce the energy consumption.
What about automation? How far has Biancalani taken this?
Rossano & Ceconi: Today's customers are keen to connect data to the machines. Many Indian customers are demanding that the machines are aptly connected to computerised systems for keeping a control on the process systems and avoid mistakes of operators. Optimising the machine parameters is also important, and statistics play a crucial role.