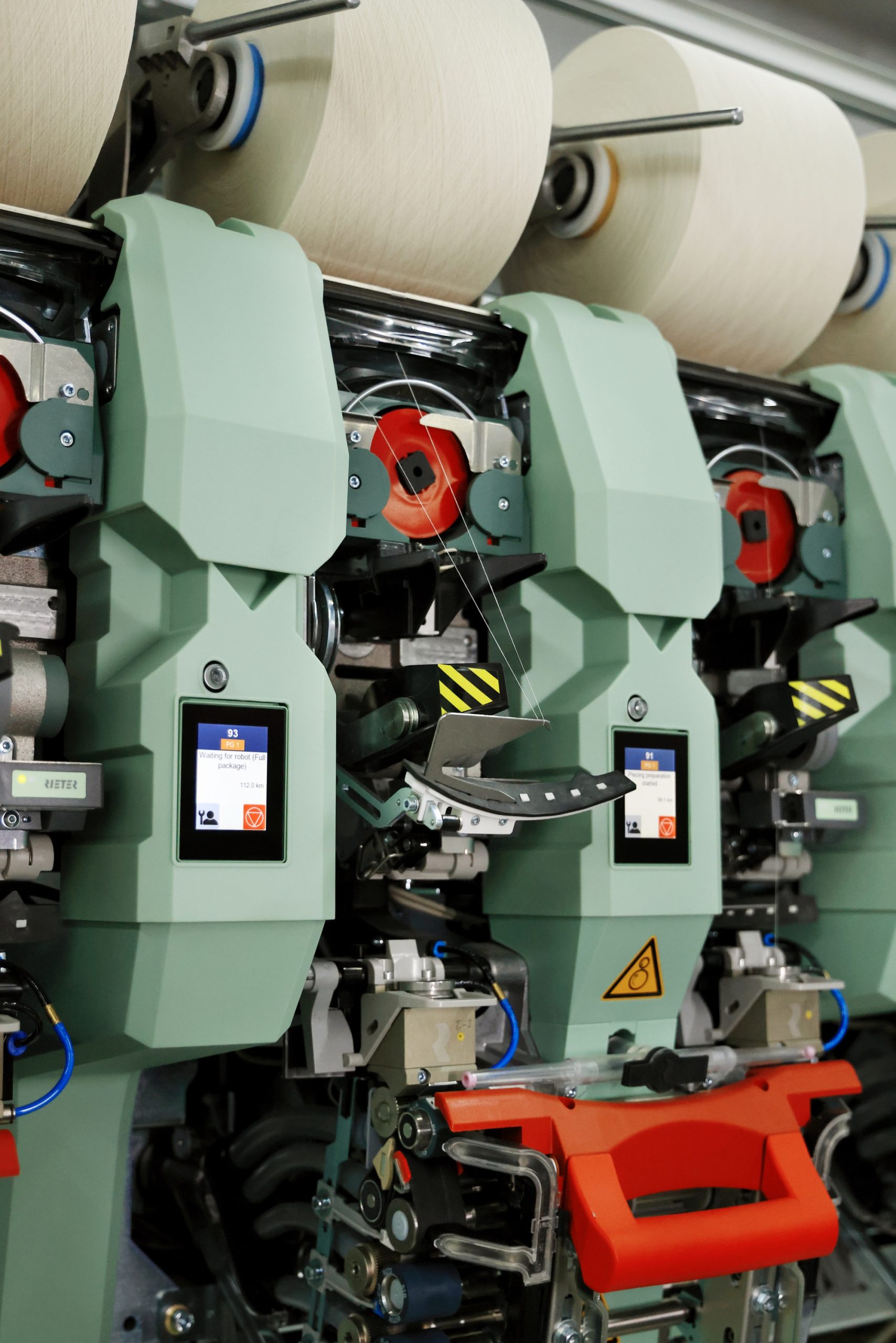 Air-jet spinning at a new level with Rieter's J 70
With the J 70, spinning mills are ideally positioned to exploit the growth potential in standard and blended air- jet yarns.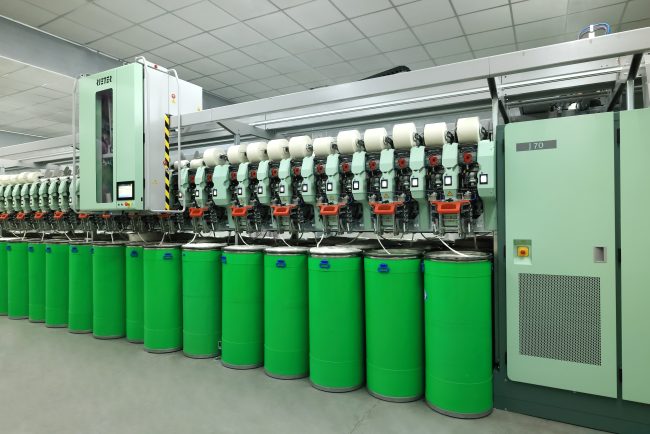 The new Rieter air-jet spinning machine J 70 with individually automated, independent spinning units and optimised technology components enables the production of high-quality yarns with maximum efficiency. Together with the excellent raw-material yield and low energy requirements, spinning mill owners can benefit from low yarn conversion costs. With the J 70, spinning mills are ideally positioned to exploit the growth potential in standard and blended air- jet yarns.
Air-jet yarn can be made from a wide range of fibres such as cotton, polyester, and viscose, making it suitable for a variety of applications. In combination with the high productivity, the unique yarn characteristics such as low hairiness and low pilling tendency will contribute to strong growth of this segment in the coming years. The air-jet spinning machine J 70 is the ideal solution for spinning mills – it is characterized by low conversion costs, low energy consumption and high raw material utilization (Figure 1).
Autonomous spinning units and high delivery speed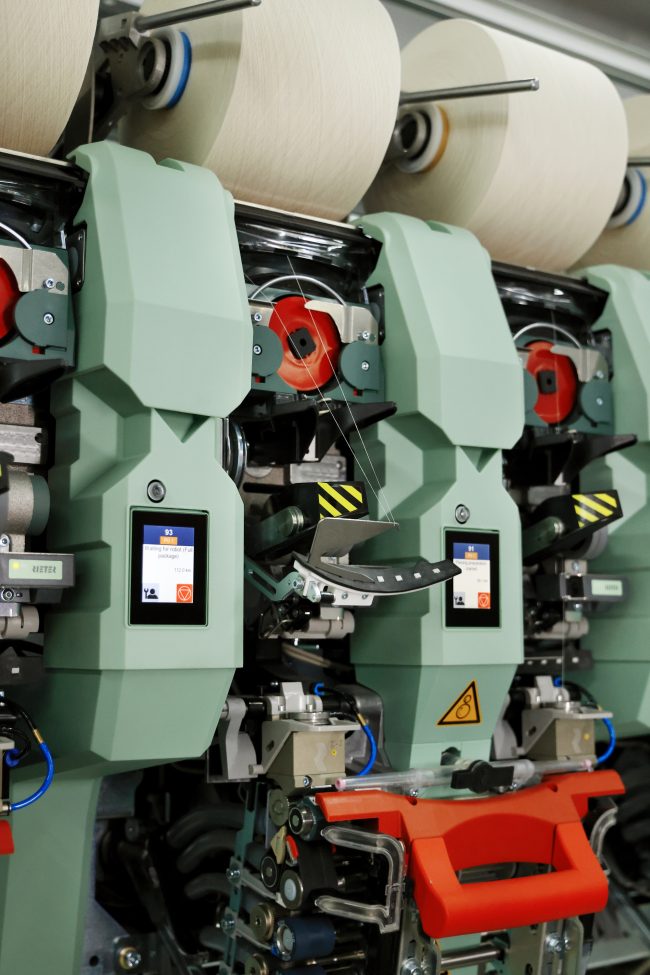 Each spinning unit is now individually automated and thus independent, enabling maximum efficiency and flexibility (Figure 2). Each unit fixes yarn breaks independently – both natural and quality cuts. This makes waiting times for the
robot obsolete. Up to 20 spinning units can repair and re-piece ends down simultaneously. This allows high production speeds.
A delivery speed of up to 600 m/min is achieved through new technology components. Four robots handle package changes, yarn insertion, and unit cleaning. One robot per side is usually enough, but up to two can operate for specific applications like shorter yarn lengths and dye packages, enabling seamless changes.
Maximum flexibility and efficiency
The J 70 air-jet spinning machine offers remarkable flexibility, revolutionising modern spinning mills. With the VARIOlot option, it can simultaneously handle up to four different lots, allowing for smaller lot sizes, diverse yarns, and shorter delivery times. Customisable settings for each lot are easily managed through tube color assignments and separate shift reports.
The J 70 also boasts significant cost savings, with up to 50 per cent less fibre loss compared to competitors, energy-efficient drives, optimised suction, and reduced air inlet pressure. Moreover, the machine enables streamlined dye package production, eliminating the need for rewinding after dyeing or bleaching.
Quality assurance
The J 70 utilises the advanced Q 30A yarn clearer from Rieter for quality monitoring. Adjusting the sensor has been simplified, allowing for flexible cleaning limit adjustments based on quality requirements. A scatter plot visually illustrates the impact of settings on quality cuts, aiding operators in making informed decisions.
The Q 30A features a larger measuring slot, reducing contamination and enabling longer production runs without interruptions for cleaning. Optional features like foreign fibre detection and weak yarn detection can be added through a software update, eliminating the need for hardware replacement.
Innovative solution for a wide range of customer needs 
The air-jet spinning machine J 70 offers top raw-material yield, low energy consumption, and simplified operation. It efficiently produces high-quality yarns, meeting the growing demand for polyester-cotton and polyester-viscose blends. With advanced automation, the J 70 is an innovative and cost-effective solution for diverse customer needs.
About Rieter
Rieter is the world's leading supplier of systems for manufacturing yarn from staple fibers in spinning mills. Based in Winterthur (Switzerland), the company develops and manufactures machinery, systems and components used to convert natural and
man-made fibers and their blends into yarns in the most cost-efficient manner. Cutting-edge spinning technology from Rieter contributes to sustainability in the textile value chain by minimizing the use of resources. Rieter has been in business for more than 225 years, has 18 production locations in ten countries and employs a global workforce of around 5 630, about 16.4 per cent of whom are based in Switzerland.