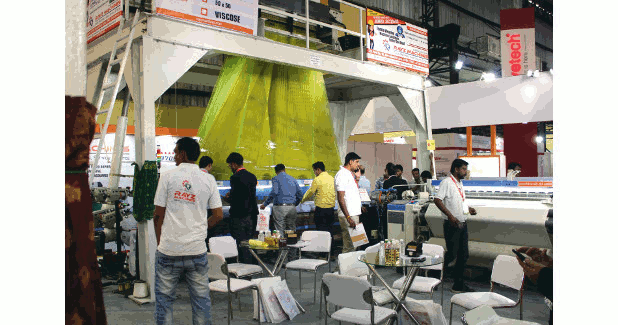 17,000+ footfalls at GTTES
The 2nd Global Textile Technology & Engineering (GTTES 2019) show heralded a new successful business year with new optimism, new opportunities and new prospects for the textile industry.
GTTES 2019 witnessed over 400 exhibitors from 49+ countries and 65 international business delegations.
The 2nd Global Textile Technology & Engineering (GTTES 2019) show heralded a new successful business year with new optimism, new opportunities and new prospects for the textile industry. GTTES 2019 was certainly a success, with full-house turnouts in attendance. Organised by India ITME Society, the exhibition was supported by the Office of the Textile Commissioner, Department of Heavy Industry, Textile Department, NSIC, Kerala Khadi and Village Industries Board, EEPC India, AEPC, PDEXCIL, SRTEPC, Texprocil, CEPC, Indian Silk Export Promotion Council, and FIEO.
India ITME Society has hit the right chord with the needs of the textile industry through GTTES 2019, an exclusive show to capture the world's attention on strengths and opportunities of global textile industry with special focus on industry segments.
GTTES 2019 witnessed over 400 exhibitors from 49+ countries and 65 international business delegations. Esteemed dignitaries from embassies and Ministries and numerous guests from the industry along with International business delegates attended the mega event.
Speaking on the event and all the preparations the society launched to make it even bigger than the previous edition, Seema Srivastava, Executive Director of India ITME Society, said, "There is a remarkable response to the second edition GTTES, indicating that this event has achieved its place as a reliable international business platform for both domestic and overseas companies. It is very attractive for start-ups and small, medium companies from non-metro cities due to its low cost participation charges and focused exhibit chapters."
She added, "India ITME Society always takes extra efforts in promoting business for its exhibitors through all media. The Society not only promotes the event, but also promotes each exhibitors and its products in order to develop customer interact and better connect."
S Hari Shankar, Chairman, India ITME Society said, "This is our contribution towards our country and we are proud to be a part of this outstanding textile fraternity who encourage us to host such mega International events in India.
Gurudas Aras, Director, A.T.E., Enterprises Pvt Ltd said, "GTTES helps us to connect with middle and small segment textile players globally which are niche and important for our business growth."
S Hari Shankar added, "GTTES has grown in size and numbers and has achieved 26 per cent growth rate. GTTES 2019 has attracted about 168 companies as first time participants, who have never participated in any ITME events. This is a remarkable response to the 2nd edition of GTTES, indicating that this event has achieved its place as a reliable international business platform for both domestic and overseas companies.
"GTTES 2019 has risen above the expectations and no doubt is the best business event of the textile industry for 2019. GTTES 2019 is the platform which looks forward to showcase the textile potential," said Mario Cortopassi, Editor Textilia Brazil.
On the mega event, Ketan Sanghvi, Director of Laxmi Shuttleless Looms, had this to say: "Compared to last GTTES, this time the event is bigger and better. There are quality exhibitors and quality business visitors, which are missing in other big exhibitions.
Stephen Tarsa, CEO, Binsfeld Engineering Inc, "India has always been a good market for our company. Our products in India, torque measurement and shaft power monitoring, will continue to dominate. We expect a good response from GTTES."
Arvind Biyani, Director, Damodar Textiles quoted, "After agriculture industry, Indian Textile industry scenario is growing substantially. We are happy that events like GTTES & ITME helps India to showcase our Textile growth on the global map."
"We witnessed a good number of enquiries for our products during GTTES. In textiles, we have more than 50 per cent share," said Rajneesh Rallan, Director, Yale Synthlube Industries.
GTTES 2019 as the name suggests is a global relationship builder in textile industry that provides platform to the textiles and textile technology segment to facilitate meaningful business relationships. These services inspire, empower and connect the most promising companies with latest technologies, corporations, investors, industry experts, and international media with the goal to increase their rate of economical success and positive impact on textile industry.
Dave Bull, Business Development & Application Manager, Condair, UK quoted, "We look forward for such international platform where we can showcase our product and expand our business ties with players from other countries & we are happy to be associated with events like GTTES".
Key Cheng, GM, Taiwan Key Cheng Printing Machinery Co Ltd, China quoted, "Looking at the Indo-China textile trade growth, events like GTTES & ITME are outstanding platform wherein one can showcase their product & its potential & gain business under one roof. We are happy to be part of this encouraging event".
Arvind Patel, one of the partners at Rayz Machines, "The year 2019 has started with a bang. In the last 15 days or so, we have sold more than 30 machines. GTTES has been good for us. Currently, there is a lot of positivity around."
GTTES 2019 proved truly to be growth the catalyst and optimum business platform with more business leads new customers offering the best sourcing solution to India's surging demand for Textile Industry in India and across the globe. GTTES 2019 was an apt platform to network and exchange ideas and bringing together the latest technologies from around the world under one roof. All the key brands, companies and business houses visited the event, which was welcomed by satisfied exhibitors.
An impassive Shashank Ruiwale, President of Indigo Prints Smart Pvt Ltd, who had a decent outing at GTTES said, "because of Elections and Budget around the corner, the business is going down. The industry is in the wait-and-watch mode. The impact can be seen at GTTES too."
It has been a tradition of India ITME Society to acknowledge the services of all its partners who have been a strong support to make this event successful. All the service partners were felicitated by S Hari Shankar, Chairman, India ITME Society & Chief Guest Sudhir Ranshevare, ACP Traffic, Mumbai.
With a commendable growth of 26 per cent, GTTES is a testimony to global reach of GTTES as a trusted opportunity for business and gateway to India. First-time participation from Sri Lanka & Slovenia and countries like Belgium, China, France, Germany, Italy, Japan, Spain, Turkey, UK, USA, Taiwan, Morocco, Algeria, Djibouti, Kuwait, Azerbaijan, Kyrgyzstan, Senegal, etc. indicate that this event has achieved its place as a reliable international business platform for both domestic and overseas companies.
As a trend-setting exhibition organiser, India ITME Society strives to assimilate and disseminate more knowledge and power for industry through the futuristic technology and trending topics at the Conference Sessions Conference Sessions by Indian Technical Textiles Association Society on 'International Conference on Nonwoven Technical Textiles' & by Society of Dyers & Colourists International India Pvt. Ltd on 'Educating the Technology Innovations in Textile Colouration' at GTTES 2019. These indeed led a push for futuristic knowledge to empower the textile industry.
GTTES 2019 facilitated interaction with all Export Promotion Councils, which helped the industry to know more about export opportunities, various Government subsidies, market initiative schemes available for Indian manufacturers and help to gain information and develop new opportunities for exports from India.
Launch of ITME AFRICA 2020
Concurrent to GTTES 2019, India ITME Society also announced the launch of an international event – ITME AFRICA 2020. Set to initiate a revolution in generating employment, encouraging skill development, motivating entrepreneurship in Textiles, ushering investment, economic growth and thus bringing new aspirations for younger generation of African countries, 1st edition ITME Africa is to be held in Millennium Hall, Addis Ababa, Ethiopia from 14th to 16th February 2020. In a first-of-its-kind joint venture, India ITME Society and Ethiopian Chamber of Commerce and Sectoral Association (ECCSA) a premier organisation in Ethiopia, along with International Trade Center brings this unique and exclusive business facilitator opening up an entire continent of new opportunities. This event was exclusively covered by CNBC.
With an effort to open up all possible opportunities for trade and investment with other countries and to review and expand further trade activities in this regard, India ITME Society invited several foreign buyers/delegates from Egypt, Ethiopia, Bangladesh, Sudan, Rwanda, Uganda, Ghana, Nepal, Tanzania, Russia and Cambodia for B2B meetings. In the specially-designed B2B matchmaking area, the registered participants had a chance to meet with International business delegates, with a personalised service, which gave them an opportunity to make the right connections with the right people they wanted to meet through prearranged meetings. This initiative showed tremendous response and many of the interested participants had to be waitlisted.
Apart from the B2B meetings, there was an industry interactive session to facilitate Government / Industry Interaction. Surina Rajan, IAS, Director General, Bureau of Indian Standards (BIS) was available for open interaction with Industry members. This helped the industry in direct representation towards formulation of policy for standardisation, promoting exports / imports and control proliferation. The main points of discussion included, Overview of Standardization work done by BIS in the field of textile machinery and accessories. Issues related to noise emissions and safety aspects of textile machinery and adoption of related ISO standards and inputs required for identified new subjects such as embroidery machines and baby diaper making machines.
Digital printing companies: Leading from the front
The product launch of Colorix Digital Printing Solution by Orange Group to unveil dye-sublimation solution at GTTTES was again a highlight of the event. The latest model will offer outstanding printing speed, high quality and sharpness and excellent stability. "The dye-sublimation solution Subpro I, is suitable for both mid-level and high-end markets. The machine is designed keeping in mind to produce small to medium runs of various designs in the short period of time," Aayush Rathi, Director at Colorix, said.
Added Rathi, "Our focus at GTTES 2019 was to meet new and existing customers, discover their needs and so better understand the market. The show is also a great opportunity for us to present our portfolio of machines. Live demo helped visitors to figure out the accuracy and reliability of Colorix's printing systems, which allowed scaling productivity and production speed without losing image quality."
Another leading manufacturer of digital textile printing technologies, ColorJet India Ltd gave a live demonstration of India's most preferred direct to fabric printer, the VASTRAJET along with two other printers, the METRO and FABJET GRAND.
VASTRAJET is a workhorse with over 100+ installations across the globe. For the production rate it delivers, it probably has the lowest carbon footprint and is ideally suitable for fashion apparel producers with its working width of up to 180 cm.
The METRO is an excellent example of applying Indian originality to technology that anyone can purchase at an affordable cost. The METRO is a high-production speed printer with lower energy and water consumption, making it a cutting-edge textile printer.
The third printer is the FABJET GRAND, especially targeted at the industrial home furnishings textile segment with its working width of up to 320 cm. It is particularly suitable for printing home décor products like curtains, bed covers, table covers and sofa covers. The printer prints both, on cotton and polyester-based fabrics and uses environmentally friendly aqueous based pigment, reactive or disperse inks.