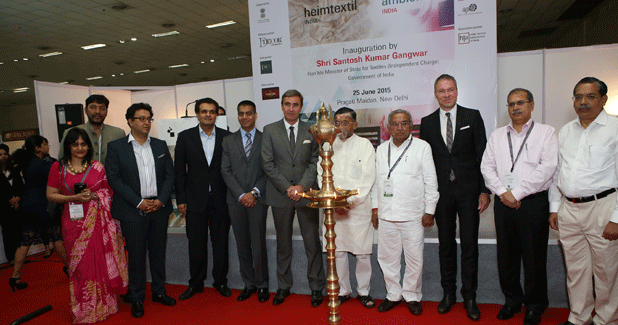 162 exhibitors, 7233 visitors at Ambiente & Heimtextil India
India's finest home fashion business platform Ambiente India & Heimtextil India, held from 25 – 27 June at Pragati Maidan, New Delhi, successfully recorded an increase in the turnout of business visitors in its second edition with 7,233 professionals from India and abroad
India's finest home fashion business platform Ambiente India & Heimtextil India, held from 25 – 27 June at Pragati Maidan, New Delhi, successfully recorded an increase in the turnout of business visitors in its second edition with 7,233 professionals from India and abroad. (Visitors in 2014: 6525). For three days, 162 exhibitors from 7 countries presented their multifaceted decor, lifestyle and furnishing products to the Indian market across 11,000 sqm of exhibition space. Focused on interior décor, home textiles and furnishings, the strategically co-located fairs proved to be the perfect way to start off the Indian buying season.
Raj Manek, Executive Director and Board Member of Messe Frankfurt Asia Holding Ltd. said: "Ambiente India & Heimtextil India accompanied by the several value-add fringe programs make it a specialised platform for the business of home fashion. The spectacular displays by our exhibitors have raised the bar for ingenuity and modernity in interior spaces while the growth in business visitor demonstrates the increasing attractiveness of the shows in India."
Exhibitors at the fair not only reported a good experience in terms of networking but also business and order confirmations. Ambiente India exhibitor, Ms Sonali Sharma, Executive Director, Thanor Pottery said: "This is the first time we are exhibiting at a trade fair and we chose Ambiente India because of the Messe Frankfurt brand. The visitor response has been simply brilliant with some of the major retail chains ready to place orders, give us mall space and close deals."
Heimtextil India exhibitors echoed similar views. Mr. Ajay Arora, Managing Director, D'décor said: "We launched an entire new category of blinds besides unveiling the summer spring and Diwali collections at the show and the response has been overwhelming. There has been incessant traffic at our stall right from day one. The show is well timed for the Indian market and offers fabulous opportunities, economy of time and great networking."
Mr Gaurav Sureka, Director, Rumours said: "Heimtextil India is a strong show for the domestic market. The footfall has been more than last year and we managed to achieve our targets in just two days. Whoever visited our stall didn't leave without ordering. We will definitely not go without confirming our bookings for the 2016 edition as this is a must-exhibit platform."
German company and Ambiente India exhibitor ritterwerk GmbH, in search of distribution partners in India, left assured with their interactions at the fair and are confident of finding a suitable corporation partner for business in the coming months.
Heimtextil India exhibitor Negi Sign Systems & Supplies Co. who was demonstrating digital printing solutions for textiles also reported good business during the fair. Mr Vijay Kandari, Sales Head said: "We had several meetings with genuine and high-class buyers and have been literally selling machines like cushions! The amount of response that our newly launched digital textile printing machines has generated is immeasurable. It is not just brand building platform but has allowed us to grow business. Far better show than Indian standards."
Looking for products in the home and lifestyle segment, Mr Calvin Wooly, Global Supplier Development Leader, Textiles, Ikea Services India Pvt. Ltd. who was at the fair remarked: "Ambiente India and Heimtextil India fairs are good opportunity from a local perspective to meet domestic suppliers. This is the most appropriate time for us to come here. We are looking into new segments and both the shows give us the scope to source for more products in India."
Ambiente India and Heimtextil India teamed up for the launch of the prestigious Interior Lifestyle Awards (ILA), the new launch pad for aspiring Indian designers willing to prove their creative mettle on an international platform. After evaluating over 400 entries from<