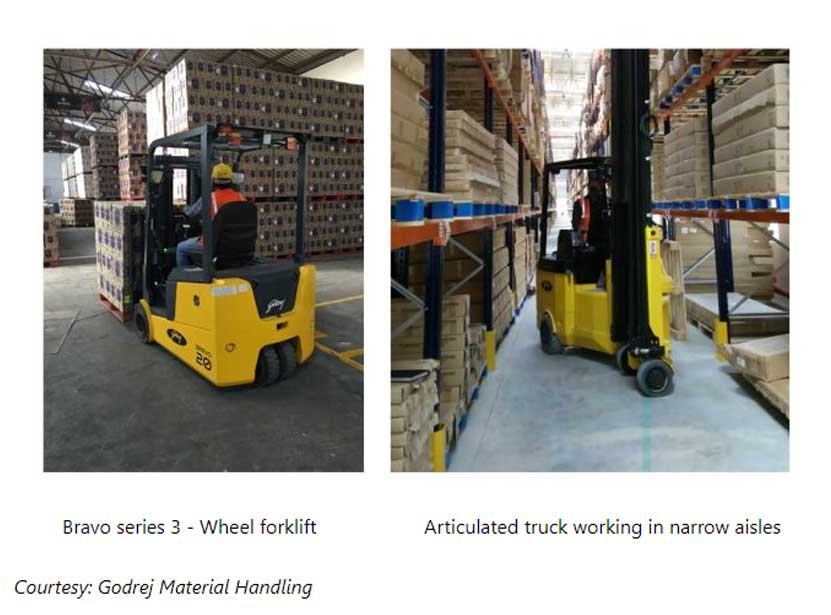 What's trending in MHE?
In the Indian textile industry, the significance of material handling equipment has expanded. As a result, Divya Shetty examines the current trends, the criteria used to select them, and the challenges encountered by textile manufacturers.
The raw material is handled at all phases between when it enters the industry for the first time and when it leaves the factory as a finished product. Let's say the product is just kept on the work floor or in a warehouse, in which case you need material handling equipment (MHE) to move them. Material handling basically refers to the movement of materials within an industry from one location to another.
Why is material handling a significant phenomenon?
For today's production facilities, it is a specialised activity. MHE costs make up almost 20–30% of overall labour costs, so lowering these costs will have a significant positive impact on the factory's ability to increase productivity.
This can be achieved by using a material handling method that is operational, properly chosen, maintained, and laid out. One should also be aware of current trends, difficulties encountered during purchases, and the best ways to purchase the finest material handling.
Recent trends
The days of manual material handling are long gone, but with current manufacturing trends, there is a significant demand for automation to keep up with machine throughput.
 "In recent times, the textile companies have shifted towards electric counterbalance forklift trucks with or without bale clamp attachment based on the application. Few of the companies also use Ram attachments that help them to move and stack long fabric rolls within the factory," explains Anil Lingayat, Executive Vice President and Business Head, Godrej Material Handling.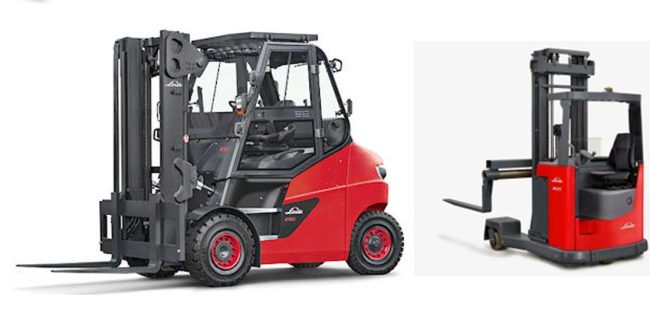 Courtesy: Linde
He further adds, "with the emergence of warehouses to stack bales at heights and to utilise the space to its maximum extent, the requirement for warehouse equipment like Stackers, and Reach Trucks is increasing. The tow truck is also widely used to carry the material on trolleys within the production facility and warehouse on the same premises."
Due to the shortage of labour, many manufacturers are seeking for ways to improve system efficiency and accelerate material flow to which Rajesh Jakhmola, Director Sales, Linde Material Handling India, says, "Lot of textile companies have implemented ASRS (Automatic Storage & Retrieval System) in their FG warehouse. This means, entire warehouse is managed by just few people. This has not only helped in labour cost reduction but increase in system efficiency and faster moment of material both while storing as well as while despatching. Apart from this, high performance and reliable forklifts usage have also helped in higher productivity and throughput and uptime of 96% plus."
Challenges faced by textile and MHE manufacturers
The old textile manufacturing plants have rough surfaces, high gradients, and insufficient space to move within the machinery, making the purchase difficult. However, the new plants are more organised with excellent flooring which facilitates the use of forklifts as well as warehouse equipment.
Also, a majority of textile companies charge a GST of 18% of the product cost when purchasing material handling equipment, making it commercially somewhat expensive. Therefore, the manufacturers of equipment expect some relaxation from the government.
On the other hand, Vishnu Bhagwat, General Manager, Cascade India Materials Handling, affirms, "Earlier, individuals carried goods physically due to a lack of automation. But today, companies like ours give textile manufacturers the assistance they need to select the best MHE."
Parameters for an ideal MHE
The choice of material handling depends on the application keeping productivity and safety of operation in mind. "The safety accessories like red and blue light as an alert to pedestrian movement, camera for working at higher heights, and the use of correct attachment to handle loads is the right solution for safer operations," suggests Lingayat.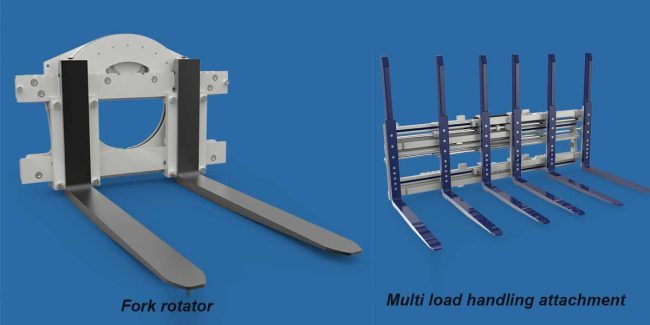 "Selecting the right MHE is a big challenge because, the equipment should be built to suit the shop floor application as well as match to the factory demands that might occur occasionally," continues Bhagwat. He adds, there are no specific criteria, but the MHE should be cost effective, less down time, should have access to get local service support & finally it should be user friendly.
Jakhmola, further, lists down the criteria while purchasing an appropriate MHE;
Movement of the selected MHE utilising the maximum space available.
Operating & maintenance cost at least for 5 years.
Standard inbuild safety in the MHE.
Throughput of the MHE in an hour/per shift specially to determine number of equipment's to be purchased.
Evolution of MHE over the years
The basic concept of material handling equipment has not changed over a period of years. The efficiency of electric trucks has increased many folds. "The shift from DC to AC technology to Twin motor technology provides energy savings for electric trucks and manoeuvrability. The equipment can operate two shifts without needing to change batteries thanks to the greater AH batteries, which improves workplace safety," informs Lingayat.
The companies have built products with low ownership costs and energy efficiency. By offering the industry high-end performance, dependable, safe, and sturdy MHE, they are concentrating more on automation.
Industrialists demand
The MHE sector is rapidly changing technologically, and users are expecting more as time goes on. "Retailers want to move as much product as possible in the same space, therefore it's important to use MHEs that need less physical labour and are built to global quality standards. The industrialist are also demanding cost-effective solutions those are available with us," notifies Bhagwat.
Adding to Bhagwat's point, Jhakmola concludes by saying, "The textile industry is looking for and investing in machines to both cut operation costs and labour, as well as to increase system efficiency. Hence, the sector as a whole needs to focus on this."