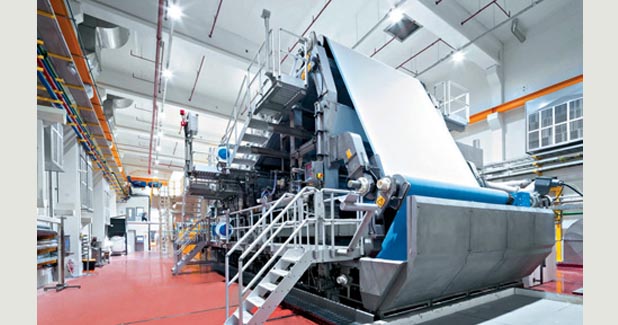 Technical textiles at a turning point in India
Technical textiles find use in a number of such as aviation, shipping, sports, automobiles, and others. They fit specific needs in demanding applications due to their properties such as high strength, thermal and wear resistance, stiffness, etc.
Technical textiles find use in a number of such as aviation, shipping, sports, automobiles, and others. They fit specific needs in demanding applications due to their properties such as high strength, thermal and wear resistance, stiffness, etc. Due to their unique characteristics, and ability to cater to special needs, the technical textiles sector has emerged as one of the fastest growing sectors in the textile industry.
At a CAGR of 4.5 per cent, the global technical textile market that was valued at $234 billion in 2017 is expected to reach $334 billion by 2025. India accounts for about 4 per cent of the global market for technical textiles and the Indian Ministry of textiles estimates that the technical textile industry in India will grow to about Rs 2 lakh crore by 2021 from Rs 1.16 lakh crore in 2017-18. Domestically, technical textiles account for about 12 per cent of India's textile market, compared with 20 per cent in China.
On the potential of technical textiles in India, Anuj Bhagwati, Managing Director, A.T.E. Enterprises said, "In 1996, we anticipated that the technical textile market would grow, and that India would soon require top-notch production lines for the manufacturing of technical textiles. In keeping with A.T.E.'s legacy of bringing high technology, state-of-the-art textile machinery to Indian shores, A.T.E. tied up with world leaders to bring solutions for technical textiles to the Indian market. Today, an increasing preference for many textile producers is to venture into nonwoven and technical textiles to drive growth. Government initiatives too are providing an impetus for the use of these products. With rising awareness among textile manufacturers and consumption, as well numerous innovations in this field, I see no reason why India should not be one of the world's preferred destinations for technical and conventional textiles."
Taking the lead, A.T.E. has built its technical expertise in this field, and today is the only company in India with capabilities to offer a complete spectrum of equipment solutions, backed with deep domain knowledge in technical textiles.
Here is an overview of the range of products and solutions offered by A.T.E. in technical textiles:
Nonwovens
Truetzschler Nonwovens, Germany: The Truetzschler Group is known the world over as a leader in textile machinery from bale to sliver. Truetzschler Nonwovens—a part of the Truetzschler Group—manufactures machinery for the production of nonwovens products – from razor-thin hygienic webs to thick noise-absorbent mats.
Truetzschler Nonwovens provides the complete range of solutions – be it for fibre opening, cleaning, blending web-forming, carding, bonding and winding.
Truetzschler Nonwovens' product basket of different cards includes random card TWF-NCR, Airlay solution TWF-NCA, as well as the new high-speed card TWF-NCT. Truetzschler's Aquajet ensures a customised and energy-efficient bonding process. Truetzschler drum ovens keep heating costs at a minimum through quick drying of a wide variety of nonwovens.
Truetzschler—along with VOITH—jointly provide solutions to produce sustainable nonwovens using the wet-in-wet process. Truetzschler Nonwovens also offers a number of winding and unwinding technologies for semi-automatic or fully automatic rewinding.
Truetzschler, Germany: In addition to the machines in the nonwovens area. Truetzschler also offers machines for efficient production of high-quality hygiene products such as the TC15H card. Special doffing arrangements by Neuenhauser Rosink help produce products such as tampons, cosmetic pads, cotton swabs, cotton balls and zig-zag cotton.
Truetzschler, Switzerland: Truetzschler, Switzerland, combines decades of experience in development, design and construction of spinning systems for BCF yarns as well as technical yarns for industrial applications.
Warp knitting and warp preparation
KARL MAYER, Germany: KARL MAYER offers solutions that are by far the most versatile and productive fabric production systems in warp knitting and warp preparation. KARL MAYER's portfolio also includes state-of-the-art, tailor-made solutions to produce technical textiles based on the customer's application area. The range includes warp knitting, weft insertion warp knitting (WIWK), as well as high-performance bi- and multi-axial warp knitting machines.
RS MSUS-V: For applications such as geogrids for the reinforcement of soil, dikes and embankments, rails, asphalt reinforcementin roads and pavements, rock fall protection in mining, and crop protection.
RS MSUS G/HG: Produces technical textiles for applications such as textile reinforced concrete, earthworks and foundations, landfill construction, land reclamation, earthquake protection, and base reinforcement.
WEFTTRONIC II RS: For applications such as billboards, tarpaulins, plaster grid, and roofing.
WEFTTRONIC II HKS: Produces technical textiles and composites for applications such as shading, adhesive tapes, interlining, weft curtains, medical applications (blood filtration), and embroidery.
KARL MAYER's product basket also includes sectional warping machines, and filament sizing and warping machines, which cover a wide range of applications such as technical nets, automotive textiles, medical textiles, geotextiles, and industrial textiles. PROWARP – KARL MAYER's new sectional warping machine integrates the latest communication, measuring and regulation technology to allow manufacturers the greatest flexibility during manufacturing.
Conditioning and filtration systems
LUWA India: LUWA offers comprehensive conditioning and filtration systems for technical textile with unique features to improve the working performance of technical yarns:
Constant climate
Precisely regulated supply of treated air
Optimally placed exhaust air openings
Efficient cleaning of the air
Reliable controlling and regulation of temperature and humidity
Technical textile processing
A.T.E. also offers the complete package for finishing of technical textiles from its world-renowned principals.
Osthoff Senge, Germany: With over 100 years of experience, Osthoff is synonymous with singeing. In addition to a variety of applications in conventional textiles, Osthoff is also highly successful in the singeing of technical textiles.
Goller, China: Goller is well known for wet finishing machinery such as continuous bleaching, continuous dyeing and washing range.
Monforts, Germany: Monforts offers finishing ranges with cutting-edge German technology include: stretching ranges, belt dryers, high temperature stenters, stenters with 'Twin Therm' technology (having a temperature difference of up to 60 degree Celsius between the top and bottom layers of air), thermo bonding ranges, and coating lines suitable for glass fibre fabrics, light protection, tarpaulins, billboards, nonwovens, and more.
Zimmer, Austria: Zimmer's coating machines with MAGNOROLL have a unique magnet system with an electromagnetic roller that enables high quality coating results in liquid, paste, lacquer and foam applications, and on various substrates. Zimmer TRIPLEXCOAT is a compact coating machine with a precision back roll, knife, screen and slot coating unit for various substrates as well.
Mahlo, Germany: Mahlo is one of the world's leading producers of measurement, control and automation systems for the textile industry. Mahlo manufactures products such as weft straighteners, pattern detection systems, online process monitoring and control systems, online product, colour, and coating inspection, and data management systems for textiles and nonwovens.
Guarneri Technology, Italy: Guarneri is a leading manufacturer of textile finishing calendars for traditional and technical textiles. Guarneri calendars ensure parameters such as air permeability across the width, density, glaze and thickness. Guarneri's NIPCO HT is a highly versatile calender that enables efficient treatment at high speeds, thanks to its height-adjustable brake rolls that makes it possible for the fabric to enter the heated roll at angles of up to 135 degree. With this calendar, Guarneri offers additional opportunities to develop new products for aerospace, automotive and medical textiles.
Corino Macchine, Italy: Corino's machines have revolutionised textile winding and unwinding operations in a substantial way, with perfect rolling up and precise control of fabric tension. With its dedicated team of skilled and trained service engineers, A.T.E. delivers a host of world-class aftersales services for textile processing machinery. A.T.E.'s after-sales-services include installation, commissioning, machine relocation, troubleshooting, and annual service contracts.
The Indian textile industry thus has a ready partner in A.T.E. in its foray into the highly promising field of technical textiles. "A.T.E. has been building its capabilities in technical textiles step by step over the past decade with patience and perseverance, as we recognised the enormous potential of technical textiles. Though it was a long wait, the time has now come, and the industry is slowly but surely getting into this sector. A.T.E. is fully geared to help the Indian textile industry maximise the opportunities ushered in by technical textiles. Our partners have the right equipment to process all fibres and filaments and coatings used in technical textiles – for natural fibres like cotton as well for synthetics that could be cellulosic, aramids, elastane, PVC, etc. Further, A.T.E.'s capabilities in technical textiles now span across the entire spectrum, right from providing solutions to helping set-up turn-key projects", said GV Aras, Director, A.T.E. Enterprises.