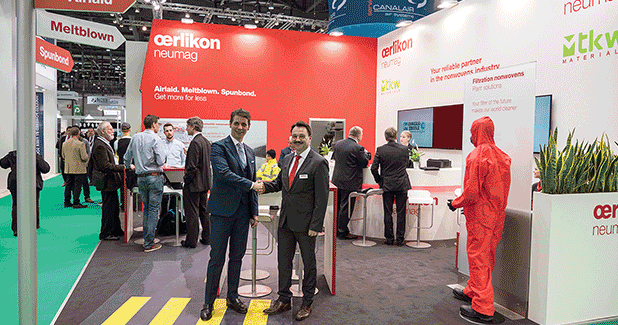 Oerlikon ties up for disposable nonwovens
The Manmade Fibers segment of the Swiss Oerlikon Group is entering into a strategic partnership with the Italian company Teknoweb Materials s.r.l. aimed at extending the nonwovens production systems portfolio to include the high-growth market for disposable nonwovens.
The Manmade Fibers segment of the Swiss Oerlikon Group is entering into a strategic partnership with the Italian company Teknoweb Materials s.r.l. aimed at extending the nonwovens production systems portfolio to include the high-growth market for disposable nonwovens. At Index, Oerlikon announced that the two companies have come to an agreement in-principle on establishing a new, jointly-owned company. With this development, Oerlikon strengthens Oerlikon Neumag nonwovens systems business within Manmade Fibers segment and expands into the attractive disposable nonwovens market.
Teknoweb Materials is an established technology provider focusing on nonwovens used in disposable products. The company has—in form of the Arvell technology—its own patented and particularly energy-efficient manufacturing process, with which wipes can be produced using an efficient spunbond airlaid nonwovens process instead of complex carded-spunlace process. The technology dispenses with subsequent drying and hydroentanglement, which results in considerable energy and hence cost savings for customers. Together with Oerlikon Neumag's know-how and equipment for manufacturing technical nonwovens, both partner companies will in future occupy a significant position within nonwovens production solutions market. Newly-created, combined technology platform offers considerable synergy potentials and the ideal prerequisites for launching innovative products.
As a result of the partnership, Manmade Fibers segment further advances its interests in the attractive disposable nonwovens market. With a market volume of around CHF 300 million and average growth of between 4 and 5 per cent expected over the next few years, the disposable nonwovens market is particularly interesting for Oerlikon Neumag. In addition to the markets for technical nonwovens production solutions in which it already operates, this will also allow Oerlikon Neumag—with its machine and systems solutions—to participate more actively in one of the, in terms of volumes, fastest-growing areas within the overall nonwovens market in the future. Drawing on Oerlikon Neumag's innovative airlaid, meltblown and spunbond technologies and the Teknoweb's innovative nonwovens solutions, the newly-formed company will have excellent market access with a global sales and service network. Together, it will be possible to tap into market potentials more swiftly.
Georg Stausberg, CEO of the Oerlikon Manmade Fibers segment, comments: "We are pleased to be announcing this strategic partnership with Teknoweb. Oerlikon Neumag gains access to innovative technologies, hence expanding its product portfolio as a total solutions provider for nonwovens production systems. This allows us to expand into an attractive new market. Not least, the collaboration underlines our strategy of broadening the Manmade Fibers segment product offerings, with the aim of making its overall portfolio—currently with its primary focus on the filament business—more balanced in the long term."
Fabio Zampollo, CEO, Teknoweb Materials, explains: "Objective was to join forces with a strategic investor with outstanding know-how, excellent technologies and machine and systems solutions. Oerlikon offers all these from a single source. Furthermore, we will in future also profit from professional engineering and the global service network of the entire Oerlikon Manmade Fibers segment."
At Index, Oerlikon Neumag and Teknoweb Materials presented technologies for the efficient manufacture of nonwovens. At trade, the experts of both companies provided information on process solutions for industrial applications such as filtration, roofing, geotextiles, automotive, medical and hygiene applications and disposable nonwovens.
Innovative electrocharging unit for meltblown systems
Oerlikon Neumag premiered its new concept for electrostatically charging meltblown nonwovens at Index. The in-line charging unit differs from other concepts currently available on the market as a result of its high level of flexibility when charging the most diverse nonwoven products, particularly in the case of nonwovens with lower basis weights and tenacities.
Users set the optimum charging condition depending on the filter application. High wrapping angles at the guide rollers ensure optimum charging, which can be carried out on both sides, positive and negative. Laboratory trials have shown that—in conjunction with the Oerlikon Neumag meltblown technology—Oerlikon Neumag charging unit can also be used to manufacture EPA- and HEPA-class filters. To this end, an H14-class filter with an efficiency of 99.995 per cent was produced with an overall pressure loss of less than 100 Pa.
Oerlikon Neumag meltblown technology is one of the most efficient methods for producing very fine and highly-separating filter media made from plastic fibres. Depending on the application, the pore size of a meltblown nonwoven material ranges from 5 to 40 µm. Here, smaller pores increase the mechanical filtration performance, albeit at the expense of higher pressure losses. The fineness of the meltblown fibers used for filter media lies in the 200 to 2,500 nm range. However, even fibres with nanoscale fineness are often not sufficient to separate the finest particles from air or liquid flows. Electrostatically charging filter media can significantly improve the filter performance without increasing the throughput resistance.
Sinowin focuses on airbag yarns
Ten positions of the new Flex-6 concept for manufacturing polyamide 66 industrial yarns were recently commissioned at Sinowin Chemical Fiber Co Ltd, China. Shortly before the exhibition Techtextil opens its doors in Frankfurt, from May 9-12, 2017 the Segment Manmade Fibers of the Swiss Oerlikon group has announced this project. Benefits of the new machine include components that are optimised to the respective application, which considerably reduce the required space compared to conventional solutions and optimised energy consumption. Oerlikon Barmag Sales Director Oliver Lemke: "With new godet configuration, the Flex-6 concept promises an unparalleled price-performance ratio for the production of high-end yarns. Sinowin is therefore the first industrial yarn manufacturer in China to deploy new technology."
Sinowin is completely committed to creating value for its customers. Here, quality and innovative technologies are absolutely essential, confirms Sheng Jian Wang, GM: "We are striving to become a leading 'Made in China' enterprise in the chemical fibre industry. We require state-of-the-art technologies that manufacture quality products. Oerlikon Barmag has an excellent reputation – above all for PA66 industrial yarn process. To this end, there was no other partner for us."
Sinowin Chemical Fiber is an industrial yarn manufacturer that entered the Chinese market in 2015: the still young company has specialised in airbag yarns manufactured using Oerlikon Barmag polyamide 66 low denier industrial yarn (LDI) and medium denier industrial yarn (MDI) systems. Sinowin's programme also includes sewing yarns, yarns for luggage, sails and tarpaulins.
OTIZ enters the PA66 automotive market
The Chinese yarn manufacturer Oriental Industries (Suzhou) Ltd (OTIZ) successfully commissioned its first polyamide 66 investment recently. Here, the company put its faith in the Remscheid-based spinning systems constructor Oerlikon Barmag.
"PA 66 experience offered by Oerlikon Barmag was the decisive factor that influenced our investment decision. This gave us the necessary confidence to know that we can also be successful with a new process", comments OTIZ President, Moji Wu. In the future, OTIZ will expand its portfolio to include industrial PA66 yarns with a titer range of between 270 and 1,440 dtex. The subsidiary of the Taiwan-based Far Eastern Group has now entered the PA66 automotive growth market.
The new systems supplied by Oerlikon Barmag cater to three different segments: low denier industrial yarn (LDI), medium denier industrial yarn (MDI) and high denier industrial yarn (HDI). An eight-end system has been supplied for upto 1,440 dtex HDI yarn range for the very first time. With the considerably higher output per position, the company – founded in 2005 – now has a tremendous competitive edge. "For us, it was important to secure a long-term partner for this innovative technology, a partner who also has tried-and-tested experience in the downstream processes," explains Regional Sales Director Oliver Lemke.
The products are deployed in airbags, luggage, parachutes and sports apparel (LDI), landscaping and geotextiles (MDI) and also in tires (HDI). As a fully-integrated industrial yarn specialist, OTIZ is involved along entire process chain. The company's clients include well-known automobile sector suppliers across the globe.
For further information: André Wissenberg Tel. +49 2191 67-2331 Fax +49 2191 67-1313 Email: andré.wissenberg@oerlikon.com