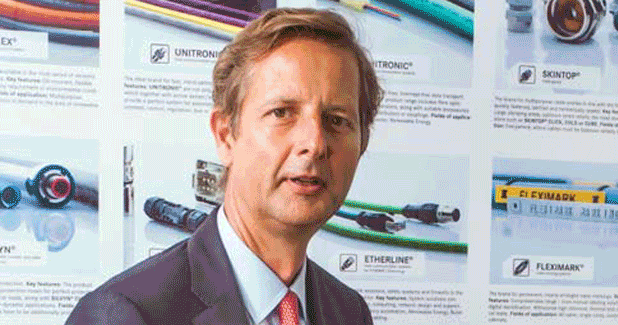 LAPP focuses always on developing new solutions
LAPP India is a 100 per cent subsidiary of LAPP Group, a leading supplier of integrated solutions and branded products in the field of cable and connection technology.
LAPP India is a 100 per cent subsidiary of LAPP Group, a leading supplier of integrated solutions and branded products in the field of cable and connection technology. The company is one of the pioneers in introducing the concept of "Reliably connecting the world" with its unbeatable range of cabling products and solutions. Marc Jarrault, Managing Director, LAPP India Pvt Ltd, discusses the role of cables and connection technologies, and the developments that LAPP in India has witnessed in the last two decades.
Excerpts…
What are your observations about the Indian textile industry and what is the role of cables and connection technologies? How necessary is it to meet today's international standards?
The textile industry being one of the oldest industries in the Indian economy has been growing at a rapid pace. As of today, India is the second largest textile manufacturing nation in the world and second largest market for textile machinery and technology. The market share of Indian exports for textile machinery accounts to 13 per cent*. Estimated at around $120 billion, is expected to reach $230 billion by 2020. Furthermore, by 2020, the textile machinery sub segment is likely to reach Rs 35,000 crore* due to various government initiatives such as 'Make-in-India'.
The key processes of the textile industry include ginning, where machines are used to separate cotton fabric from their seeds; fibre cleaning and preparation, where mild soap along with lukewarm water is used to lose dirt; spinning, where drawn-out strands of fibres are twisted together to form yarn; weaving, where two different sets of yarns or threads are interlaced with each other to form a cloth and knitting, where yarn is then manipulated to create a textile and in the end fabric and garments processing. For these processes, the cabling and connectivity products and solutions should be slim, light weight, highly flexible, durable, fire retardant and such that performs under high temperature and harsh environment conditions.
Moreover, the importance of cable and connection technology has surged, as these days all the machinery of the processes need to be automated in order to achieve scale of production. These automated machines not only require power cables but also need control cables to regulate the functioning of the textile machinery along with data cables for better data transmission for seamless process. It is very important that the cable and connection technology products comply with global standards, as it exemplifies excellence and provide utmost customer satisfaction.
LAPP in India is ISO 9001:2008 certified. This is an international certification awarded to companies which follow the quality management principles to improve organisational performance. Both our manufacturing plants in Bengaluru and Bhopal and our sales offices across the country are certified under ISO 9001:2008.
Can you trace how the scope of your products for textile industry has expanded over the years? What are their USPs?
At LAPP, textile industry has been one of the focused segments and our products are designed ideally for the sector, which are of superior German quality, reliable, durable and complying to international standards. They come with low maintenance cost and high service life. We believe in developing innovative cabling products and solutions that help and assist our customers. For the textile industry, we offer tried and tested products and customised solutions, used in various stages of textile processes and in machine manufacturing segment. LAPP products are designed for critical applications like continuous motion, high temperature, chemical and other harsh environments. LAPP cables are slim and light in its construction making it more flexible and can withstand high temperatures. The products are chemical/oil resistant and weather proof, with great mechanical strength.
Along with our standard products we also offer customised end-to-end solution under the brand name OLFLEX® CONNECT. This is our customised plug 'n' play solution, ranges from the simple cable assemblies to industry standard servo connections and right up to sophisticated high-speed drag-chain systems, to meet the industry's growing requirements.
With every process in textile industry getting automated, the trend is moving toward smaller machines demanding for a high volume of data to be transmitted at increasingly fast speed. To fulfill this requirement LAPP offers UNITRONIC® data communication cables and ETHERLINE® cables, high-quality data communication systems for ETHERNET technology.
Brief us about the progress of your two manufacturing plants. Also take us through the developments that LAPP in India has witnessed in the last two decades.
Foreseeing the potential of the Indian market in terms of rapid growth in infrastructure and industrialisation, LAPP entered the Indian market as a trading company in 1996. By the year 1998, looking at the growing demand of the cables and wires in the industrial sector, LAPP set up their first manufacturing unit in Jigani, Bengaluru. By 2014, the production area at Jigani was doubled.
The facility produces highly engineered power, control, and instrumentation cables.Following the success of plant in Jigani, we set up our second manufacturing unit in Pilukedi, Bhopal, which produces more single core wires, for the fast expanding building sector. Gradually, Bhopal factory too started producing multi-core cables, which helped us cut down the delivery lead time to meet customers' needs.
Both our manufacturing plants have state-of-the-art machinery and follows strict safety norms that facilitate us to have a production capacity of more than 2,00,000 km of multi-core cables and 2,16,000 km of single core wires per annum to service our 7,000 customers pan India.
Today, LAPP in India has a turnover of over Rs 600 crore, and we are one-stop electro technical solution provider to over 7,000 customers pan India.
We have been growing at more than 15 per cent in the last four years with an estimated growth of 20 per cent for the current year. We have a growth roadmap defined for India for the next five years. Outside of Germany, LAPP India is the second biggest operation in LAPP Group.
How have your marketing & sales set-ups progressed over the years? What are the plans for the future?
We started our journey by largely catering to original equipment manufacturers (OEM) for industries like machine tools, textile, photovoltaic, robotics, and automotive industry. Now, after two decades, we have specialised products manufactured to meet the specific needs of industries including automation, automotive, oil and gas, renewable energy, process industries, as well as in the infrastructure and building sectors, railways and metros and many more, along with our earlier focused industries.
Today, to serve our customers better and address their timely needs, we have two manufacturing plants, 23 sales offices, five warehouses and five service points spread across the nation. With this network, we are now successfully offering our huge range of 40,000 products, which are of superior German quality meeting all the international standards to our customers. Our offerings range from cables, glands, conduits, cable ties, connectors to switches which allow our customers to source all the products from one source, rather than approaching multiple vendors. Additionally, we are the first cable makers to launch an online store – LAPP eshop (https://shopasia.lappgroup.com/in/) where one can buy all products 24 x 7.
In future, we plan to set up warehouses and build service points to ensure we are where our customers are. We also look forward to expand our production capacity in Bangalore and Bhopal plants to meet the growing requirements of our customers, which will help us in broadening our market offerings. With these expansion plans, our vision for India is to reach Rs 1,000 crore in the next four years.
With modernisation and Industry 4.0 taking shape in India, how does LAPP in India see the growth in demand and supply of its products and how it is equipped to meet the versatile demands for this new wave?
For Industry 4.0, LAPP's focus lies in developing solutions, that are designed with data cables that ensure minimal loss of data/signal and uses networking which assures high speed data communication. The slim and light design of the components manufactured by LAPP enables robustness with high flexibility best suitable to manage torsion, reeling and unreeling.
Our portfolio includes standard and highly flexible cables, industrial connectors with screw technology, customised system solutions, automation technology, robotics solutions and technical accessories for the intelligent factory of the future. We are actively re-thinking and re-defining the cable and connection technology to meet the challenges of the smart factory of the future. As a step towards this initiative, we have developed highly flexible ETHERLINE® FD Cat. 6A that can transmit highest data rates with consistent reliability in drag chains that are under constant movement with a data rate of 10 Gbit/s. Our next remarkable product for the new age factories is ETHERLINE® EC. These cables are 30 per cent thinner than usual yet robust solutions, suitable for use at sensor level which allows the tightest bending radii.
To further strengthen our offering for smart factories, we launched ETHERLINE®ACCESS, the managed and unmanaged switches. The switches along with data cables and connectors from Lapp's range of products offering for the industrial network solutions ensures reliable connectivity.
Give us some background of LAPP's activities around R&D and Innovation. How are you addressing the growth of R&D in Indian wire & cable market?
LAPP has always backed research and development when it comes to innovating products to meet the new age requirements. As part of our R&D initiative, we have a fully-fledged Innovation and engineering centre and state-of the art laboratory in India, where we develop new compounds, deploy new raw materials and look at generating more efficient and advanced ways of transmitting energy and power and data. Both our manufacturing facilities in Bengaluru and Bhopal have advanced testing facilities that put every raw material batch received through a rigorous testing process to ensure zero field failure and lower process rejections.
Additionally, LAPP believes that young minds are the future of India's growth in R&D. We have hence established Centre of Excellences (CoEs) at engineering institutions across India to foster innovation in the grass-root level of education. With our CoEs in PSG College of Technology, Coimbatore and RV College of Engineering, Bengaluru, we support the spirit of knowledge creation, insights, implementation, and imparting thought leadership. We are also in process of setting up our next CoE in Symbiosis University of Applied Sciences in Indore.
Apart from manufacturing innovative products and fostering innovation with young minds, we also encourage our customers to innovate. As a part of this initiative, LAPP's Innovation Award motivates participants from various industry segments to display their innovation. The initiative is to recognise outstanding industries, which uses LAPP cables and associated products and solutions for developing innovative products, which have a strong impact on sales, productivity improvement, energy savings and sustainable development.
The present Government has been focusing on "Make-in-India" for the industrial segments. What is LAPP in India's contribution to this?
India is a challenging market as it is price sensitive and demands world class technologies at affordable pricing. Government initiatives like 'Make in India' has made it possible for global players like us to manufacture more and more specialised products in India.
To meet Indian market requirements and make the international standard products available that are reasonably priced, we started manufacturing some specialised products in India. Under the OLFLEX® brand we have manufactured products that are flame-retardant, halogen free, fire resistant and good resistance when exposed to high temperature. One of our unique offering for Asian market is EPIC® SMART, which is waterproof and temperature resistant industrial connecter. LAPP also develops OLFLEX® INFRA that exclusively caters to the growing building and infrastructure market in India.
What do you think the industry and the Government must do to become globally more competitive in this cabling and connection technologies during the present stage of industrial growth?
Infrastructure, renewable energy, metro, ports, railways, metals and mining, automotive and automation power plants (nuclear and thermal) are the key industries that will contribute to the growth of India. Developing road and rail infrastructure would ensure ease of transporting goods and also allow the sector of cabling and connection technology to scale up their production along with easing the movement of heavy-duty products from one to place to another and ensure timely delivery.
Furthermore, with the governmental support the players can look at setting up more manufacturing units and R&D centres that will help in developing more quality products for domestic consumption and also export Indian made products to other international markets.
The Government's initiative like 'Make-in-India' and decision to implement GST has taken the country a step towards establishing India as a global manufacturing hub. There revised GST rate on cable and wire from 28 per cent to 18 per cent has further eased the process of doing business. This will enable us to pass on the price benefit of reduced GST to the customers.
We at LAPP, will always be welcoming the Government's new initiative in future as well.
– SAMUEL JOSEPH