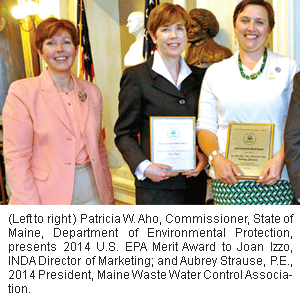 INDA bags EPA award
INDA, the association of the nonwoven fabrics industry, has been recognised for its environmental stewardship with a 2014 US Environmental Protection Agency (EPA)
INDA, the association of the nonwoven fabrics industry, has been recognised for its environmental stewardship with a 2014 US Environmental Protection Agency (EPA) Environmental Merit Award for a public awareness campaign that successfully reduced the amount of non-flushable baby wipes found in the wastewater system in Portland, Maine. INDA was lauded for its outstanding efforts in preserving New England´s environment with the award for the campaign,´Save Your Pipes: Don´t Flush Baby Wipes.´ The award was presented to INDA during ceremonies on Earth Day, April 22, in Faneuil Hall, Boston, Mass. The campaign, a joint effort with the Maine Wastewater Control Association (MWWCA) and Portland Water District, included television and print ads, social media as well as supermarket signage.
Initial post-campaign survey results showed the campaign led to a 50 percent reduction in baby wipes found in the wastewater systems with additional studies on the environmental impact continuing.
According to a recent study by INDA and Maine wastewater entities, materials found on pump station inlet screens consisted of non-flushable paper, like hand towels or napkins (46 per cent); non-flushable baby wipes (18 per cent); non-flushable feminine hygiene products (13 per cent); non-flushable household wipes (14 per cent) and wipes labelled as flushable (8 per cent).
INDA, with its industry association partner in Europe, EDANA, jointly introduced the third Edition Guidance Document for Assessing the Flushability of Nonwoven Disposal Production in June, 2013.