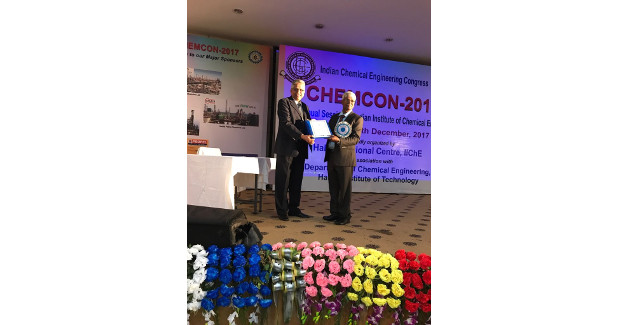 Dr Mahapatra honoured
Dr N N Mahapatra, President of Ahmedabad-based Colorant Ltd, has been awarded the Life Time Achievement Award at the 30th National Convention of Textile Engineers and National Seminar
Dr N N Mahapatra, President of Ahmedabad-based Colorant Ltd, has been awarded the Life Time Achievement Award at the 30th National Convention of Textile Engineers and National Seminar on "Intervention of Frontier Technologies in Textile and Jute Sector" very recently, at Sir RN Mookherjee Hall, of WBSC of IE (I), Kolkata, in Collaboration with National Jute Board (NJB),Ministry of Textile, Government of India.
Dr Mahapatra also delivered a lecture on SELF CLEANING OF TEXTILES in which he discussed how to coat the fabric with a thin, invisible layer of titanium dioxide nanoparticles. Titanium dioxide, which is used in sunscreens, toothpaste, and paint, is a strong photo catalyst: in the presence of ultraviolet light and water vapor, it forms hydroxyl radicals, which oxidize, or decompose, organic matterand dirt.
Dr Mahapatra received the award from Prof Ashutosh Ghosh,Vice-Chancellor of Calcutta University.