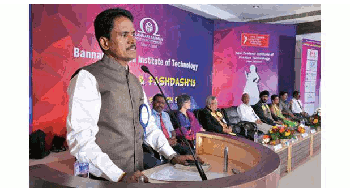 Bannari Amman-NZ Fashion Tech tie-up to enhance teaching-learning process
Bannari Amman Institute of Technology (BIT), Sathyamangalam has signed a collaborative teaching-learning agreement with the New Zealand Institute of Fashion Technology (NZ Fashion Tech)
Bannari Amman Institute of Technology (BIT), Sathyamangalam has signed a collaborative teaching-learning agreement with the New Zealand Institute of Fashion Technology (NZ Fashion Tech), an accredited Institution by the NZ Qualifications Authority (NZQA) in the field of fashion, garments and accessories manufacturing. MoU that was signed last year aimed at setting the common objective of sharing the resources between the two institutions for enhancing the teaching-learning process.
After acquiring the best institution status, NZ Fashion Tech has expanded its wings to India through Brooker Foundation, an independent Education Development Service Provider of New Zealand. NZ Fashion Tech was founded in 1995, by the directors Kevin Smith and Val Marshall-Smith who have more than 35 years of experience in fashion, garment technology and training industries.
Val Marshall-Smith, Academic Director, NZ Fashion Tech, quoted: ?Colour in fashion is about having confidence in our choices; being able to express ourselves creatively in a truly individual way and not being afraid to show who we really are. We?re delighted that this project boldly brings colour back onto fashion?s centre-stage.?
Kevin Smith, Managing Director, NZ Fashion Tech, stated that the students responded well and were instructed (hypothetically) to dress Cate Blanchett for a summer luncheon in Monte Carlo. Technical excellence was paramount, the timeline was tight, and the stakes were high: Who would show at Fashion Week? Who would catch the eye of editors? And ultimately: Who would travel to India as the winners??
This project caught the eye of the New Zealand Prime Minister, John Key, who offered scholarships to the students from the New Zealand Institute of Fashion Technology to visit BIT. BIT, which offers B Tech degrees in textile technology and fashion technology, both accredited by NBA for five years, has become an obvious choice to Kevin Smith to pursue his long cherished dream of expanding the operation in the off-shore. Having interacted with many foreign educational institutions, BIT has become an off-shore reputed institution to his list, especially in the field of textile and fashion. After visiting BIT several times to understand the facilities, expertise of faculty, health and safety measures, Brooker Foundation facilitated the collaboration between BIT and NZ Fashion Tech. The media in New Zealand has already started promulgating in a large way to this cross-country programme.
BIT and Giles Brooker have forged a long term relationship through this initiative and expected to expand their relationship in every possible avenue.
Prabha Govindasamy, the immigrant from India to NZ and the Managing Director the Brooker Foundation, is confident of expanding the services to the society at large, as the ?giving back to India?. Giles Brooker stated that Fashion Technology provides a wonderful opportunity for India and New Zealand to develop collaborations based on their complementary strengths. There will be mutual benefits across education, design, manufacturing and, community engagement.
The programme will be a platform to exhibit the bold Indians with their colour and patterns and will portray New Zealand as an exciting, creative, innovative place for fashion and design. A batch of 20 students selected from the New Zealand Fashion Tech, arrived BIT on November 14, 2015 and have been undergoing various training for the last 35 days in college campus. They will leave India on December 19, 2015.
The students have undergone the practicum through visits to various industries including spinning, weaving, processing, knitting and garments making. Further the students have made visits to various temples like Tanjore, Cultural centers in Mysore, tourist centers like Ooty to understand our cultural and social values of our country.